Prev Director - Next Director
Director 1967-1969 Jim D'Amico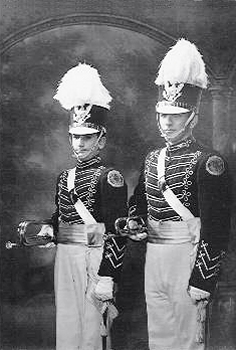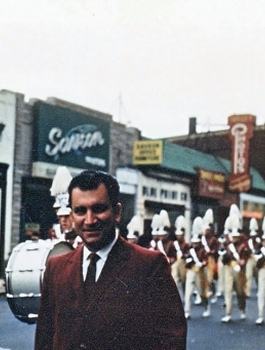 L Jim D'Amico, age 12 - R Sal D'Amico, age 17 Jim D'Amico as Director
JAMES D'AMICO
1967-1969

Jim D'Amico has the unique distinction of being the first Director to have come from the ranks of the Cadets. Jim marched Cadets from 1950-54, winning two American Legion National Championships, 1950 and 1953. During this period he became legendary as one of the truly great soprano players of his generation. He "rejoined" the Cadets in 1962, serving as horn instructor for the Plebe Corps 1962-63, then moving up to horn instructor for the Cadets in 1964

Jim was born and raised in Garfield, and followed his older brother, Sal into the corps. He also has a cousin, Carmine who marched Cadets. He and his lovely wife Carol have three children; son Jim Jr., and daughters Kristen and Lisa. Jim and Carol are the proud grandparents of eight grandsons. Jim was a restaurant owner for many years in the Garfield area prior to retiring.

He has accrued many honors as a horn player, instructor, and corps director, including: The Cadets Hall of Fame, The Buglers Hall of Fame, The New Jersey Hall of Fame, and the DCA Hall of Fame. He was horn instructor for many east coast corps, including: St. Lucys of Newark, Doremus Post of Hackensack, The Ballantine Brewers of Newark, The New York Kingsmen, and most recently, The Hawthorne Caballeros Alumni Corps. During his marching years he probably became best known for being one of the featured soloists for the Caballeros in the early 60s. Jim has a drum corps pedigree second to none, and is viewed as an icon by many who know him, and by many others that know him only by reputation.

Jim will be forever remembered as the man who made the tough decision to field a female color guard. The Cadet's continued to rise in competitive stature during his watch, as he astutely assembled an instructional staff of highly talented people. Jim was and is a giant in the drum corps world, but to the Cadets his greatest accomplishments were as Director of our corps.


Text written by Dave Shaw
Photo lovingly supplied by daughter, Kristen