Listen to Don Angelica´s solo from
1957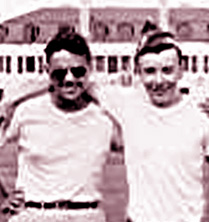 2008! I wonder if

our revered first Drum Major, John Baumfalk , or the Cadets taking turns on their only bugle those first few months, or the adult founders of the Cadets who approached the Pastor of The Church of the Most Holy Name with their vision, ever dreamed that 74 years later their Cadets...our Cadets...would still be alive and thriving?

How blessed we have been, and every alumnus we met this past year, as they reconnected with fellow alumni, is living confirmation of that blessing. We have spent the past year reaffirming our identity as one corps, regardless of years marched or banners marched under; but that ONE CORPS is comprised of 73 YEARS OF INDIVIDUAL CORPS. Each year opening the door to new young Cadets to pursue their dream. Each year with memories unique to the marching Cadets of that year. Each year awash with tears of joy and tears of disappointment. Each year.......

We read our Rest In Peace list on this website, and we mourn; but we don't forget..."To everything is a time." We cherish our memories, but we look to the future with confidence and hope. The Cadets are not simply a drum corps. We all know...those of us who have taken the Cadet journey...that It matters not in the big picture how or why drum corps changed while we were busy leading our lives. It matters not what any corps, ours included, choose to present on the field each year. What does matter is that year in and year out the door swings open, and a new generation of Cadets join our journey and share our blessings. Seventy four years seems like a very long time, and it is; but it is even more a collection of distinctive single-years, piled on top of each other, layer by layer, dream by dream, Cadet by Cadet.

Now another new year begins. Hopeful Cadets lift their horns, caress their drums, spin their flags...and begin their Cadet journey. Welcome 2008 Cadets. We've been waiting for each of you for 73 years.


---
I had a very happy experience last Saturday, December 29th. I was out running some errands, and since I was in the Garfield area I decided to drop into Barcelonas for a quick lunch. I was the first customer of the day at 12 noon, and the waitress greeted me with, "what are you doing here now, I thought the Cadets reservation was for 2 PM?" It took a minute for what she was saying to register before I had the presence of mind to ask what she was talking about. She told me that some Cadets had made a reservation for approximately twenty five people for that afternoon...all 1970s Cadets and their families.

Greg Cinzio, 1967-73, and a former Cadet DM, was kind enough to write this report for us:

Thanks to the efforts of George Bullis and Frank Sgammato, with just two days of phone calls and e-mails; 10 former Cadets and their families gathered at the famous Cadet gathering-spot, Barcellonas. All the Cadets present had marched together in the 1970s.

Those in attendance included:
Frank & Judy (nee Stewart) Sgammato, son Gregory, and daughters Nicole and Laura.


(Note: Judy marched with the great Saints corps from Edison, NJ)


Mark & Lillie (nee Nemec) Oberthaler
Greg & Lynn (nee Eikenberg) Cinzio
Joe & Louise Smeyers, and son Tyler
George & Amy Bullis, son Chris and daughter Arnandy
Paul Hilger and son Stephen
Rocco Carbone
Marie DiDomenico

I'm told that topics of conversation included:
The mower affair (cringe in shame Jack Garda and Jim Day)
Helium balloons (?)
Austin Prep (a beloved Cadet housing site in Massachusetts)
The DCI experience in Pasadena
Our Children
and a lot of catching up on years gone by

Everyone had such a good time, there was talk of gathering
again during the summer. Stay tuned for future announcements.
Photos (taken by Joe Smeyers and Frank Sgammato) of the gathering are posted in our photo section under the name
"Joe Smeyers 70s reunion album."

It's interesting to note that George Bullis, Rocco Carbone,
Lillie Nemec, Paul Hilger, and Joe Smeyers all marched in
the Plebes, the Cadets' feeder corps, prior to moving up
to the Cadets. (We have plans to add a section on the Plebes
to our website as soon as time permits.)

The group was saddened to learn of the loss of two 70s Cadets: Mike Dewey and Victor "Boombatz" Rolleri. For Holy Name shall always be...
Both losses were very recent.

Thanks to Greg, George, Joe, and Frank for assisting us with text, organizational information, and photos of this special event.

---
We were contacted recently by two Cadets exploring the possibility of organizing a Cadet Alumni Chapter in the Delmarva area (Delaware, Maryland, Virginia). If you would like more information contact: Bob Cardaneo (cr1rlc@comcast.net) or Bill Gaeckle (bcgaeckle@yahoo.com). Some of our South Jersey Cadets living in close proximity to the Cape May/Lewes Ferry might also be interested.

Earlier several Ontario Cadets expressed an interest in organizing a Cadet Alumni Chapter in their area. To date nothing has transpired that we're aware of, but if you're interested contact: Jim Gardiner (bedford-54@hotmail.com), Nicole Roach (NicoleMariaRoach@gmail.com), or Adrienne Winslow (adrienne_winslow@yahoo.ca).

It's exciting to see Cadets joining with each other for social events, or to celebrate shared memories, or milestone events in which they played a part. If you read the News of Our Corps section of this website you will see that the 2008 corps is planning a number of all-alumni events this coming summer. These are the biggies, and we should all make every effort to attend; but the introduction of smaller events, like the 70's Cadets mini-reunion, strengthen our bond as well.

This month our 75th Anniversary Steering Committee will have their organizational meeting (John Avella, John Hannigan, George Hopkins, Bill Kardash, Sean King, Greg Pych, and Doug Rutherford). As information is released by the committee we will share it with you. Keep checking the website. This is shaping up to be a series of spectacular events, both to celebrate our history, and to prepare for our future. The Steering Committee will require a great deal of help and support from all of us; so, get ready to roll up your sleeves and become a Born-Again Cadet. 2009 could easily become the greatest year the Cadets have ever known.


---
We have good news about David Welch. For daily updates on his condition you can access reports at http://www.38lemon.org. You can also send him a personal message when you access his site.

David continues to amaze and inspire. Whenever you start to get discouraged by the state of the world, remember that there are people like David out there, and that means hope exists.

The Cadet family has come together as one in support of David as he fights this battle. I have seen the messages posted on his website and on the drum corps forums; and I have been touched beyond description to know that this unique and wonderful Cadet somehow, on top of everything else, manages to bring out the best in the rest of us. What a masterpiece he is painting with his life.

Very shortly after David's operation he was visited by Christen Juel, and other Cadets he marched with in the mid 1980s. Christen presented David with a shako and plume, a gift from the corps, to wear to cover his operation scars. He might start a whole new fashion style in neuro-surgery units around the Country.

Support David's campaign for brain cancer awareness. Purchase his book on his 1984 rookie year with the Cadets, "The Middle Horn Leader 2006." It is available for purchase on amazon.com . Additional details can be found on www.middlehornleader.com. 100% of proceeds benefit the brain cancer awareness efforts of 38 lemon.


---
If you haven't yet had an opportunity to visit our new "Respected Friends" page of our website (access the News Section, then use the pull-down menu to access Respected Friends). We have posted a three-part salute to our special friends from Scout House.

2008 is also an anniversary year for other friends: The Troopers - 50 years (no announcement of plans to date), The Cavaliers - 60 years (official anniversary banquet and salute to Don Warren on his 80th birthday will be held on August 3rd), The Madison Scouts - 70 years (a two-day event will be held at the Kalahari Resort in Wisconsin Dells on October 17-18). We offer our congratulations to all three of these truly great corps. During the year a special salute to each of them will be posted on our website. Happy Anniversary Year! We are proud and honored to have shared the field of competition with you in the past, and to continue to do so in the present.


---
To make it easier for alumni to purchase Cadet souvenir items, we have linked their merchandise page to our site. If you use your cursor to obtain information on any item, or to order, you will automatically be redirected to the YEA site. You will not have to do anything additional, nor will the transfer interrupt your inquiry/order. This is being done solely to support the Cadets. The items are NOT for sale by the alumni...with the exception of the Holy Name Jackets.


---
COMING EVENTS:

Thursday, February 7, 7:00 PM. The first Gathering-of-the-Maroon for 2008. The site will probably be the VFW Hall at 340 Outwater Lane in Garfield (973-546-9790), but you will receive advance notification if there is a site change.

Our plan is to show the 2007 Cadet Tour Video. It was professionally done, and includes a lot of the behind-the-scenes material you probably are not expecting to see. Unfortunately, at the moment we don't have a TV or DVD player to use at our gathering. If you can help, please advise me (dshaw40@gmail.com). I'll even get one of the younger Cadets, like Maggie Lawrence-Temple, to carry it in for you.


---
Help Needed!!!

A number of years ago the Cadets were offered an opportunity to appear in the Radio City Music Hall Christmas Show. It was not possible to take the offer because it would have involved four shows a day for approximately 8 weeks. This happened in either the early 60s or early 70s I believe. If anyone with a better memory could help us out with more specific details, please contact me (dshaw40@gmail.com)

Our Color Guard Commander page on the website is now under construction. Please start sending us missing names, advising us of corrections as necessary, and...PLEASE...start sending us photos of the Cadet Officers of our Color Guards over the years.


ALUMNI VOLUNTEERS ARE ALWAYS WELCOME AND NEEDED THROUGHOUT THE YEAR.


Contact
Christen Juel, Alumni and Volunteer Coordinator, at the YEA offices,
610-821-0345 for additional information. www.yea.org

---
2009 - OUR 75TH YEAR: YESTERDAY - TODAY - TOMORROW...THE CADETS!!!
---
Back to top