Listen to Don Angelica´s solo from
1957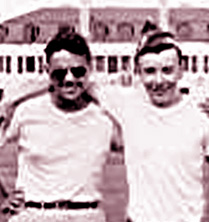 THE NEXT GATHERING-OF-THE-MAROON WILL BE HELD ON THURSDAY, MARCH 6, 7 PM, AT THE VFW HALL, 340 OUTWATER LANE, GARFIELD, NJ.

SHORT PRESENTATIONS WILL BE GIVEN BY CHRISTEN JUEL, CADETS' ALUMNI-VOLUNTEER COORDINATOR (TOPIC: THE CADET ALUMNI ASSOCIATION. ON-SITE REGISTRATION WILL BE AVAILABLE), AND ERIC SANTO CHAIRMAN, THE CADETS' HALL OF FAME COMMITTEE (TOPIC: NOMINATIONS AND THE VOTING PROCESS. NOMINATION FORMS WILL BE AVAILABLE).

WE WILL ALSO HAVE A SLIDE SHOW. A PROJECTOR AND CAROUSEL (COURTESY OF GEORGE KING) WILL BE AVAILABLE FOR ANYONE WISHING TO BRING ALONG SLIDES TO BE SHARED WITH THE GROUP. DAVE SHAW WILL BE SHOWING SLIDES FROM 1953-54 TAKEN BY HIS FATHER.

ALL ARE WELCOME AT OUR MONTHLY GATHERINGS; CADETS OF ALL ERAS, FRIENDS, FAMILY MEMBERS, STAFF, MEMBERS OF OTHER CORPS. THE ONLY COST IS THE SHARED COST OF REFRESHMENTS...USUALLY $5 PP. THERE ARE NO OTHER OBLIGATIONS, NO EXPECTATIONS OF REGULAR ATTENDANCE, NO PRESSURE TO BECOME MORE INVOLVED. THIS IS STRICTLY A SOCIAL EVENING FOR FUN, FELLOWSHIP, AND RECONNECTION. GIVE IT A TRY. YOU'LL BE GLAD YOU DID.


I thought I'd start off this month's news report with a bit of super-important international news


submitted by Dave Rice, 1969-70.

RIO DE JANEIRO, Brazil (Jan. 27) - Brazilian model Angela Bismarchi will dance nearly nude ahead of a 300-person drum corps in next month's Carnival parade, hoping her sculpted beauty as a "percussion queen" will lead her samba group to the championship.

Let's see you top that Tom Aungst and George Hopkins!

---
Our first gathering-of-the-maroon for 2008, on February 7th at the VFW Hall in Garfield, combined lower-than-usual attendance with a higher-than-usual level of excitement and interest. No question...we had a GREAT meeting! The VFW is currently experiencing some staffing problems, so we were unsure until just a few days prior to the scheduled date if we would be able to proceed as planned; but Walt Taormina, 43-52, a member of the Post, saved the day for us by interceding with the Post Commander. Thanks Walt!


Even though the number of attendees was down a little, we had a bunch of new faces and some alumni we hadn't seen in a long time attending; so there was a lot of energy sprinkled with nostalgia throughout the evening.


In anticipation of showing some DVDs we had earlier put out an appeal for someone to bring along a TV and DVD player. The Cadets, represented by Tim Gallagher and John Keegan, came through with flying colors; sending a big-screen TV, sound system, and DVD player. George and his YEA/Cadet staff are continuing to offer full support and encouragement to all our alumni activities and initiatives, and we are very appreciative.



The TV
photo courtesy of Charity Musielak (click on photo to enlarge)


The primary DVDs shown were a short feature on the many facets of YEA, followed by The Cadet's 2007 tour video, "This I Believe." The alumni present seemed keenly interested in getting a behind-the-scenes look at the modern-era Cadets. Since I had already seen both videos, I was more focused on watching the reactions of the other viewers. Observing the expressions on various faces you could literally watch people wrap their minds around the concept of what the YEA USSBA program is all about, and the surprise of some (myself included) at seeing the excellence of some of the bands featured in that video. Everyone also seemed very impressed by the "Music is Cool" excerpts shown. I personally observed a Music is Cool event two years ago, and I would highly recommend them to any alumnus interested in seeing a totally different and very inspiring facet of the wider-reach Cadet's educational program.


The featured DVD that followed was the 2007 Cadet's tour video, which gave many present their first opportunity to see how the modern-era Cadets operate behind-the-scenes. What appeared to register most favorably with those present was the shiningly-obvious work ethic of our marching Cadets. Many also commented on the enthusiasm of the individual Cadets spotlighted on the video, and the undeniable evidence that they were thoroughly enjoying their marching years with the Cadets, and gaining a great deal from the experience. All present indicated with their applause that they are very proud of the young men and women currently wearing the maroon and gold. When you see these young Cadets up-close and personal, the full depth and meaning of the words "For Holy Name shall always be..." takes on even deeper significance.


Following the videos we had a progress report from three members of the 75th Anniversary steering committee; John Avella, John Hannigan, and Greg Pych (Bill Kardash, Doug Rutherford, and Sean King round out the committee). The most important news is that all alumni, families, friends, supporters, and anyone else wishing to join us for this major event in our history, should block off JULY 31 THROUGH AUGUST 2, 2009, for the largest gathering-of-the-maroon ever held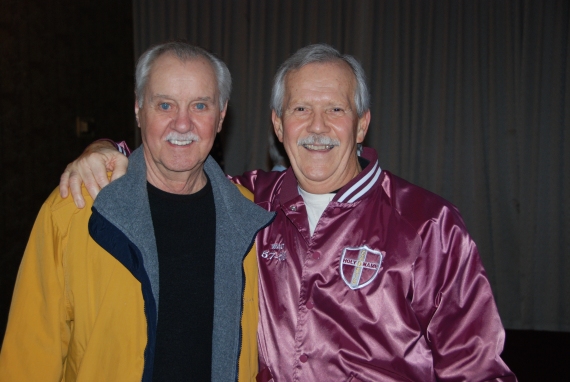 Art Mura 37-49 (L) and Walt Bienskie 57-59 (R). Art was Walt's first drum instructor.
photo courtesy of Charity Musielak


Three days and nights of non-stop activities are being planned, with virtually all events held in the Garfield area. Some of the ideas tossed out by the committee representatives present had everyone buzzing with excitement. Additional information will be released as events are confirmed. A prime and very necessary component will be the organization of "Decade Committees" to locate and draw into the picture as many Cadet Alumni as possible. Our corps and the 75th Anniversary of our corps belong to all of us, and we need everyone present to bear witness to our gratitude for the experience we were privileged to have during our marching years, and the lessons we learned that have served us all so well during our lifetimes. Can you just imagine a thousand voices joined together to sing "Oh Holy Name"? That alone will be worth all the time, and trouble, and expense involved. PLAN NOW FOR YOUR PARTICIPATION...JULY 31 THROUGH AUGUST 2, 2009!!!


The Cadets have already started the ball rolling this year, with alumni receptions scheduled following major contests and events spread throughout the 2008 season. Check www.yea.org for more information on the dates and details of these events. Once you access the YEA website select "Cadets" from the menu bar on the left margin, then when you're into the Cadet's page select "Alumni" from the menu bar at the top of the page. Alternately you can use the links page of this website to directly connect to the Cadet's Alumni on the YEA website.


Once you've accessed that page we strongly urge ALL alumni to register as an alumnus in the box provided in order to be kept informed of alumni events, programs, merchandise discounts, and similar. There is no cost involved, nor any fee to register. A copy of The Cadet's 2008 tour schedule is also available on the YEA site.


Returning to news of the meeting last Thursday; following the standup routine by the two Johns and Greg P., Greg Cinzio brought us up-to-date on the recently reorganized Cadet's Hall of Fame (yet one more example of George's willingness to encourage and embrace alumni participation), specifically the nominating and voting process. YOU MUST BE REGISTERED ON THE ALUMNI SITE (see above) IN ORDER TO VOTE ON THE NOMINEES. Nominations and/or letters of support for nominees should be sent to Christen Juel at christen@yea.org Additional information on the Cadet's Hall of Fame is available on the Cadet's Alumni page of the YEA website.


Special thanks to all the outstanding Cadet Alumni working so hard on our behalf, and on behalf of our corps. Give them your full support and cooperation when asked. Everything we do is a team effort, and we need EVERYONE on the team.


As we all know by now, 8:30 is the hour of reaffirmation on the first Thursday of each month; and once again we joined together to sing our much-loved Holy Name Hymn, conducted this time by former drum major Walt Taormina, 1943-52. The tears that almost always accompanied that ritual all through 2007, wherever we gathered, have now pretty much given way to intense pride in all that we were, all that we are, and all that we hope to be. It's still easy to spot misty eyes though, especially from those who have been distant from us for awhile.


The next gathering-of-the-maroon will be held on Thursday, March 6, 2009, at either the VFW Hall in Garfield, or possibly the American Legion Post #199 in Hawthorne. You will be advised of the site well in advance of the meeting. SEE YOU THERE1


Just a postscript; the hand-in-hand efforts of the alumni and the corps are becoming more and more exciting with each passing week. Stay in touch, and join in working with us if you wish; and whenever possible participate in the events organized specifically for us to reconnect and renew old friendships, and make new ones as well. The biggest lesson we learned this past year is that a Cadet, is a Cadet, is a Cadet. The only difference from one Cadet to another is the years we marched, and the miles that separate us. We are all one. No matter how long it has been since you marched, or how disconnected you feel; come home. It will be an experience that will light up your life.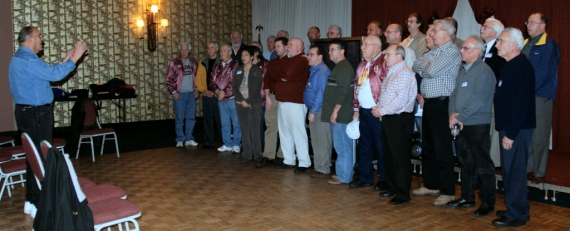 The singing of O Holy Name
photo courtesy of Charity Musielak (click on photo to enlarge)


In attendance February 7th:

Tom Adamo, 48-61
John Avella, 57-61
Walt Bienskie, 57-59
Herb Bonin, 48-54
Greg Cinzio, 67-77 DM
Jim D'Amico, 50-54 Director
Paul DeLiberto, 68-77
George DeOld, 64-70
Joe Frech, 68-75
Caren (Blundetto) Frech, 77-79
Tim Gallagher, 89-90 Cadet Admin Staff
John Hannigan, 73-79 DM
Fabian Izsa, 58-66 DM
Vic Jaskot, 48-60
John Keegan, 85-88 Cadet Admin Staff
George King, 54-61
Bill McCullum, 43-51
Beth (Linkletter) McGarril, 73-75
Owen McGarry, 58-67
Art Mura, 37-49 DM
Charily Musielak, Cadet adjunct staff 95-05
Greg Pych, 64-92
Dave Shaw, 50-58
Ken Shedosky, 57-61
Mark Spinney, 97-00
Tony Tantillo, 43-52
Walt Taormina, 43-52 DM
Doug Tenis, 58-62
Stu Tomeske, 58-61
Bill Westdyke, 48-55
Joe Wegrzyniak, 43-50

Again, my apologies to anyone I missed. Sometimes those attending get swept along with what's happening when they arrive, and forget to check-in. It's no big deal, but my memory isn't dependable enough to always remember everyone present. I'm sure I missed a few.

A bit of trivia: check the above list of attendees and see if you can name all the Cadets on the list who continued on after their marching years to either instruct the Cadets, or assist with administration or other related services. It's an impressive number.


---
We are saddened to share with you this news sent to us by Victor Truscelli, a friend of The Cadets. "Cadet Lee Russell, from Lenoir City, Tennessee, who joined The Cadets halfway through the season in 1985 (I believe it was the year of Candide), died tragically in 1996 at the young age of 26. He left a wife and child." We extend our sincere condolences to his family and to all the members of the 1985 who knew and marched with Lee. For Holy Name shall always be...


---
Update on the day-of-prayer for David Welch, 1/20/08.

Alumni gather at the Church of the Most Holy Name
by Caryn Goebel, YEA staff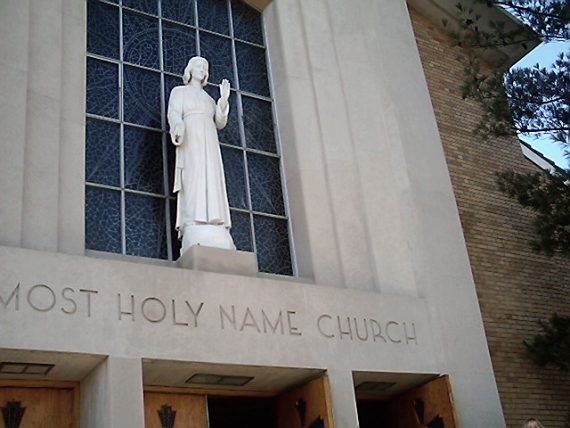 Entrance to Holy Name Church
photo courtesy of Vic Jaskot


Cadet Alumni gathered at the home church of The Cadets in Garfield on Sunday, Jan. 20th to join in prayer for Cadet Alumnus David Welch, 1984-87, who is currently undergoing treatment for brain cancer. David was a mellophone player in the Garfield Cadets, and a "This I Believe" Essay Contest winner for the DCI World Championship finals night 2007. He is also the author of "The Middle Horn Leader - 2006," a chronicle of his 1984 rookie season with the Garfield Cadets." His book is available for purchase on amazon.com, with all proceeds going to the 38lemon foundation established by David to assist others suffering from brain cancer. You can go to David's website, www.38lemon.com for further information and to leave personal messages for him.

The Mass at Holy Name was organized by Dave Shaw of the Holy Name Cadets Alumni Organization, and Joe (Doc) Cinzio, former Director of the Cadets and a Holy Name parishioner. In solidarity many Cadets in other locations around the country and in Canada arranged for prayer services at their own houses of worship, with others joining their prayers and thoughts in individually personal ways.

Cadet David Welch reached out to thank his fellow Cadets for their support:

"To All Cadets:

This is one of the biggest honors I can possibly imagine. Please know this to be true. I would love to be there with you physically, but I will be there emotionally/spiritually.

I can remember when I came to Sevierville, TN in August of 1983 (Thanks to my Grandma and Grandpa Miller) and I saw Garfield one week before Miami. I was so blown away. I met several Cadets I knew on the field, right before the encore with Spirit of Atlanta. I gave my address to the souvey stand that night, and it has been a change in life ever since.

We are going to collectively beat this, with every ounce of control that we have. It is a medical journey and it is a spiritual journey, both at once. This is only part of the reason I have a lifetime dedication to our corps, just like each and every one of you."

FHNSAB...

David

The following portion of a poem written for David by west coast Cadet Alumni Christopher Rutt and Annie Robb follows. The full poem and their accompanying words of support for David, as well as photos of Chris and Annie at Big Bear Lake in Southern California, where they traveled to recite the poem in the ritual manner of Wicca, can be seen on the 38lemon website.

"For Holy Name Shall Always Be...
Christop0her Rutt and Annie Robb

By the Watchtower of the East send this spell with speed
protect David from the evil that has invaded him.
By the strength of the God and the wind of the East we send David the protection he needs.
In our world of music through our Hope, Faith, Life and Love we breathe life into this, our kin.
The Maroon and Gold provide love and strengthen thee,
For Holy Name shall always be."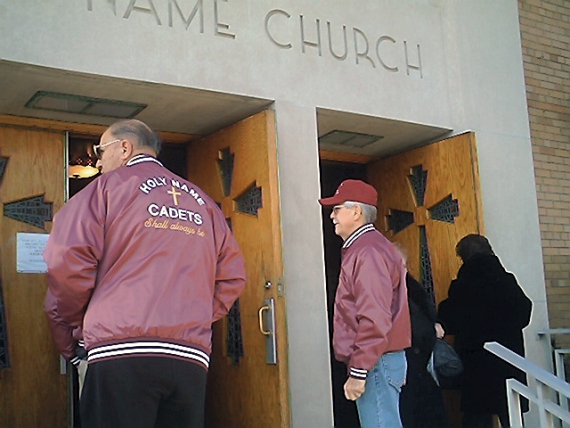 Standing in entranceway to Church, LtoR, Walt Taormina, Walt Bienskie
photo courtesy of Vic Jaskot


A multitude of thoughts, and prayers, and every manner of personal support, go out to David from each and every one of us who stand by our fellow Cadet in his time of great challenge. You are us and we are you David. You are not alone.


---
The Cadet Alumni would like to say goodbye and thanks to Megh Healy, 96-00. She is leaving the Cadet's administrative staff to pursue her vocation of teaching. We know that she will change the course of many lives in her new endeavor, just as she has done for her many years with The Cadets. Our corps will miss you Meg. You gave back a thousand times over, and we hope that you will be a part of the life of our corps, in one capacity or another, once again at some future time. You have the admiration and affection of everyone fortunate enough to know you. Good luck, and thank you.


---
One of the great joys for many alumni over the course of the past year has been to become personally acquainted with the young men and women currently wearing the time-honored maroon and gold we so revere. For those that would like to support the corps and personally interact with the current marching Cadets, opportunities are available through volunteer work. Positions, both long and short term, are always available for interested alumni.

Here's a note from Christen Juel, Cadet alumni-volunteer coordinator:

Be a part of the 2008 Cadet Experience:

Are you looking to help out with our corps this year? The Cadets are starting to finalize the summer tour and are looking for volunteers across the country. If you can help out for an afternoon, a few days, or a couple of weeks, we would love to have you aboard.

While we always do need volunteers to tour with us for longer periods of time, this year we are also looking to connect with some alumni at each housing site in order to help us find our way around town; the nearest Wal-Mart, grocery store, hospital, etc., as well as helping to recruit new members and greet other alumni by the souvie truck at the show.

Of course, we do need help for longer periods of time as well. If you miss your days on the road with the Cadets, come help with driving, cooking, or sewing. We can always use the extra hand of a medical professional as well.

If you live in the NJ area and would rather help out during the winter, come help us at our winter camps in Carney's Point, NJ. We especially are looking for seamstresses to help with uniform fittings during our March 7-9 camp.

Without our volunteers, the Cadets could not achieve the level that we do. Whether assisting on the food truck, driving, or helping with daily errands when the corps is in or near your hometown, Cadet Alumni and other volunteers make a huge difference.

Check out the tour and camp schedule at the link below, then contact Justin Heimbecker at justin@yea.org to let us know when you're available.


---
ALUMNI VOLUNTEERS ARE ALWAYS WELCOME AND NEEDED THROUGHOUT THE YEAR.


Contact
Christen Juel, Alumni and Volunteer Coordinator, at the YEA offices,
610-821-0345 for additional information. www.yea.org

---
2009 - OUR 75TH YEAR: YESTERDAY - TODAY - TOMORROW...THE CADETS!!!
---
Back to top