Listen to Don Angelica´s solo from
1957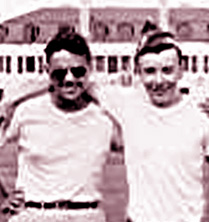 Gathering of the Maroon: February 4, 2010

As you are all aware, Cindi DeVivo has been dealing with some serious family health issues that require her full-time attention. The Cadet family supports her 100%, and we all pray for her family member, and for Cindi herself, as she endures what can only be characterized as a terrible time of personal challenge.

I, therefore, volunteered to step in for this meeting to ensure that we did not break our momentum as we continue to deepen and widen the bond we have built between the alumni and our marching Cadets.

Unfortunately, things did not go smoothly, and I feel compelled to offer my personal apologies to those who traveled long distances and were disappointed in what they encountered. I share that disappointment.

Fortunately Rudy Heimbecker, Caryn Goebel, and Sue Erben from the Cadets' operational staff were in attendance, and they saved the evening with a great status report on the progress of the 2010 Cadets, and some functions that are being planned for alumni throughout the 2010 season.

I will attempt to summarize the information, hopefully without revealing components that have not as yet been publicly announced:

From Rudy:
Changes for 2010:
Utilization of a new logo (can be seen on www.cadets.org and www.theholynamecadets.org

Purchase of a larger equipment trailer, and wrapping of all corps vehicles with the new logo. A 1984 Cadet Alumnus has volunteered his time and services for this project.

Several changes in DCI Rules. The new warm-up rule in particular will probably take a little getting used to. For additional information go to www.dci.org



2010 corps status to date:
Recruiting has gone well to fill the openings left by our 2009 age outs.

Winter camps are moving forward on schedule, in spite of the January camp snow cancellation.

The bus pickup service for Cadets instituted by Rudy proceeded as planned.

The corps had a 70% retention rate from 2009.

The average corps member age for 2010 is 20.5 years



Staffing and leadership:

Admin & Design
George Hopkins: Corps Director/Program Coordinator
Justin Heimbecker: Assistant Director/Tour Manager
Melissa Babalonis: Administrative Assistant
Eric Kitchenman: Associate Corps Manager
Katie Moore: Athletic Trainer
Rick Vale: Medical Staff
Steven Henderson: Tour Assistant
Joseph Glaeser: Tour Assistant
John Pouliot: Videographer


Brass
Gino Cipriani: Caption Supervisor/Staff Coordinator
Jay Bocook: Brass Arranger
Sean Furilla: Instructor
Steve Bentley: Instructor
Larry Markiewicz: Instructor
Jarrett Lipman: Instructor
Kyle Fleming: Instructor
Al Chez: Instructor
Robert Mattera

Guard
Daniel Riley: Caption Supervisor
April Martinez: Consultant
Greg Lagola: Designer
Travis Estler: Designer
Johnny Amos: Designer
Michael Rosales: Designer
Curtis Uhlemann: Designer
Emma Roberts: Instructor
Eric Babula: Instructor
Traci Williams: Instructor
Dean Broadbent: Instructor
Katie Hopkins: Instructor
Rebecca Fieler: Instructor

Percussion
Colin McNutt: Caption Supervisor and Arranger
Iain Moyer: Front Ensemble Supervisor and Arranger
Ian Grom: Arranger
Thom Hannum: Consultant
Gerry Miller: Sound Technician
James Sparling: Instructor
Jason Ihnat: Instructor
Sean McElroy: Instructor
Jake Gall: Instructor
Jon Merritt: Instructor
Matt Nadolny: Instructor
Chris Vale: Instructor
Bobby Marino: Instructor
Andrew Barlow: Instructor
Steve Kieffer: Consultant



Visual
Jeff Sacktig: Drill Designer / Caption Supervisor
Michael Fanning: Instructor
Christen Juel: Instructor
Joseph Roche: Instructor
Jason DeGroff: Instructor
Jon Bilby: Instructor
Aaron Barnes: Instructor
Patrick Duncan: Instructor
Chris Gow: Instructor
Mark Maguire: Instructor
Adrian Caswell: Instructor
Jared Morgan: Instructor


2010 performance program:
Emphasis on melody in musical presentation

Theme of program TBA

Cadet style high velocity movement

Some visual and musical surprises

Sound clips of music learned thus far can be accessed on www.cadets.org

Special Cadet 2010 events:
Memorial Day parades in North Jersey, climaxing with the traditional Hawthorne, NJ parade in the afternoon

Pizza party following the parade as a gift from the alumni to the marching Cadets

A tentatively scheduled concert on the Sunday evening preceding the parade at a yet to be determined area venue

First contest on June 18th in Allentown with an unusual three-corps double-performance format. There is a possibility that a chartered bus for alumni and fans will travel from Garfield to Allentown for this show. Contact Dave Shaw at dshaw40@gmail.com if you have an interest in this alumni initiative. See www.cadets.org for details on the contest and ticket purchases.

June 29th, contest in Cumberland, Md. Co-sponsored by The Cadets and Phantom Regiment. Unfortunately, due to an obligatory DCI tour, The Cadets will not be competing in this show, which otherwise has a great lineup of corps. See www.cadets.org for details and ticket purchase.

July 6th, Trenton, NJ, Cadets' sponsored contest. Once again, unfortunately, The Cadets will not be competing due to tour obligations. Another great lineup of corps has been secured. For additional details and ticket purchase go to www.cadets.org

Note: The season, due to calendar construction, will run a week longer this year. This will present serious challenges to financing, staff availability, and other areas of operation, particularly during DCI Championship Week in Indianapolis.

Cadets Homecoming Weekend:
August 5th, annual Cadet-sponsored contest in West Chester, PA. The Cadets will be competing. For additional information and ticket purchase go to www.cadets.org

August 7, DCI East in Allentown. There will be a pre-show alumni reception at the BrewWorks on Hamilton Street in Allentown. For additional information go to www.cadets.org

August 8th, Clifton, NJ: Cadets' traditional home show. Giant's Stadium is unavailable due to rock group concerts. There will be a pre-show alumni reception at a site TBA. Hall of Fame inductions will take place at this luncheon. This will be the final regular-season contest of the year. For additional information and ticket purchase go to www.cadets.org

Tickets to all these contests, plus DCI East in Allentown, and DCI Championships in Indianapolis are available through the YEA offices in Allentown at www.yea.org

The Cadets have also secured a block at rooms at the Westin in Indianapolis for alumni and friends wishing to stay together during DCI Championships. Once again, contact www.yea.org for additional information or reservations.

DCI Championships in Indianapolis:
August 12-14 at Lucas Oil Stadium

There will be a Friday (semi-finals) afternoon reception for alumni and friends at a site TBA in downtown Indianapolis.

On Saturday (finals morning) there will be the annual championship breakfast at The Cadets' housing site to which all alumni, parents, friends, donors, guests, and well-wishers are invited. For additional information go to www.cadets.org

The Annual Cadets' Banquet will be held on Sunday, Aug. 15th, from 10 AM to 2 PM at The Westin. Once again all alumni, parents, donors, and friends are invited to participate. Tickets can be ordered at www.cadets.org

The Cadets' complete summer schedule can be seen at www.cadets.org, www.theholynamecadets.org, or www.dci.org



Pre-Season Events:
April 25, wine-tasting party at Taro's in East Rutherford, NJ. All welcome. For additional information and to order tickets go to www.cadets.org

Special thanks to Rudy, Caryn, and Sue for traveling all the way from Allentown to Garfield to keep us updated on our corps. We are very grateful for all the effort The Cadets' administration is putting into solidifying the bond between the 76 years of Cadet Alumni and our 2010 marching Cadets.



INFORMATION RELEASED SINCE FIRST REPORT:

NEW UNIFORMS FOR 2010
DeMoulin Brothers and Company and Youth Education in the Arts (YEA!) are proud to announce a multi-year partnership that will see the musicians of the nine-time World Champion Cadets Drum Corps performing exclusively in DeMoulin Uniforms, while DeMoulin teams up with the US Scholastic Band Association on a current national expansion initiative of the nation's largest and fastest growing marching band organization. For more detailed information go to www.yea.org
As per Rudy, it is very difficult and expensive to replicate the complex details of the Cadet uniform. He informed the alumni gathering that there will be minor changes that he does not expect to be noticeable. No additional information on what those changes might be is available at this time.

TRANSPORATION MANAGER SOUGHT FOR CADET' SUMMER TOUR
Letters of interest being taken for crucial link in the team

Are you skilled under the hood of a vehicle?
A good planner, leader and communicator?
Love planning trips down to the smallest details?

The Cadets might have just the job for you! The administration team is now taking letters of interest for the job of Transportation Manager for the corps' upcoming Summer Tour. Applicants would need to be available from June 10th through Aug. 15th, according to Cadets Assistant Director Justin Heimbecker and be ready to fill the critical role of the individual that puts the corps on the road - on time, every time!
A basic job description for The Cadets Transportation Manager includes the following:
Available from @ June 10th thru Aug. 15th
Weekend camps and/or an earlier move-in would be a bonus
Handy with vehicular maintenance
Oil changes
Trailer maintenance
Wear and tear, daily maintenance
Tractor maintenance
Vehicle cleaning
Create Convoy Directions
Knowledgeable of bus/truck restrictions, etc…
Plan routes & rest stops in coordination with tour manager & lead driver
Communicate details with tour manager & lead driver
Ability to work with maps, both virtual (Google) and traditional road maps
Food truck Maintenance
Electricity, water setup and troubleshooting at each housing site
Driving Experience
Experience with driving box trucks/RVs/passenger vans is a bonus (with trailers)
CDL truck/bus license is a HUGE plus!
Send your qualifications in a letter of interest to Heimbecker at Justin@yea.org, or contact him by telephone at (610) 821-0345, Ext. 112.

2010 MEMORIAL DAY WEEKEND ALUMNI INITIATIVES:
MEMORIAL MASS
We are investigating the possibility of holding our second annual Memorial Mass honoring deceased Cadets and members of the Cadet Family, and members of our men and women in uniform, at Holy Name Church in Garfield on May 30th. Additional information will be provided as plans progress.
CAPS-FOR-CADETS AND POST PARADE PIZZA PARTY
We have begun collecting donations for our annual caps-for-cadets alumni initiative, as well as the post parade pizza party in Hawthorne. We would also like to expand this year's program to include a light breakfast of bagels, coffee, and juice for the marching Cadets and their staff prior to their early morning parades.
It is hoped that donations will be generous enough from our many alumni to permit us to conduct this program. Please send your checks made out to "Garfield Cadets Alumni" to Dave Shaw (dshaw40@gmail.com) at 10-01 Hopper Avenue, Fair Lawn, NJ 07410. We have been very fortunate for the past three years to have many of you step up to the plate with donations to a program that demonstrates to our marching Cadets the depth of the commitment we have to each other. Please be as generous as possible and send your checks as early as possible. We are happy to inform you that we have already received our first two donations
For Holy Name shall always be…

Partial list of attendees at the February 4th gathering;
Tom Adamo 48-61
John Avella 57-61
Rocco Carbone 75-77, 80
Dr.Joseph Cinzio 68-78, past director
Jeff Cooper 75-77, 80
George DeOld 64-70
Marie DiDomenico corps icon
Joe & Caren Frech 68-75, 77-79
Fabian Izsa 59-64
Diane LaBeum Razkowski
Pete Macaluso 51
Mike Marando alumni corps
Bill McCulllum 42-52
Beth McGarril 73-75
Greg Pyvh 64-92
Dave Shaw 50-58
Andy Swiderski 55-57
Tony Tantillo 43-52
Walt Vladyka
Paul Wall 64-71
Joe Wegrzyniak 43-50
The alumni corps was present for the portion of the meeting during Rudy's presentation on The Cadets, but most failed to sign in. Several names on the sign-in list were illegible.

Due to a failure of communication with the pizza supplier, those who contributed to the pizza fund on Thursday are covered for the next meeting. We owe everyone who made their contribution an apology.

The next regularly scheduled gathering-of-the-maroon is scheduled for Thursday, March 4th. Information will be sent if there is any change in that schedule..

Back to top