Prev Director - Next Director
Director 1979-82 Dr. Richard Santo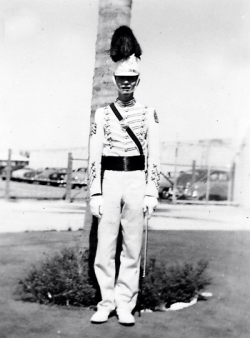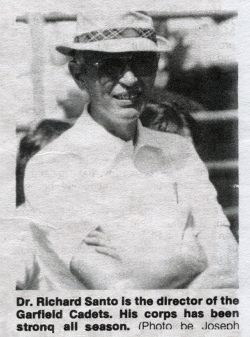 DR. RICHARD SANTO
1979 - 1982

Dr. Richard Santo served as Director of the Garfield Cadets from 1979 through 1982. After marching with the Holy Name Cadets as Color Guard Captain in the '50's, "Doc" decided to devote his life to the healing profession of chiropractic medicine. After his two sons, Eric and Tim, joined the Cadets in 1977 and 1978, Doc's good friend, Dr.Joseph Cinzio, asked him to co-direct the corps in 1979. He devoted his time as Director to refocusing the goals of the Cadets marching during his tenure; encouraging them to work on revitalizing efforts to reassume their historical position as champions.

He was known to frequently express disapproval and frustration when he would overhear a Cadet state that they looked forward to leaving retreat first, so they could get out of their uniforms and get back on the bus. Holy Name was his background; being a champion was in his blood. He set goals for the young Cadets in the corps: after each performance he would ask who had performed at a "10", "9", "8", etc... He encouraged the Cadets in his charge to set their goal on performing at a consistent "10" level, in pursuit of the excellence that had always been a hallmark of the Cadets during his Holy Name years.

Doc Santo set a three-year placement goal of 7th place in 1980, 3rd place in 1981, and 1st place in 1982. The corps went 10th, 7th and 3rd during those years. The first place finish was to take one more year...


Lovingly submitted by
Dr. Eric Santo (son), 1977-82