Listen to Don Angelica´s solo from
1957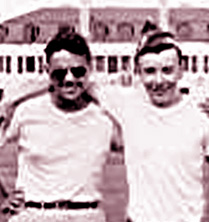 Youtube "The Cadet Experience"
When Cadets Drum Major Ben Pouncey leads the corps onto the field for the first time in 2011, he will stand alongside his dearest, long time friend – his 17-year old brother - Brad.

Brad Pouncey, a senior at Ridge View High School in Columbia, S.C., will serve as The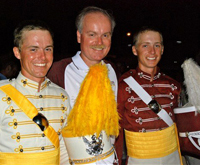 Cadets assistant drum major in the coming season. Brad enters his third year with the corps, having marched in the trumpet section since 2009. The Cadets staff made the announcement late last week, first notifying the membership that Brad will be in training and ready to take over as lead drum major in 2012.

"In talking to all, we have all been impressed with Brad over the past year. Perhaps there is something in the water in the Pouncey household but despite being only 17, we believe that Brad has the respect of the brass line, and he will have the respect of the remainder of the corps once they get to know him," said Cadets Director George Hopkins when making the announcement.

For the Pouncey brothers, drum corps runs in the blood. Their father Bill played soprano in the 27th Lancers in 1980 and 1982 and with the Spirit of Atlanta in 1981. Now that both boys are Cadets, Bill and his wife Andrea enjoy traveling to see and support the corps.

"My parents love the fact that we march together. I think it's comforting for them in a way to know that we're at least in the same place over the summer instead of on our own," said Ben, 20, who will age out in 2011.

For Brad, affectionately called 'Baby Pouncey' by friends in the corps, being selected to learn from Ben and assist in leading the corps is a tremendous honor.

"I really cannot believe it, but I will do my best to serve the members, day and night," Brad said. "Once Ben joined the corps in 2007, I watched rehearsals and saw the work being put in from start to finish and at that time I knew I wanted to be a part of this organization simply because it is like no other. I love that the Cadets do things that have never been done and they get up every morning striving for perfection. Joining this drum corps in 2009 was the best decision I have ever made."


This article recently appeared in Drum Corps World and is reprinted with the kind permission of DCW Publisher Steve Vickers.
Contact information for DCW will appear at the bottom of this article.

JAZZ DRUMMER DANNY GOTTLIEB COOKS FOR THE CADETS

Danny Gottlieb is perhaps best known in the jazz world as the drummer in the original Pat Metheny Group. He has performed on over 300 recordings to date, including four Grammy Award winners. He currently teaches drumset as an Associate Professor of Jazz Studies at the University of North Florida in Jacksonville and tours with the Lt. Dan Band featuring actor Gary Sinise and named for Gary's character in "Forest Gump" (wwwLtDanBand.com).
But for the past five years Danny has been a "drum corps dad" to stepsons Brian (who played timpani with the Boston Crusaders in 2006) and Scotty, marching his third year in The Cadets after a year in the Glassmen. Completing his drum corps family is wife Beth Gottlieb, herself a former member of the Spirit of Atlanta and currently Professor of Percussion at the University of Alabama. Beth also plays and tours with her husband in the Lt. Dan Band. Adding to their resumes, the Gottliebs volunteered with The Cadets' food crew for a week this past summer, and Danny shares their experiences.

---


Even though we had visited The Cadets' spring training camp earlier this year, nothing had prepared us for the special adventure to follow. For years, we (my wife Beth and I) had heard that each corps had volunteers -- parents, alums, friends -- who would drive vehicles, cook, etc., but we really didn't know much about it.
After seeing some information on the corps' web site and realizing that we had an open week near their performance in Rockford, we decided to volunteer to help with the food service. We thought we would spend some quality time with Scotty and the rest of The Cadets, and the work would be pretty easy. We had NO idea what was actually involved!
On July 16, 2010, the Lt. Dan Band played for the troops at Great Lakes Naval Base near Chicago and the following day over 10,000 people attended the "Rocking for the Troops" event at Cantigny Park in Wheaton, Ill. On Sunday, July 18, Beth and I were driven -- in a special "United States of America" towncar -- to where The Cadets were practicing outside of Rockford.
We were hoping that Scotty and the rest of the corps would be impressed with their new volunteers arriving in a limo, but everyone was busy working or practicing so we just dragged our bags over to the food truck. On the drive over, Beth read a Cadet update stating that the corps was starting its tour over 3,000 miles of travel. What were we getting ourselves into?
We didn't really know what to expect.When I asked Justin "Rudy" Heimbecker, the corps coordinator what we needed to bring with us, he told us to bring minimal bedding, clothes, toiletries and they would show us what to do when we get there. We walked up to the food truck where a few volunteers were cutting chicken into pieces. We introduced ourselves and were directed to the kitchen of the food truck where we met Matt Chowning.
It turns out he was a gourmet chef who had worked at Bouley Restaurant in New York City, but was originally from Orlando where we had lived for many years, so we had friends in common. It also turned out that he was a percussionist whom Beth had judged in several competitions.
We noticed a great smell coming from the grill where he was mixing vegetables and watched as he cut fresh ginger -- not at ALL what we expected. Matt explaining that while many corps have packaged meals, he tried to make great fresh meals every day. So far, so good.
I asked if there was anything I could do and Matt mentioned that I could move one of the Kool-Aid jugs to another area. I picked one up and, as I moved it, red Kool-Aid spilled all over my tan shorts. It had taken just five minutes to get initiated. Beth looked at me and just started laughing. What are you going to do? Welcome to drum corps travel.
A short while later I noticed that Chris Sepe, another volunteer, was squirting water into the drink buckets with a hose. He explained the jugs had to be filled with Gatorade, Kool-Aid and water before breakfast, lunch, dinner, and the trip to the competition site. Okay. . . 50 gallons of liquid four times a day? Got it.
Then Chris explained that garbage bags, once they were filled, needed to be taken to the dumpster at each school. Sometimes the dumpsters were close, others were not. If the dumpsters were on the far side of the campus, the bgs were to be loaded on a John Deere mover and driven to the dumpsters.
Chris then asked me if I would help load a big bag onto the mover, so I lifted up the bag, which immediately broke, spilling old pasta onto the ground. Ugh? I grabbed a mop and bucket, cleaned everything up and took it all to the dump. After I washed my hands Chris told me it was "all part of the job."
As the corps members returned from practice, Beth and I jumped in to help: "Please take this out of the oven. . . fill this tray with water. . . replace the drink cups. . . put out the peanut butter. . . carry this dessert to the table . . . take this to the garbage. . . move this to the refrigerator". . . " The list of thing to do seemed endless. Finally it was, "Please put this in the trash . . . wash the tables . . . put this in the truck . . . clean these dishes . . ." We were in!
Scotty came by, gave us a hug, said he was glad we were here and was GONE. We said hello to two of Beth's students from the University of Alabama -- Derrill Koelz and Johnny Suomu, who are members of The Cadets' pit -- and then it was time to get ready for the Rockford show.
While helping with the clean-up, we met Robin Bierschenk, a wonderful woman (with a Masters Degree in conducting from the University of Cincinnati) who along with Matt, was in charge of the volunteers and the food truck. She told us that there were a few free bunks in the RV as some volunteers had left, so Beth and I each grabbed one, putting our bags on the bed. Nine volunteers, nine bunks. This would be our home for the next week.
After tearing down the food area, we got into the RV and headed to the show. There were a variety of vehicles traveling with The Cadets: an RV for the design team, one for the staff, one for the volunteers, an equipment van, the food truck, an equipment truck, plus the busses for the members. And each RV pulled a wagon filled with equipment. Quite a convoy.
As we traveled to the show, we gradually introduced ourselves and met all of the other volunteers. Some were in a similar situation with sons and daughters in the corps. Others had been members of The Cadets in the past, or had family members in the corps, while others were just fans of the corps and wanted to help. But ALL were gracious and friendly.
One special woman, Cathy Ferrari explained that volunteering was on her "bucket list" and she was finally getting to do it. We all really bonded and had a great time dealing with the issues of each day.
Upon arrival at the parking lot in Rockford we all jumped out of the RV and, under Robin's and Matt's direction, started the set-up. Pull out the tables and set them up; move the drink coolers, set out peanut butter, jelly and bread. Stock and replace utensils, plates and paper cups, plug in the coffee machine.
Most knew just what to do and we did anything we could. Robin then indicated she would handle the rest and that we should go and enjoy the competition. Our only instructions were to return after The Cadets' performance to help with the snack.
We had been to many shows, but now it felt like we were really part of the corps and it felt great to help. The kids were working so hard -- it was the least we could do.
We watched the drum line in the lot and then headed into the show. We found empty seats and enjoyed the performance. Then back to the truck, set up for a snack, congratulate the corps, spend some time with Scotty, cleanup, trash to the dump, quick bathroom stop and into the RV.
It was a long trip to Salem, IL, a halfway point en route to Van Buren, AR, where the show would take place a day later. About 3:00 AM we pulled into a truck stop for restrooms, water and snacks, and refueling of the vehicles, before continuing on to Salem. We arrived in Salem about 5:00 AM and got out of the truck to set up the breakfast tables, connect the power cables and water lines, fill the drink buckets, put out the tableware and plates, find the ice machine and fill all coolers, then start cooking breakfast. Today's special: pastries baked by Matt! A full day of rehearsal, dinner and then back into the behicles for another eitht hours to Arkansas.
And on we went . . . Arkansas, Oklahoma, Texas. Each day The Cadets woke early, had breakfast, stretched, ran, exercised, practiced in groups and sectionals, ate lunch, more sectionals, ensemble, dinner, dress for the show, drive to the show, perform, snack, back in the bus and do it again.
All along the way we set up, cooked, washed, tore down, then set up again hous later, all in the 100 plus degree heat.
Traveling with The Cadets put everything into perspective. It is a non-stop, intense journey to finals, and one day blends into the next. It reminded me of some of the jazz tours in Europe that I have done during past years -- performing 26 gigs in 27 days, where the sound check of the next day becomes a continuation of the previous night's performance. You have no idea where you are, what day it is or what is happening in the rest of the world. But you are accomplishing a goal that will stay with you for the rest of your life.
On the third day of travel, Robin asked me to go shopping with her. She explained that some days were smaller food runs to a store such as Walmart, and other days were gigantic runs to a bulk store like Sam's Club. When we got out of the RV in the store parking lot, she handed me a list and said there were just a few items for each of us to find before we were to meet at the checkout counter.
I got a cart and started looking at the list: six green peppers -- easy. Then I saw 500 hamburger buns! What?! I found Robin and asked if that was a mistake. She said no, but started laughing . . . Robin had set me up just to see my reaction as she knew I didn't have a CLUE as to how much was involved in shopping for a group of this size. I was hysterical!
I found a Walmart rep and asked if I should take 500 buns off the shelf. She said "Noooo!" and found a manager who helped us find bread, buns and whatever else we needed. They are there to sell and ultimately happy to sell the products, but it was pretty crazy. I laughed the whole time, in disbelief.
We checked out and then loaded everything in the RV. Robin told me they did this pretty much every other day. We drove back to the site, unloaded and rushed the cold products into the refrigerator. What a shopping day.
Two days later we did a big shopping trip with Robin, Beth, myself and Liz, another volunteer. We went to Sam's Club and bought a BUNCH of supplies . . . 30 gallons of milk, 100 loaves of bread, every can of Gatorade they had, 150 pounds of meat! Insane, but fun. We crammed it into the RV and drove back to the school where all the volunteers helped unload.
It was interesting to watch Robin in action. She has been volunteering for years and had it down. She had a storage place in the food truck for each food item, which made it easier to unload and prevented spoilage in the sun. It was just an amazing process and I admired The Cadet's production team for their ability to take such a complicated process, with so many components, and make it all work. Everyone involved deserves so much thanks and admiration. And whenever there was a problem, they found a way to fix it. It is an amazing organization.
The travel for all of us was rough, but we all adapted and made it work. For those musicians used to traveling overnight in a bunk on a coach, it was pretty familiar except . . . with most musical groups there is a hotel in which to transfer upon arrival. Here there was no hotel -- the bunk was it. And then breakfast had to be made at the arrival site. But we all helped each other. . . one day I helped with the breakfast and the next day slept while someone else did the work. I then helped with lunch while they slept.
One thing that had prepared us for a journey like this was our trip last year to Afghanistan with the Lt. Dan Band. We traveled to perform for the troops during Thanksgiving week and slept in pretty primitive quarters. That experience had certainly helped prepare us for unusual and rough travel and we just found a way to make it all work.
One day Beth noticed that Rudy was washing the giant Cadet's equipment truck and volunteered to help. I saw them and offered to help too. It was so hot that the water spray was a good relief and it was really fun. Rudy said that when we see the clean truck at subsequent shows we would feel a sense of pride for helping. Sure enough, as that giant semi pulled out, it really did look MUCH better and we did feel like we had helped.
For the Houston show on July 23, the corps performed last and we, along with the crowd sensed that they were really putting it all together. It was one of those magical moments. When returning to the truck we found a fantastic surprise: there was a CATERED dinner from Carrabas (courtesy of alumni Kim Sepolio's parents) for the entire corps. There was chicken on the grill, great salad, fresh pasta, wonderful desserts, and some amazing sweet tea from Chick-fil-A.
I helped serve the tea and I never saw such happy, appreciative faces. It also gave the food crew a night off and that extra time to relax cannot be underestimated. It illustrated just how important parent and volunteer support is to an organization. It was just an amazing night.
After an overnight trip to a high school near San Antonio, preparation of breakfast and the washing of the second semi, it was time for Beth and me to head to the airport and home. We were already missing Scotty, the kids and our new friends. But some new volunteers were arriving and it was time to turn over the reins to the next crew.
Just before we departed, we got to spend a few moments with a special friend of ours, Bruce Jacoby from Remo. It is such a treat for the corps members when a company representative -- especially one as knowledgeable and personable as Bruce -- arrive for a visit. He was there to deliver drum heads, help with any problems, discuss product and experience the San Antonio show. Colin McNutt and the drum line was VERY focused, so we didn't really get a chance to chat as a group, but it was wonderful to just stand there watching Scotty and the drum line while sharing the experience with Bruce.
And as we head back to our regular lives, what did we conclude from this experience? First of all, why had we not done this before? To experience drum corps, and The Cadets in particular, from the inside felt like a life-changing experience. We imagined we knew how hard Scotty and all of the members worked, but it turns out we really did not. To see them go througyh this grueling pace of dedication and hard work makes you realize just how amazing this experience is in the big picture of their lives.
Matt told me that his friends who have played in a drum corps, without exception, all have high-level jobs, own their own businesses or at the top of their game in their chosen field. Trial lawyers, doctors, whatever . . . you cannot underestimate the drum corps experience. And for us, we have been home just a few hours and we're both SO inspired and convinced that if you can march drum corps, you can do ANYTHING!
Best of luck to all and thank you -- Cadets, members and management -- for one of the most inspiring weeks we have ever had.


---


AUTHOR'S NOTE: Scotty Raddock, Danny's stepson, was named 2010 Cadet of the Year during the corps' banquet on August 15th. All Cadet Alumni salute this young man for this well-deserved honor, and for representing the Cadet ideals that we all cherish.
Additional thanks to Danny and Beth for their support of The Cadets, and most importantly, their support of Scotty.
Special thanks to Matt Chowning and Robin Bierschenck, Rudy Heimbecker and his support staff, George Hopkins Cadet's Director, and the dedicated, hard-working volunteers who give The Cadets their time, their labor, and their love. If you wish to become a 2011 volunteer go to www.cadets.org.
FHNSAB...

Drum Corps World subscriptions, restored heritage DVDs, books published by Steve Vickers, and other items can be purchased by contacting DCW at:
Mailing Address:
56 Gold Course Road
Madison, WI 53704

Office Phone:
608 241 2292

Toll Free Orders:
1 800 554 9630

---
Reproduced from www.cadets.org

For eight Cadets, gathering around the family dinner table almost inevitably ends up with conversations centering on the drum corps. Just check in with Kaitlin and Megan Czekaj, twin sisters in The Cadets colorguard, at Thanksgiving or Christmas. Kaitlin, 20, returns from Las Vegas, and Megan, 20, meet up with their parents at their San Antonio, Texas home, and all things Maroon and Gold become the topic of the day!

"Whenever we come home for the holidays, it's Cadets 24/7. We're eating dinner and watching Cadets' championship videos, or we're in the car on our way somewhere listening to Cadets' audio downloads from finals. Our family bleeds Maroon and Gold…true die-hard Cadets' fans," said Megan, a nursing student at the University of Miami.

The Czekaj sisters, born a minute apart, are one of four sets of siblings that marched in the 2010 Cadets. Drum Major Ben Pouncey, a 20-year-old music education major at the University of South Carolina, just spent his fourth year with The Cadets, his second as drum major. In 2009, Ben welcomed his brother Brad, 17, into the ranks of the trumpet section, a connection he and his brother will share for a lifetime.

"If anything, The Cadets have brought the two of us together," Pouncey said. "When you experience something like marching with The Cadets, it changes your life forever. However, I believe when you share it with a family member, it enhances the experience even more. Back at home, we're best friends and I accredit that to the fact that we've marched together for two summers."

Ian Wudyka, an 18-year old music education major at the University of Massachusetts-Amherst, had his first exposure to drum corps thanks to his big sister, Vanessa Wudyka, a rising fourth year member of the front ensemble.
"I think it helps being on tour with a family member because there is always someone to come back to with the same background as me," Ian, a snare drummer since 2009, said. But being the younger sibling can be interesting, he added. "I always usually get the nickname of 'Vanessa's little brother.' It's to the point where I'm used to it!"

For Sheila and Iris Heady, both members of The Cadets Front Ensemble, time with the corps isn't their only shared time. Both are students at the University of Massachusetts-Amherst and they find themselves regularly commuting together from their South Hadley Mass., home. Sheila, the synth player in the pit, aged out in 2010, her second year with The Cadets, while Iris couldn't resist following in her sister's footsteps last summer.

"I had always been a drum corps fan, but never really sure if I would end up doing it or not," Iris said. "When my sister marched with Cadets in 2009, I knew I needed to make it happen. I was able to be in The Cadets pit with my sister, who also happens to be my very best friend!"
Sheila couldn't agree more and feels being able to play with Iris at the highest levels – both at Amherst and The Cadets - has been one of the most rewarding experiences of her life.

"My experiences with marching percussion have always involved my sister, and it's only right that we were able to play together in the very last pit I will ever be in."

Would you like to be a member of The Cadets in 2011? Audition Camp will be held at Reading High School in Reading, Pa., on Nov. 19-21. Texas Audition Workshops will also be held Dec. 3-5 in the Houston, San Antonio and Dallas areas.

---
Just a few months after the DCI World Championships marked the end of a memorable and successful Summer Tour, the 2010 Cadets Percussion section will be returning to downtown Indianapolis to once again wear the Maroon & Gold, sharing the discipline, talent, work ethic, excellence, and commitment synonymous with The Cadets.

Thirty front ensemble and battery percussionists from the 2010 corps will gather for a clinic/exhibition at the Percussive Arts Society International Convention from Nov. 10-13. Front Ensemble Supervisor and Arranger Iain Moyer applied for the opportunity to take part in the PASIC event which draws thousands of percussion enthusiasts worldwide for an eclectic blend of music and performance. Most any style can be found throughout the convention, with exhibits and performances aplenty.

The Cadets Percussion Ensemble will be featured in a one-hour clinic on Thursday, Nov. 11 at noon. The clinic, hosted by Moyer and Percussion Caption Supervisor Colin McNutt, is designed for both performers and educators, and will provide an opportunity for participants to learn the philosophies and approaches that help The Cadets reach the highest levels of performance each and every summer. The corps members will indeed be wearing the traditional maroon & gold West Point style uniform, which will be an especially unique opportunity for 14 age-outs who will wear the "Superman Suit" one final time.

HONE YOUR SKILLS BEFORE AUDITION WEEKEND!

This very special PASIC performance will serve as a kick-off to FIVE consecutive weekends of Cadet Auditions, Workshops, and Camps – and we want to help!

Following the Thursday afternoon clinic, we won't be loading the equipment truck right away! Cadets staff and members are pleased to offer 30-minute private lessons to ALL 2011 registered percussion applicants at our booth on the PASIC exhibitor floor, anytime between Thursday afternoon and Saturday evening. We are pleased to offer the same service to ALL registered applicants (percussion, brass, colorguard) at our booth at the BOA Grand Nationals event just across the street, which takes place just one weekend after the USSBA National Championships in Annapolis, Md., on Nov. 5-7.

How can you take advantage of a free pre-audition lesson at one of these three events? Simply choose your camp/workshop below, register online at www.cadets.org today, and write to Justin@yea.org to sign up for your private lesson. It's that easy! This is the chance of a lifetime for any Cadet hopeful, whether you hope to march in 2011 or beyond!
---
Back to top