Listen to Don Angelica´s solo from
1957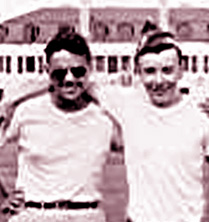 DCI Championship Quarter-Finals, August 7, Bloomington, Indiana

For all of you unable to attend the DCI Championships in Bloomington, Indiana this year. Bloomington is a beautiful midwestern city. The weather is perfect, and the stadium about as ideal as you can get for a drum corps show.

Last night was the quarterfinals for the DCI Championship. It was a night of spectacular drum corps performances, top to bottom. Our Cadets placed fifth, with a truly awesome performance. They made many revisions in their show since any of you last had a chance to view them, and they were all very good changes. They ended their performance with the sound of a spontaneous, roaring ovation ringing in their ears.

Wherever I went in the stadium I was stopped by people who just wanted to tell me how much they respected our corps, our history, and most of all our marching members. Everyone I met raved about their talent, their performance abilities, and the way they conduct themselves in all situations. I can tell you that if you were here you would share my pride in our corps and in what we represent to so many people.

There is no way of knowing of course what will happen in tonight´s semi-finals or in tomorrow´s finals; but I can tell you without any exaggeration that you can expect these 2008 Cadets to give it everything they have...as they have done all season. There are many alumni present here in Bloomington, and we are all proudly wearing our colors in support of our 2008 Cadets.

I am just about ready to leave for the stadium for the "massive" alumni tent party in the stadium parking lot organized and hosted by Doug Rutherford. This gathering has become a DCI Championship Week tradition thanks to Doug, and he has our sincere thanks for strengthening the bond between our generations. David Welch is also here, continuing to inspire everyone crossing his path.

I am glad I´m here in Indiana. I am glad I am a Cadet. I am grateful beyond measure that our corps and our Cadets are holding the torch we passed on to them very high indeed. If you were here with me, with our Cadets, with our corps, you too would know that "here is Holy Name."

Check our webite under Current News for MP3 audio clips kindly shared with us by John Ogle, 59-61, to hear what he recorded as he rediscovered his Cadet identity this summer.

---
DCI Championship Semi-Finals, August 8, Bloomington, Indiana

Another perfect night of drum corps here in Indiana, preceded by a Cadet Alumni "massive" tent reception hosted by Doug Rutherford. Lots of alumni are out here in Bloomington cheering our corps on, plus members of the board, parents, supporters, and Star of Indiana Alumni who morphed over to our tent because we had shrimp (courtesy of one of our board members), and Star didn´t. We´re not feeling cocky though, because we figure Bill Cook just might show up today with lobster newburgh just to one-up us.

It´s been great seeing friends from other corps from years past, and amazing to see how many Cadet Alumni now either direct or teach other corps. Hundreds, perhaps thousands, of young people benefit today from the lessons taught in the Cadets to the leaders they now follow.

The Cadets placed fifth once again, but the reality is that they are performing at a championship level. These 2008 Cadets are so talented to watch them perform is an absolute privilege. The show has been changed considerably, as mentioned earlier, but the changes while drawing the audience in a bit more have not resulted in any movement in placement. The good part is that the changed ending now results in a huge standing ovation nightly, so our kids are hearing the applause and receiving the recognition their efforts deserve and which they were denied all season.

Right now the Blue Devils are leading, with Phantom Regiment a very, very close second, and The Cavaliers a hair away from them. You can feel the excitement in the air out here because no one, literally, knows which of the three are going to take the title this year. The Madison Scouts edged out the Crossmen for the 12th position in finals, and the Blue Stars are back in the mix big-time for the first time in 29 years. ALL performances have been superb. This is just one man´s opinion, but it appears to me that drum corps from an entertainment aspect has rediscovered itself, and if you feel it left you behind years ago, it might be time for you to give it another look.

The highlight of the night for me was the exhibition by The Cavaliers Alumni Corps, 170 members strong, ALL Cavalier Alumni. They were, in a word, SUPERB. I never imagined that a corps comprised of older members who had not rehearsed in years could retain their skills to such a high degree. Sitting in the end zone of the stadium were the ageouts from all the corps in DCI, and the largest group was from The Cavaliers. Once their alumni corps lined up on the field they turned in the direction of the young Cavaliers about to begin their life´s journey and played "Somewhere Over The Rainbow" in their honor. It was a Cavalier moment for and about Cavaliers, but it touched everyone in the stadium including our Cadet ageouts who stood to give the Cavaliers a tribute ovation. I cry a lot these days, reliving in my mind so many great Cadet and drum corps memories; and emotionally-draining moments like the one just described remind me why I think this is such a special activity, with our corps at the heart of it for so many years.

Under the stands, as the ageouts lined up to reenter the stadium I watched the members of the various corps mingling. Some sought out personal friends from various corps, but most seemed to gravitate as a group to a single corps. The Cadets I observed seemed to be intermingled mostly with members of Carolina Crown, a corps that beat The Cadets for the first time in their history this season, and did so in a very convincing manner. It was, I think, a testament to the values of The Cadets. as well as the members of Crown; but we are Cadets, so it is our 2008 young people that trigger our pride when we see them behaving in a manner that is so representative of what all Cadets believe and practice. Winning and losing are both temporary, but friendships and the lessons learned through the Cadet (and I´m sure Crown) experience last forever.

This morning was the traditional Cadets´ Finals Day Breakfast. They are housed approximately 88 miles from my motel, so I am unable to attend. I wish I could be there. I have developed very strong feelings for these marching Cadets, and I take every opportunity possible to tell them how proud we are of them. Tonight they will perform in the championship finals, and for many of them it will be the last time they will ever wear the maroon and gold. There will be a lot of tears, and a lot of emotion; but I hope there will be a lot of pride of accomplishment too though, because they have added their page to the long history of The Cadets, and "their" year and "their" time will be remembered and honored by all Cadets for all time.

Sunday is the corps´ banquet, then 2008 is officially over. Two truly great drum majors will stand up in front of their corps and they will cry. Section leaders will present gifts to their teachers and mentors, and they will cry. People will make speeches, and they will cry. But, these all will be tears of bonding because they all know something special and beautiful has just occurred during their 2008 season, and they were a part of it. They were the 2008 Cadets. They are the 2008 Cadets. They will always be the 2008 Cadets.

Next year our corps will march once again, for our 75th Anniversary Year as The Holy Name Cadets, but the 2008 Cadets, and all Cadets, whether they were Garfield Cadets, or The Cadets of Bergen County, or The Cadets are all part of the fabric of Holy Name. We are one corps. O Holy Name...thank you. Your torch burns on.

---
DCI Championship Finals, August 9, Bloomington, Indiana

In our corps we truly believe that it is about the journey, far more than it is about the destination. We believe that our goal is to work as hard as you can to be the best you can be, and to never stop trying until the final curtain lowers. In everything we as Cadets value, our 2008 marching Cadets met the challenge and raised the standard. If you were present in Bloomington last Saturday night you would have been more proud than you can possibly imagine. The Cadets' performances, all three nights, were exercises in perfection. The stands were very steeply banked, so the audience was literally looking down on the corps from above. You could see every movement and hear every note. The Cadets were superb. They performed what was arguably the most difficult marching and music program on the field in championship fashion. No one could have asked more of them then they gave.

They were rewarded all three nights with a spontaneous, full-audience, full-throttle standing ovation that began long before they played their final notes. At the Corps Banquet on Sunday we were treated to a DVD of their performance. The cameraman zoomed in on the faces of some of The Cadets during that ovation, and to see the look of pure joy and the tears on their faces was a forceful reminder of what they have been denied for far too long. It literally broke my heart to see that video.

As you have undoubtedly heard by now The Cadets placed fifth. The 2008 DCI World Championship was won by Phantom Regiment. We salute them on their accomplishment. It was a breathtaking, come-from-behind victory for a corps, a performance, and a program that we admire and respect without reservation. We extend our congratulations as well to The Blue Devils, The Cavaliers, and Carolina Crown; all of whom brought to the field championship-level performances. Just behind The Cadets in point of fact there were no corps and no performances the three nights of the world class championships that were not extraordinary in every way.

I am a very emotional Cadet purist. I believe that win or lose our corps represents the history and the very best qualities of the drum corps activity. To see our young Cadets maintain their dignity, their decorum, their professionalism, and their discipline at all times through all circumstances never ceases to amaze and inspire me. I am very, very proud to have worn the same uniform these young people wore in Bloomington.

Now our ageouts have removed their uniforms for the last time, and across the nation and the world are preparing to embark on their life journey. They will never again wear The Cadet uniform, but like all Cadets who have preceded them, they will be Cadets next year, the year after, and for the rest of their lives. They have sung the song, now they will come to fully understand the meaning of "For Holy Name shall always be."

On Sunday I attended the Corps Banquet in the Grand Ballroom of the Westin Hotel. It was packed. The Cadets present were dealing with their own emotions and with the emotionally searing process of saying their goodbyes. The climax of the banquet was the ageout ceremony. All our 2008 Cadets who had given so much to honor the history and heritage of our corps, and were now preparing to leave, lit a candle. Their fellow Cadets formed a circle around them, with alumni framing the circle. Our hymn of bonding was sung, and the candles were extinguished. A spiral of smoke rose up in the air from the center of the circle, and I thought to myself of all the Cadets no longer with us represented by that spiral of smoke, and the bond we have one to another.

The Cadets present were probably too focused to notice the other people in that ballroom gathered to honor them. Parents, alumni, Cadet instructors and administrators, fans, friends, and many others there for one reason. To honor those magnificent young people who 24 hours earlier showed the world why The Cadets have been loved and respected for 75 years.

Now, little more than a week later all thoughts are on 2009: our 75th Anniversary Year. But, pause for just a moment more. Think one last time of our magnificent 2008 Cadets. They were truly special. They rode the roller coaster of a season unlike any other, and they emerged recognized for their talent, their performance ability, and their character by the entire drum corps world. Thank you 2008 Cadets. You did us proud!

---
Back to top