Listen to Don Angelica´s solo from
1957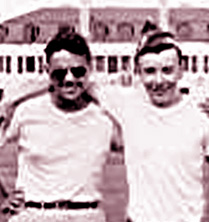 FROM THE OLDEST OF OUR HERITAGE CADETS, TO THE YOUNGEST MARCHING CADETS AND RECENT AGEOUTS, THE MAROON GATHERED LAST NIGHT IN GARFIELD; AND THE SIGNIFICANCE OF SEEING THE DEPTH OF THE CADET BOND FROM GENERATION TO GENERATION WAS, FOR ME AT LEAST, AWE INSPIRING.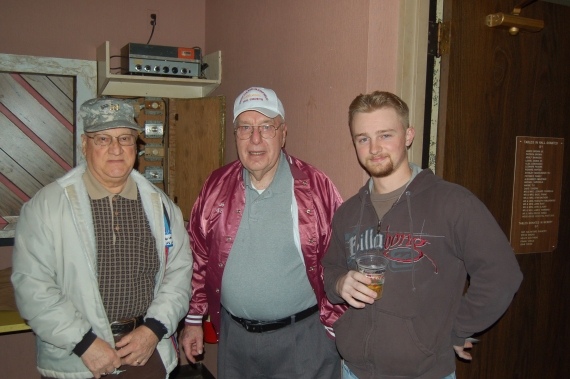 Alumni: Walt Vladyka 1937-40, Joe Wegrzyniak 43-50, Drew Wilkie current member.


Many present were first time attendees, and as has been the case at all these monthly gatherings -of-the-maroon since we began over a year ago, everyone from the first timers to the regulars reached out to each other in instant, easy personal connection. It has been my experience throughout my life that in most areas of social interaction, people group themselves by generational identification. The inspirational exception has been in the world of drum corps, where the close regular interaction between the younger marching members and the older leaders and teachers (sometimes a lot older, sometimes not so much) has served to erase many of these customary impediments to intergenerational interaction.

In the very maroon world of The Cadets our long history of common traditions, heritage, and values has permitted us to easily embrace even wider generational gaps. We have Cadets in their nineties and Cadets in their teens, standing side-by-side as we sing our song of reaffirmation, Oh Holy Name. We are interested in each other, we care about each other, we assist each other, and we work together to guarantee the experience not only for the marching Cadets of this era, but for future Cadets yet to be born.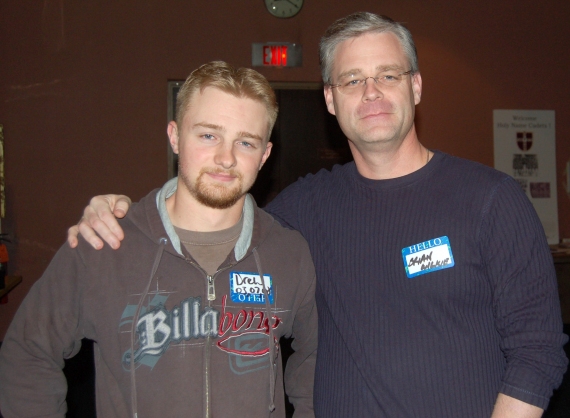 Drew Wilkie, a current marching Cadet and soloist, poses with his proud Dad, Brian Wilkie, our Cadet soloist from 81-85.


Last night in Garfield as I looked around the room I saw one mixed-aged group after another engaged in conversation, and if the expressions on their faces were any indication, thoroughly enjoying the experience. There were numerous Cadet staff members (nearly all alumni) who had made the two and a half hour trip in from the Allentown area to update us on the newest developments with our corps, to answer questions, and to join us in the social celebration of our common Cadet identity. There were original heritage Cadets sharing with us tales of what it was like to play on straight, valveless bugles. There was a first-time attendee who marched in the early 1930s and informed us that he was the Cadet selected for the honor of being given the first one-valve horn purchased.

There were two ex-directors in attendance, both of whom weathered very difficult periods of challenge in their tenures with the Cadets, reaching out to shake the hand of a current marching Cadet who honored us all with his presence Thursday evening.

We were honored too by the presence of a far larger than usual number of our female Cadet Alumnae. It's impressive to see them now as wives, and mothers, and career women; as we remember them not so very long ago as talented, fiercely-competitive , ground-breaking Cadets. It was not an easy task to add an entire new dimension to Cadet history, but our female Cadets enriched our corps beyond measure, and they continue to do so every day.

We also had a larger than usual number of recent age-outs present. These Cadets now bridge the divide between the Cadet marching experience and the Cadet life experience; and every one of them, as you engage them in conversation, validate our dedication to and belief in the value of our corps' mission. What an honor it is, for each one of us present at these gatherings-of-the-maroon in Garfield, to know that we all wore the same hallowed uniform during our marching years.

Are we unique in our love of corps and our connection from generation to generation? Of course not! Anyone present two years ago at DCI Championships in Madison observing the tight bond of brotherhood between the marching Scouts and the members of the Scouts' Alumni Corps can testify to the strength of their commitment to each other. There are countless other examples as well. We will see many of them this year as the Troopers celebrate their 50th Anniversary, The Cavaliers celebrate their 60th Anniversary and the 80th birthday of their founder and director emeritus, the legendary Don Warren, and The Madison Scouts pull out all the stops to celebrate their 70th Anniversary.

We see too the continuing strong affection alumni hold for their own corps who, to the sorrow of all, are no longer in existence. Recently we printed a tribute to the Norwood Park Imperials and to Scout House on our website, and the responses from their alumni express a bond and memories of something greater than simply a marching experience that will never die.

But, we are CADETS, and though we stand in solidarity with every member of every corps we have ever known, our experience as Cadets and Cadet Alumni are to us something very unique; both to us individually, and to the wider-activity we all love and the activity to which we, in our 74 years of continuing participation, have contributed so much. Our Cadet experience has enriched every day of our lives from the very first minute we donned the maroon and gold, and that is the reason so many of us…young and old…gather regularly to renew our bond of commitment. To ensure for all generations that Holy Name shall always be…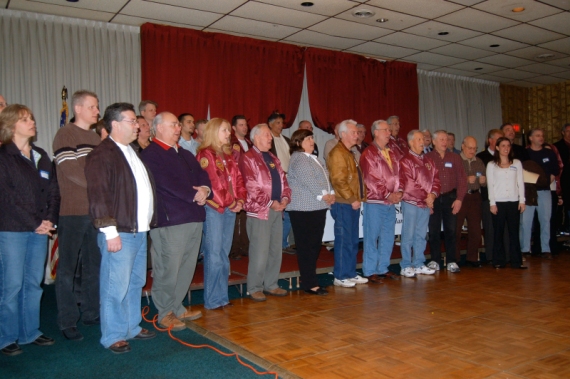 At 8:30 PM EST the group gathers to sing The Holy Name Song, conducted by Jim D'Amico.


IN ATTENDANCE, THURSDAY, MARCH 6TH, VFW HALL, GARFIELD, NEW JERSEY:

Tom Adamo 48-61
Walt Bienskie 57-58
Rocco Carbone 75-77, 80
Greg Cinzio 67-77 DM
Lynn Cinzio, 75-77
James D'Amico 5055, Director
George DeOld 64-70
Danny-Fanny DeRosa 67-73
Kyle Fleming 04-05
Ed Frenzel Director 73-76
Tim Gallagher 89-90, YEA
John Gangale 57
John Hannigan 73-79 DM
Dave Helms 79-82, 83-04 YEA
Fabian Izsa 58-63 DM
Christen Juel 00-03 , YEA
George King 54-61
Elizabeth Ann Lander 81, 84
Jim Mallen Instructor 1978
Gene Marotta, Friend of the Cadets
Bill McCullum 43-51
Beth Linkletter-McGarril 73-75
Rich (Scotty) McGarry 58-66
Charity Musielak, YEA 95-05
Debbie Kowalczuk-Ripke 72-76
Eric Santo 77-82
Dave Shaw 50-58
Ken Shedosky 57-61
Mark Spinney 97, 99-00
Andy Swiderski 55-58
Maggie Lawrence-Temple 85-87
Stu Tomeske 58-61
Kevin Ullrich 82-83
Todd Ullrich 83
Pat Vazquez 61-67 DM
Walt Vladyka 37-48
Paul Wall 64, 66-71
Joe Wegrzyniak 43-50
Brian Wilke 81-84
Drew Wilkie 03, 07-08
Bob Wilke 66-70
Jessica Wilson 06
et al

I can absolutely guarantee that I missed some people who were present, for which I sincerely apologize. As I've mentioned previously, sometimes attendees neglect to sign in on our registration pad, and my memory has developed a serious leak through an as yet undetected hole in my head.

Next gathering-of-the-maroon: Thursday, April 3, 7 PM, VFW Hall, 340 Outwater Lane, Garfield. If there is any change in the location of the meeting you will be notified.

Now, regarding the big 1953-54 slide show that was promised…it didn't happen! It seems I put all the slides in the carousel upside down, and corrective action would have taken too long. Everyone had a much better time mocking me about it than they would have had watching the slides anyway, so all's well that ends well.

Following an hour or so of informal conversation with old friends and new friends we coerced everyone down into chairs for some formal business (which we swore we would never do at these gatherings, but which seems increasingly necessary as our activities expand and we move forwards towards our 75th Anniversary in 2009).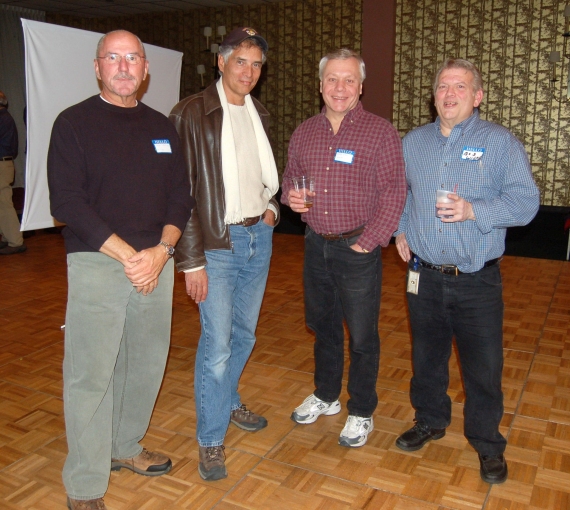 Alumni: CADETS 1963-69 George De Old, Pat Vasquez, Paul Wall, Bob Wilke


We paused for a moment to remember "Bart" Bartello, our highly regarded 1957 DM, and Marie DiDominico, a longtime adjunct staff member of the Cadets; both of whom are recuperating from major surgery. Fabian and Mark Izsa's Dad, Fabian Sr., recently deceased, was remembered , as was Nellie Van Houten, sister of our first DM John Baumfalk, who passed away earlier in the week at the age of 94.

Eric Santo gave a short presentation on the Cadet's Hall of Fame. Responsibility for the HOF was recently passed along to the alumni by the corps, and Eric is chairman of the committee. He explained the nominating and supporting letters process, and how voting will be conducted. Nominations (and supporting letters) should be sent to Christian Juel, christen@yea.org (610- 821-0345). Information can also be obtained from Eric Santo at eric289@aol.com The deadline for submitting nominations and letters of support is April 15th, so don't delay!

Greg Cinzio followed Eric with an announcement that the history book of the Cadets he wrote in the 70s is being rewritten for our 75th Anniversary year. He plans on taking a different approach, focusing on personal memories of events that occurred through the years, through the eyes of the individual Cadets that witnessed them. For additional information contact Greg at gjcmedical@aol.com Greg will be posting something on the website shortly outlining the project in more detail (right Greg?).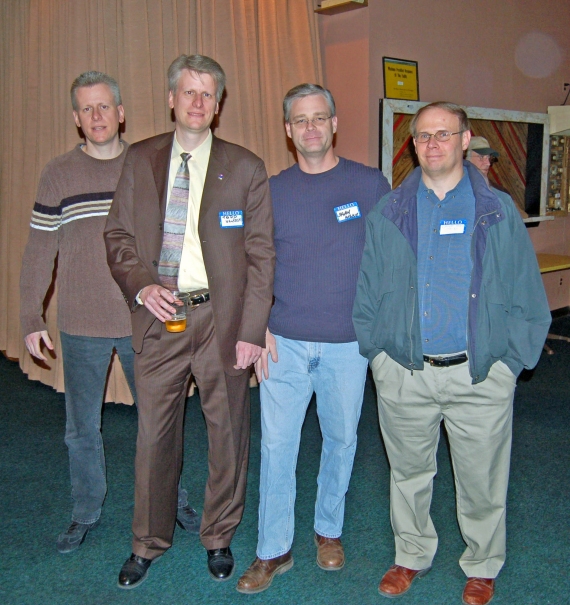 Alumni: 1982-84 Kevin & Todd Ullrich, Brian Wilkie, Dave Helms


Christen Juel, our Cadet Alumni-Volunteer Coordinator, was on-hand to explain the advantages of registering for the new Cadet Alumni Association, and she was accepting on-site registrations. The Alumni Association, still in its' formative stage, already has received 900 registrations. There are no dues, nor costs of any kind, nor any obligations incurred by alumni registering. The advantages are many, including regular newsletter mailings, a membership card that will get you a 20% discount on Cadet merchandise purchased at the souvenir table or through the merchandise page on the YEA website, invitations to a continuing series of post-contest/event alumni receptions throughout the year, etc. If you have not as yet received your membership card in the mail either re-register at www.yea.org, or contact Christen.

Alumni wishing to volunteer their services with our corps this summer should contact Christen . Tim Gallagher is looking for tractor-trailer drivers, and a replacement truck for a vehicle now sent where all used-up vehicles go to die. You can contact Tim at tim@yea.org 610-821-0345 X13. I also owe Tim an apology for asking him to drag a screen all the way down from Allentown to show our slides, and then failing to have our end of the project in order. Thanks for your patience with me Tim.

It's time to give a word of thanks as well to some special YEA staff people who are doing a superb job of keeping us informed, and making the alumni a more integral part of the Cadets' operation. The man behind the positive mindset is corps director George Hopkins. Making it all work is Christen Juel, Alumni-Volunteer Coordinator, Charity Musielak, YEA Webmaster/IT, and Caryn Goebel, Publicity/Special Events Coordinator, and the writer who turns the news reports on the YEA website into shear poetry. The support and assistance of Sean King, Executive Director, Justin (Rudy) Heimbecker, Director of Performing Ensembles, Tim Gallagher, USSBA Events/YEA, who is always there when we need him. For the information of those who don't know, most of these great people are Cadet Alumni as well. Thanks to all of you, and to the rest of the staff not here mentioned. We are very grateful for what you do for our corps, and for us.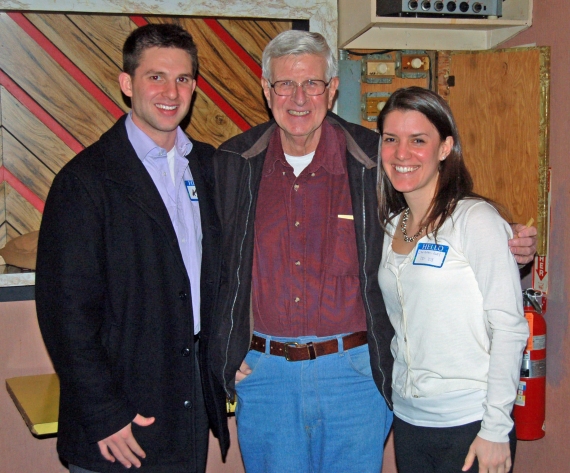 Former Cadet Director, Ed Frenzel, 73-75, flanked by Kyle Fleming and Christen Juel.


At 8:30 PM EST we gathered to pose for our monthly group photo, but most importantly to reaffirm our identity as Cadets by joining together to sing the Holy Name Hymn. All seven decades of our corps' history were represented this evening. Tonight's conductor was Jim D'Amico, Cadet Alumnus, former Cadet Director, Hall of Fame member, and one of the great names of drum corps. As usual we were joined by Cadets around the country, but tonight there was an added twist. We were informed that we were being joined by a member of a former competitor corps , who planned on joining in by humming the melody of Oh Holy Name, out of the mutual respect shared between our corps and his corps. We are deeply honored by this gesture of friendship and regard from David Borck of the Norwood Park Imperials.

This fun-filled evening ended with pizza , handshakes, and hugs. Many months ago we wondered if we would be able to sustain interest in a monthly schedule of alumni social gatherings. So much for that worry! Kyle Fleming suggested that for one of our late-Spring gatherings we do an outdoor program with an outdoor bonfire or barbecue and/or anything else that would fit into that kind of program. Interest seemed high, so we'll attempt to look for a location in the Garfield vicinity that would be available. Memorial Park in Fair Lawn has a picnic area available for outside group rentals (I'm told it's pretty inexpensive), as does Van Saun Park in Paramus. If anyone has any information on possible areas, or any ideas to add to the mix, please contact me at dshaw40@gmail.com and I'll pass along the information to Kyle, who doesn't know it yet, but who will be in charge.

FYI, I just switched computers and will, by necessity, be changing my email address shortly as well. You will be notified on this change, and hopefully emails sent to the att address will be forwarded to the new address for a period of time.

Don't forget to check the YEA website for the dates of upcoming alumni events. The first one on tap will be at one of the Cadets' final camp weekends, with all alumni invited (check www.yea.org to confirm the date). The Cadets' 2008 home show has been changed to July 5th, and it will be held at Clifton Stadium in Clifton, NJ. An alumni tailgate party is being planned prior to the competition.

You might also want to check the News of Our Corps 2008 page on this website to see the trailer put together by the Cadets' 2008 Horn Sergeant, Ryan Tinker. He did a fantastic job conveying some of the excitement building around the corps as they prepare for another great season. The music in the trailer is a portion of what you will hear on the field this summer, and it really creates excitement. Check it out and see what I mean. There is also a small taste of his trailer on our face page between the two new 75th Anniversary logos.

There has been some confusion about registering for mailing lists. Right now you have three options, and should take advantage of each. Most important, register on the alumni page of www.yea.org for the Cadet Alumni Association. Second option, send me an email at dshaw40@gmail.com with your name, email address, and years marched, to be placed on the news update mailing list for the Holy Name website. And finally, when you visit the Holy Name website register there as well so the 75th Anniversary Committee can obtain mailing information, spouses' name, occupation, etc. We apologize for making this so unwieldy, but for the short term this is the route we need to go to set in motion the various alumni projects currently being organized. Thanks for your cooperation.


ALUMNI VOLUNTEERS ARE ALWAYS WELCOME AND NEEDED THROUGHOUT THE YEAR.


Contact
Christen Juel, Alumni and Volunteer Coordinator, at the YEA offices,
610-821-0345 for additional information. www.yea.org

---
2009 – OUR 75TH YEAR: YESTERDAY – TODAY – TOMORROW…THE CADETS!!!
MARK THESE DATES ON YOUR CALENDAR: JULY 31, AUG. 1ST & 2ND, 2009!!!!!!!!
---

photos courtesy of Scotty McGarry
click here for More Photos (courtesy of Charity Musielak)

Back to top