Listen to Don Angelica´s solo from
1957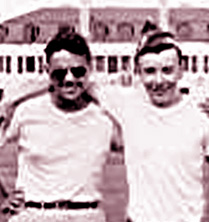 27 November 2008
Thursday, 7:00 AM This is another entry by David's older brother Mike.

David has definitely seen some improvement in his ability to communicate. He has good and bad days of course, but when I saw him on Sunday, he was doing very well.

I surprised Mom, Dad and David Sunday morning with a knock on Mom's door at 8:00 AM. I made David a breakfast of cereal and an asian pear and he munched on some candied pecans that my parents had made. Another consequence of the Decadron besides his improvement in communicating is his appetite. He has never been a big eater, but boy can he put away some food now!

We all went to church together and then had brunch at Carlyle Grand in Shirlington, which is right next door to Best Buns, one of David's favorite places. It was a wonderful morning and it was nice for David and me to get some quiet time together.

David is now in Florida for my Mom's annual family Thanksgiving gathering. They traveled Tuesday and he was very tired from the trip, but when he woke up Tuesday evening he wanted to visit and didn't go to bed until after 10:00PM.

I know he will have a wonderful time today seeing so much of his family.

Happy Thanksgiving to all.


DAVID WELCH…OUR CADET IDEAL
19 November 2008
Wednesday, 7:00 AM

This is another entry by Mike Welch, David's older brother.

On Saturday, a group of past and present Garfield Cadets came to visit David. It was a special event. Pictures are posted at my Live Spaces site at mikewelch64.spaces.live.com.

Doug Rutherford forwarded me his observations from the event. They are as follows:

David continues to stay at his mom's house where he has the help, support, and love of his parents and siblings, and many visitors. It can be challenging to have a conversation with him since he struggles with recall and getting the thoughts in his brain out of his mouth. The Decadron steroid is clearly helping with his ability to function and communicate, however, he does get confused and his coordination and sequencing of normal activities is hindered.

I asked him if he is frustrated with not being able to say what he wants. He responded with a confident "Hell yeah!" Most of his sentences start off with a long pause, then he begins to put together a phrase, and then usually cannot complete the sentence. However, his ability to communicate with non-verbal gestures such as nodding or shaking his head, raising eyebrows, shrugging shoulders, pointing, etc, is quite good. His sense of humor remains strong, but it manifests itself in new and different ways. I see him every few days and I am confident he understands what is going on with his health. I believe David's brother Mike is correct when he says, "David is in there."

On Saturday, a group of about 25 members and alumni of the Cadets Drum and Bugle Corps came to visit David. It was a special gathering that started at 1 PM and lasted for almost 2 hours. David got tired and went to bed at 2:30. The highlight of the afternoon, besides all of the hugging, spirited conversation, story telling, and general catching up, was singing the Cadets corps song, "Oh Holy Name." When members and alumni get together, it is a tradition to sing the corps song, and many Cadets not in attendance are known to sing along at the designated time. Thanks to high-speed Internet, about 6 Cadet alumnae joined the festivities over the Internet from Japan. David got to see them and talk to them on iChat thanks to Christen Juel.

Cadets from across the US actually traveled to VA to visit David. The group included people ranging from 20 to 45 years old. David's friends traveled from as far as Chicago, Massachusetts, and Atlanta to participate in this 2 hours affair - Unbelievable! The brainchild behind this gathering was Joey Glaeser, a current member of the Cadets who drove all the way from Atlanta. The bonds we form in this remarkable activity of drum corps are truly special.

One of the many pleasures of the afternoon was watching David's parents and brother get to experience the impact David has on so many people. It was a great gift for them to be able to see and experience the special bond of David's friends and the Cadets Drum and Bugle Corps. Once again, I walked away with strong and conflicting emotions of happiness and sadness. I am thrilled I had the pleasure of participating in this glorious day. Thank you Joey. Thank you David.

For Holy Name shall always be…

From Mark Poquis, 87-88

I attended the Holy Name sing today at Dave's mother's home in Virginia. It was wonderful to see David with a gleam in his eyes that got bigger and brighter as each past and present Cadet walked through the front door. Some had never met Dave before. Others traveled from as far away as Chicago and Georgia. Dave wasn't able to say my name, but the way that he looked at me, shook my hand, and hugged me told me that he knew.

Doug Rutherford led us through a very unique rendition of the Holy Name song. By no means was it perfect. It was unrehearsed and several of us were out of practice. Considering the chorus was made up of Cadet members spanning almost 30 years, it was the most meaningful performance of the song I have ever given. It was a fitting tribute to a man who has inspired us all.

God bless you, David.

For Holy Name shall always be...

Love,
Mark
14 November 2008
Friday, 12:05 AM

This is another entry being made by Mike Welch, David's older brother.

David is doing well with the help of the Decadron and has been able to communicate his thoughts to some extent.

Yesterday he was sitting with my parents and was able to ask "How long?" My Dad is the one who told me about this and he said that he wasn't sure if David meant

how long did he have to live. My Mom answered him that we just don't know and that is indeed what he was wanting the answer to.

Today David noticed his hand-written journal and picked it up and started to look through it. He found the last entry he had made, which was in October. He then looked at the date on his watch and again at this last entry while shaking his head. My Dad says he told David that he could go get him his pages for November, but David didn't indicate that was what he wanted.

I personally am glad that, as I like to say, "David is still in there.", but it is hard to see him unable to express himself.

I have posted some pictures of Primo Fest and the brunch this past Sunday on my Windows Live Spaces at mikewelch64.spaces.live.comfor those of you who are interested. Don't miss the videos of Donna and MikeC playing piano in the Public Folder. If anyone wants to e-mail me photos of David, I would be glad to post them. My address is mikewelch64@msn.com.

Please keep all of the kind messages and prayers coming our way.


Sing the Holy Name Song for our brother Cadet David Welch
November 2008

This entry is being made by Mike Welch. I am David's older brother for those of you who don't know me.

After much personal agonizing about how David would want all of his friends and family kept advised of his condition and talking to my parent's about it, we have decided to post here where he made his daily journal entries, as we don't know that everyone would know to look at the messages.

I will be posting daily with my personal observations or with my parents' observations.

I accompanied David to Primo Fest last weekend. He had a great time with his friends, but was sleeping a lot and his verbal skills seemed to degenerate over the couple of days we were together. The journal entry that he dated Thursday, October 30th was actually posted Friday night in our hotel room. It took him a couple of hours to write that journal entry. It was a struggle to get him to take his medications and I could not get him to take them Saturday night.

In talking to my parents over the weekend, my Mom decided it was a good idea to be at his home when we arrived.

Here is my message from November 4th which fills in some more of the details:

Hello friends and family of David,

I know you are all concerned about David and the fact that he hasn't posted since Friday night. (His post dated Wednesday, October 29th was actually posted on Thursday the 30th, and his post dated Thursday the 30th was actually posted on Friday the 31st.)

First, please know that David is comfortable and in great spirits. That being said, however, he is not his normal self. When we got him home Sunday night, his apartment had a plumbing problem and had some flooding. Mom had met us there and we told David that he was going to have to go stay at her house. Normally, David would have been very concerned about his home and in particular his rugs and would have been resistant to leaving home to stay at Mom's. This was not the case and he has been at Mom's since. He would also normally be very concerned about posting his Daily Journals, but Mom says he has not mentioned them at all.

Mom has been in contact with his doctor and there was some talk of putting him on Decadron again, but since there have been no sudden changes, just gradual change, we are going to wait until after his MRI on Thursday so as not to affect the MRI with the steroids. We will know more on Friday and I will post more information as it becomes available.

Our entire family appreciates your concern and prayers and ask for you to continue to keep David in your prayers.

I have not seen David since then, but will be seeing him tomorrow.

The following is based on feedback from my parents.

David had his MRI on Thursday, and met with Dr. Fine at NIH on Friday at 10:00. Since his Sunday afternoon return from Lewiston, NY, where I traveled with him to attend the "Primo Fest" in his honor, David has been at our mother's home in Annandale, VA. Alarmed at his condition when she saw him on Sunday, my mother called my father, and he immediately drove to her home to assist with David's care. During this past week, David has declined steadily, speaking less, having more difficulty getting words out when he does try to speak, and sleeping more. However, he was determined to vote. My parents drove him to the polls, armed with the Virginia statute which would have allowed her to fill out his ballot, but David was able to complete his paper ballot without assistance, and was adamant that he required none.

David's balance has become a little unsteady, and his gait has changed, so in light of these and other symptoms, it was no surprise when Dr. Fine said the MRI showed aggressive tumor progression. The scan was, in his words, " terrible." The tumor has crossed the midline, and is on both hemispheres of the brain, primarily in the frontal and temporal lobes, the corpus callosum and the corona radiata. The irony is that the other therapies he's tried—Temodar, and Carboplatin with VP-16—have a much lower success rate than does Avastin. But statistics address results within a large group of people—for the individual, it either works or it doesn't, and in David's case, it just didn't work.

On Monday, my parents had arranged for a hospice nurse to stop by for an informational meeting on Friday afternoon, but by Friday afternoon, it became clear that it was time to enroll. David, of course, had all of the appropriate paperwork prepared ahead of time, and the nurse commented on how well-organized he was. No surprise there!

David is at his best when he's around people, and has visited with several old friends who have come by the house since Friday. David does better with pictures and music than with words, so lots of music and photos are being shared. However, he is barely able to write, and not able to post to his website. He has a hearty appetite, is not bedridden, and was quite improved in speech after his first round of Decadron, which he took last evening. Decadron is a steroid which reduces swelling, and the hope is that he will enjoy a good "window" of enhanced quality of life as the Decadron takes hold. He takes 4 mg twice daily, and if it works, we were told we should see steady improvement within a week. We didn't expect to see any change after just 12 hours, but he did have a better day today.

Next week will bring meetings with the hospice nurse who will be his caseworker, the medical director, and a social worker. David is not upset to be away from his home, and he put his wishes in writing shortly after his initial diagnosis, almost four years ago. He wrote that he wanted to be cared for in the home of a family member, rather than in his own home, and that is what is happening.

David is still struggling to get his thoughts on paper, as that has been a daily discipline for him since he was 12 years old. Last night he wrote for about an hour, and laboriously printed, over and over, until the letters fell into place and these words emerged: "CONFRONT REALITY. CONFRONT END." My Mom and Dad pray with David, and have started reading from the Book of Psalms before David goes to sleep at night. He is facing this stage of his brain tumor journey with the same courage and determination he's shown from the beginning. And anyone who worries that David has lost his iron will hasn't tried to get a pill down him when he doesn't want to take it!

I will post more tomorrow after having seen David. Please keep him in your prayers.

Mike: Thank you for advising us on David's condition. When he reaches the end of his journey on this earth our thoughts and prayers will be with his family, and with all of those who have known and loved him throughout his life.

I will miss him more than words can express, but my memory will be of the joy and light he brought to so many people. I know that I and many, many others will fall to our knees to give thanks for his life, and applause for his accomplishments and for his example of bravery and grace. A truly great Cadet is leaving us.

For Holy Name shall always be...


Back to top