Listen to Don Angelica´s solo from
1957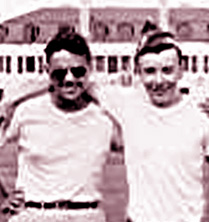 CRAWFISH BOIL AND SOUTHERN CADETS. . .WHAT A GREAT PARTY!!!

Great friends. Great crawfish. Great weather. A great time in New Orleans for the Cadet alumni. Cadets came from as far as Houston, Atlanta and Orlando to get together and crack open a couple of cold ones and catch up on May 25. The only ones not happy about it all were the crawdads on death row. Boiled alive and served hot and spicey with the usual sides of potatoes, corn on the cob, mushrooms and garlic. Members represented the Cadet years from 1980-1984.


For Holy Name Shall Always Be photos courtesy of Eric Gernhauser click on photo to enlarge



Report on the April 2nd Gathering-of-the-Maroon, VFW Hall, Garfield

And a good time was had by all. That about sums it up. This was one of our most relaxed and pleasant Maroon Gatherings to date.


photos courtesy of Patti Lovas-Trojanowski 69-75 click on photo to enlarge
Approximately forty Alumni were in attendance, representing five decades of Cadet history; and that history was pretty much the focus of the evening. Lots of photos were being passed around and discussed, as Kevin Ullrich, who is hard at work on the photo section of the about-to-be-published 75th Anniversary Cadets' history book., collaborated with alumni from other eras in assigning dates to the photos he was given at the meeting. The book, when published, will cost approximately $25, and will be on sale at the Cadets' souvenir table, and online through direct order from the publisher. More information can be obtained from Greg Cinzio, gjcmedical@aol.com.

Everyone was particularly pleased to have Bob Bella Rosa, traveling all the way by public transportation from Red Hook in Brooklyn, back with us again. Bob passed around a photo album of his mind-boggling collection of drum corps and Cadet memorabilia he has on display in the building he owns in Red Hook. Bob signs off on all his correspondence. "Bob'The Kid' Bella Rosa, HNCC/Gabarina." The HNCC stands for Holy Name Cadet Corps, and Gabarina, of course, was the original abbreviated name of the famous New York Skyliners. Throughout Bob's long and fabled personal drum corps history, Holy Name and Gabarina have remained the two great loves of his drum corps life, and that love is reciprocated by the Alumni of the Holy Name era. "The Kid," part is a holdover from his Golden Glove boxing days.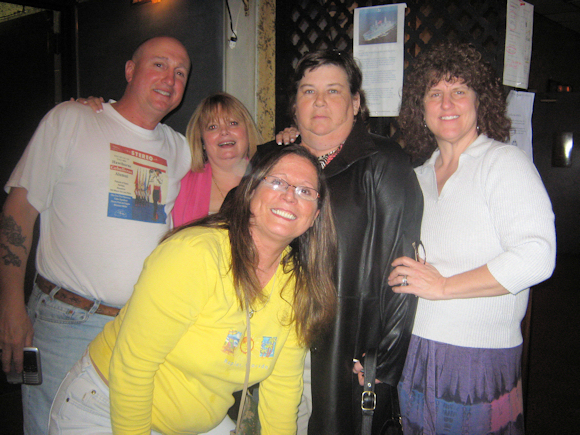 photos courtesy of Patti Lovas-Trojanowski 69-75 click on photo to enlarge
We were also very pleased to welcome back John Carloni (Sr. & Jr). John Jr. marched 62-67, and during that same period John Sr. volunteered his services as a quartermaster, and later worked to assist Ed Kwasnik as co-director, as Ed battled a debilitating illness. Ed is now deceased, and he is missed by the Cadets who knew and loved him.

Others in attendance were:

Bob Bella Rosa 49-52
Walt Bienskie 57-58
Rocky Carbone 75-77, 80
John Carloni, Sr. 62-67 Dir.
John Carloni, Jr 62-67
Dr. Joseph Cinzio 67-78 Dir.
Jim D'Amico, 50-54 , 67-69 Dir.
George DeOld 64-70
Marie DiDomenico lifetime supporter
Sue Erben 78, 80-84
Fabian Izsa 58-66 DM
George King 54-61
Jim Mallen 78 Instruct.
Bill McCullum 42-52 Legacy Cadet
Beth McGarril-Linkletter 73-75
Jim Messina 66-73 DM
Bob Messineo 62 son of Legacy Cadet, Blessed Sac Alumnus
Bob Mosky 73-76
Art Mura 37-49 Jr. DM, Legacy Cadet
Joe Pettigano 42-48 Legacy Cadet
Greg Pych 65-72
Dave Shaw 50-58
Joe Smeyers 72-80
Tony Tantillo 43-52 Legacy Cadet
Walt Taormina 43-52 DM, Legacy Cadet
Patti Lovas-Trojanowski 69-75
Kevin Ullrich 69-74
Sandy Van Romer-Kennedy 69-73
Pat Vazquez 61-67 DM
Paul Wall 64-71
Joe Wegrzyniak 43-50 Legacy Cadet

My sincere apologies to anyone I missed, and I know there were some. No matter how hard I try, some always seem to miss the sign-in sheet and escape my memory.

Short reports and updates were offered those assembled on our rapidly approaching 75th Anniversary series of celebratory events. The Holy Name Hymn, in our established tradition, was sung at 8:30 PM EDT, Greg Cinzio conducting.

There appears to be some lingering confusion on the Memorial Day Weekend events as opposed to the official events of July 31 Aug. 1-2. Originally the master plan was to have two separate weekends of events bookending the season; Memorial Day weekend to kick things off, and the weekend of July 31, Aug. 1-2, to bring all Alumni together for one last grand party and celebration before the Cadets departed for the DCI Championships in Indianapolis. It was only after it became evident that two separate weekends of events would place too great a financial burden on everyone was it was decided to restructure the Memorial Day weekend into a more informal and abbreviated series of events. It is envisioned that Alumni gathered on Memorial Day Weekend will most probably be primarily locally based Alumni, with some in attendance who had already made plane reservations they were unable to cancel. We are attempting to advise every one of the scheduling changes, and hopefully this explanation will assist in getting the word out to everyone.

If you are able to come to the Memorial Day weekend events in addition to or in lieu of the August events please do. It will be a fun time, and you won't regret it. If you can only make one or the other here are the events that will occur during both weekends.

MEMORIAL DAY WEEKEND:

Sunday, May 24th, 10:30 AM – Mass at the Church of The Most Holy Name to remember and honor all deceased Cadets and those who worked on their behalf. Holy Name Church is located on Marcellus Place at the corner of Passaic Street in Garfield. A show of hands of people planning to attend the Mass at last night's meeting gave indication that we can probably expect a heavy turnout.

Following the Mass there will be a very informal luncheon from 1:00 to 3:00 PM at the VFW Hall on Outwater Lane in Garfield. No reservations or ticket purchase required. Food will be available for purchase on site, and the bar will be open for those wishing to purchase drinks. Please plan your schedule so as not to arrive at the VFW prior to 1:00 PM. There is a weekly Church service at the VFW in the morning, and time will be needed to set up for our event following their departure. There will be a donation of some kind collected to give to the VFW for their kind generosity in permitting us to utilize the VFW Hall for this event.

Monday, May 25th 1:30 PM – The Cadets will march in the Memorial Day Parade in Hawthorne, officially beginning the 2009 season as The Holy Name Cadets. The Alumni Corps is also tentatively expected to participate in the parade. Immediately following the completion of the parade the Cadets will present a full concert in the street directly in front of the reviewing stand. There is ample room for spectators in that area, and there are shaded areas.

Following the concert the Cadets will change into their street clothes and then assemble on the upper floor of American Legion Post #199 (The Cab's Post) for the traditional pizza party and presentation of member caps provided by the Alumni. All Alumni, friends, families, and supporters are encouraged to attend to meet our 2009 marching Cadets personally. Since it is virtually impossible to get any kind of accurate head count on the number of Alumni who will attend this event, as well as the issue of additional expense, the pizza and beverages will only be provided to Cadets and their staff. We apologize for this inconvenience. The Italian restaurant providing the pizza for the party is located a short two bocks from the Legion Post, and will be open for alumni after the Cadets' event if you would like to have something to eat before departing for home.

JULY 31, AUG. 1-2, 75TH ANNIVERSARY DIAMOND BASH

Friday, July 31, is the date of part 1 of the DCI Championships in Allentown. The Cadets will be competing. Preceding the contest there will be a reception for Alumni at The Brew Works in downtown Allentown. For additional information on all Diamond Bash weekend events contact: caryn@yea.org

Saturday, August 1, 3-9 PM, all Alumni, parents, friends, and supporters are invited to gather for a reception at the Montclair State University Conference Center and Memorial Auditorium. Details on what is planned for that event are available on the YEA website: www.yea.org. Ticket price until May 23 is $79 per person, children under 12 are free. The ticket price will rise after May 23 to $89 per person. As part of this event our 2009 Cadets will present a concert of music-through-the-years (included in ticket price).

Sunday, August 2, 4-6:30 PM there will be a tent party for Alumni preceding the 7:30 PM Cadets' home show, Music in Motion, at Clifton Schools Stadium, Clifton, NJ. Tickets in an Alumni seating block are available. Order tickets through the YEA website: www.yea.org. Please note that separate tickets are required for the Saturday and Sunday events. The tent party preceding the contest is free of charge.

Hopefully this information will help to clarify the difference between the Memorial Day weekend events on May 24-24, and The Diamond Bash weekend events on July 31, August 1-2.

There will also be many affiliate events scheduled by Alumni throughout this 75th year. On April 25th Southern Cadet Alumni in Louisiana are planning a crawfish boil. All are invited. For additional information contact Eric Gemhauser: eric@renpublic.com

John Hannigan has offered the use of his lakefront house on Lake Hopatcong, NJ for a family picnic during the summer. Once a date has been determined more information will be sent to you. Those of you in attendance last year will remember what a great time we had.

The next North Jersey Gathering-of-the-Maroon will be Thursday, May 7, 7:00 PM , at the VFW Hall in Garfield. In lieu of the usual pizza fare, we ask that anyone planning to attend bring a dessert of some kind to share. Coffee and Tea will be available, and the bar will be open. The usual $5 pp collection will be made as well for a donation to the VFW for providing us, once again, the hospitality of their Hall. This will be the final Gathering-of-the-Maroon until October 1st. You will be advised of site confirmation prior to that October meeting.

Excitement is already starting to build among Alumni for our once-in-a-lifetime 75th Anniversary. All feedback being received from a large number of sources is that a huge number of Alumni are expected to be in attendance. This is your chance to reconnect with old friends and fellow Cadets, and to re-bond with the corps we all love. BE THERE! DON'T ALLOW YOURSELF TO MISS THE CHANCE TO BE A CADET ONE MORE TIME. For those Alumni who actually want to play with the Cadets ONE MORE TIME, you can register to do just that. Alumni are invited to join the Cadets for an encore performance following the competition. Check www.yea.org for more information and to register to participate.

Hear the call Cadets. This is your corps. This is your celebration. This is your history. Come back home…ONE MORE TIME!

For Holy Name shall always be…


Back to top