Listen to Don Angelica´s solo from
1957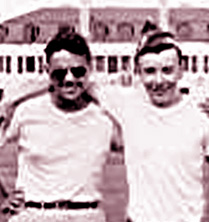 Gathering-of-the-Maroon Report – May 7, 2009



Well, "What a manuvah!" we put together last night. The final pre-season gathering-of-the-maroon exceeded all expectations and then some. We knew from feedback we received in advance of the event that we were going to have a record-breaking turnout…but WOW….we had no idea just how record-breaking it was going to be. It was Cadet heaven!


For Holy Name Shall Always Be photos courtesy of Rich McGarry & David Rice click on photo to enlarge



I started off the evening playing the role of congenial (congenial for me at least) unofficial greeter; but my excitement took over my good intentions. To see original marching members from 75 years ago walk through the door, then three prior Directors of the Cadets, Cadet parents and supporters from the Holy Name years, a huge contingent from our original female color guard , including both original co-captains, marching members from the 1970s whom we haven't seen for years, my personal best friends from my earliest years in the Cadets, two of our favorite YEA staff representatives…and on, and on, and on.

I guess you get the picture. If you missed it, you missed something really, truly special. There were so many camera flashes going off all around me I thought I was getting an advance preview of Macy's Fourth of July fireworks on The Hudson.

The focus was on socializing, catching up, and hugging fellow Cadets we haven't had the opportunity to hug for years. Al Mura, one of our 12 original founding members, and the Drum Major who led our 1940 corps to our first National Championship , led all present in the singing of our Holy Name Hymn. I was positioned facing the group, and to see the look of absolute joy on the faces of those present who hadn't had an opportunity to sing our song in many years was something to behold. I didn't see anyone grappling with the challenge of trying to remember the familiar words from a time long ago in their lives. Our corps hymn is something few Cadets ever forget, and that was obvious as I watched my fellow Cadets bond once again, with raised voices, and a lot of tears.


For Holy Name Shall Always Be photos courtesy of D. Rice & R. McGarry & D. Kolbusz-Schlacter & D. Shaw
click on photo to enlarge



To set this meeting apart from those that preceded it, we decided to forego our usual pizza, and instead asked everyone to bring a dessert to share. You had to see the result. We had cakes, pies, cookies, pastries, brownies, doughnuts, and candy in sufficient quantity to open our own bakery. People were too busy enjoying the real treat of reconnecting with old friends and meeting new ones to eat much of anything, so I ended up having to beg people to take as much as they could carry home with them,…and we still had a load left over.

Unfortunately, with so many activities planned for our Diamond Jubilee Anniversary Year of 2009 , we had to devote a portion of the program to outlining details and instructions on some of the most immediately pending events.

Doug Tenis 58-62, the Hawthorne Parade organizer, gave us a rundown on tips for survival at the parade, on Monday, May 25th, at 1:30 PM (reviewing stand – Lafayette St.reet – the main thoroughfare of the Borough of Hawthorne). The reviewing stand will be in front of City Hall, right around the corner from American Legion Post #199 (Caballeros home post). Hawthorne is expecting a far larger crowd of spectators than in earlier years, necessitating the placement of barriers along the street for crowd control. Doug advised all planning to attend to arrive early and bring a lawn chair, There is limited shaded-area space for spectators in the area of the reviewing stand, so an early arrival is a must. Parking is available along the railroad tracks, one block in from the parade route. Again come early to secure convenient parking.

At the completion of the parade our 2009 Holy Name Cadets will reassemble in front of the reviewing stand to present a 20 minute concert to thank the citizens and officials of Hawthorne for their hospitality over many years, and to salute the Cadet Alumni present.

Following the concert the Cadets will change out of their uniforms and proceed to the Legion Post for a pizza party sponsored by our Canadian Alumni with matching funds from Ken Shedosky 57-61, All Cadet Alumni, parents, friends and supporters are invited to join us to meet our newest Cadets one-on-one prior to their departure for their Spring camp. We regret that the pizza and beverages will be distributed to Cadets and their staff only, but following this traditional send-off from the alumni, those wishing to are invited to join us at the Italian Restaurant located just down the block from the Legion Post for a bite to eat before departing for home. Many Alumni are expected to take advantage of this opportunity to share some time together.

During the pizza party the special 2009 baseball caps that were designed specifically for the 2009 Holy Name Cadets, and not available for sale or distribution to anyone other than the Cadets and their staff, will be presented. The caps-for-cadets alumni initiative is the program that solicits donations from Cadet Alumni to fund these caps every year. The names of this year's donors, as well as the Canadian Alumni donors for the pizza party, will be included in the next news article posted to this website following the parade on Memorial Day.

Doc Cinzio, a former Cadet Director, reported on plans for the Memorial Mass that will kick off all the celebratory events for our 75th Anniversary. The Mass to remember all deceased Cadets and those who gave so much in support of the Cadets will be held on Sunday, May 24th, 10:30 AM, at the Church of the Most Holy Name, located on the corner of Marsellus Place and Passaic Street in Garfield. All are invited to attend. Parking is available in the school lot directly across from the Church, and in the bank lot adjacent to the Church. Attendees are advised to arrive no later than 10:15 AM. Monsignor Reilly, the Pastor of Holy Name Church has been extremely supportive of this special service, so important to all of us. .


For Holy Name Shall Always Be photos courtesy of Dave Shaw & Rich McGarry click on photo to enlarge



A sign advising people of the special Mass was installed on the Church lawn by George King 54-61 on Wednesday. George put a lot of time and effort into designing the sign, having it made, and personally installing it. In addition he used personal supplementary funds to make sure it was constructed correctly to withstand adverse weather conditions.

The Mass has been carefully planned as a beautiful Cadet-specific service. Cadet Alumni will participate in all aspects of The Mass, with Cadet Rich McGarry 58-59 assisting in the Mass as a Deacon of the Church. The service will conclude with the singing of our Holy Name Hymn by all Alumni present. There will be pews reserved in the Church for us. Look for the Cadet emblem signs affixed to the reserved pews. Following the Mass we will assemble on the front steps of the Church for group photos.

At 1:00 PM following the Mass we will reassemble at the Garfield VFW Hall on Outwater Lane for a casual luncheon. No advance reservations are necessary, and there is no admission charge. Picnic type food will be available for purchase on-site on an item by item basis, and the bar will be open for service. There is a morning church service at the VFW building preceding our luncheon, and we will need a little time to set-up following that service, so please try not to arrive in advance of 1:00. There is parking space available in the VFW lot, and next door in the Amvets lot. We can probably anticipate a parking problem until the people depart from the church service, so once again, please do not arrive prior to 1 PM.

Eric Santo 77-82 presented an advance report on the nominees selected by the Hall of Fame Committee to be voted on by the Cadet Alumni registered on the YEA Cadet Alumni website. (www.yea.org). The nominating letters and support letters will be posted on the website very shortly. Any Alumnus who would like assistance in registering or would like additional information should contact Caryn Goebel '83 at caryn@yea.org. (610 821 1451 Ext. 121)

Greg Cinzio 67-77 updated us on the new Cadet History Book which will soon be in publication. Publication has been delayed for a short period of time to permit inclusion of new material recently received that warranted inclusion in the book. There will be a full color cover, a text section on the history of our corps, a black & white photo section laboriously and lovingly assembled by Kevin Ullrich 82-83, and a third reference section with information on music played, scores, key personnel, and similar; broken down on a year by year basis. The cost of the book will be $25. A limited amount of copies will be available for sale on the Cadets' souvenir table, but the bulk of the orders will be made individually on-line, with a two week delivery time frame. More information on the ordering process will follow.

Pat Vazquez 62-67 gave us an update on the status of alumni registration for the combined encore performance featuring the 2009 Cadets and Alumni in concert following the Clifton show on August 2. At the present time there are about 80 alumni registrations for participation, with Pat expecting a final total of around 100. The alumni will wear khaki pants and white shirts (tentative), with some appearing in military uniform. Music is being posted on the YEA website, www.yea.org (follow the alumni corps tabs). To date one song has been posted of the four that will be played. It is suggested by Brian Callahan 63-64 that if you haven't played for awhile and don't have an instrument to practice on, that you can temporarily rent an instrument for that purpose at any music store. The rehearsal schedule for the weekend of August 1-2 is posted on the YEA website as well.

Sue Erben 78, 80-84 of the Cadets' office gave us an update on progress on the 2009 Maroon and Gold fund-raiser, relative to alumni participation. Things are moving slower than they should be in this area, though several alumni present informed me that they are committing to the 75 Club (one dollar for each year of our history). This fund-raiser for our 75th Anniversary year is important, and we cannot become complacent nor can we rely on someone else to carry our share of the responsibility .This is our corps, these are our kids, this is our history and our heritage. Make a donation NOW to help ensure that we are still on the field of competition for the next 75 years, and that the Cadets of today and tomorrow will be able to share in the unique and life-changing experience of being a Cadet. Someone did it for us when we were marching, and now it is our turn and our obligation to do our share for those following in our footsteps. If not us, who? If not now, when?

Caryn Goebel '83 ended the business section of this final pre-season gathering by outlining the plans for the big blast August 1-2, and the activities scheduled in Indianapolis for Our Alumni to join the Cadets at the traditional finals-morning breakfast on Saturday and the annual corps banquet on Sunday. Please check www.yea.org for all the information you need to make this a summer you'll never forget. Alumni across the country unable to travel to New Jersey on August 1-2 will find the party coming to them. Check www.yea.org to see what alumni events are scheduled in your area as the 2009 Holy Name Cadets embark on tour.

This lengthy article attempts to inform you insofar as possible of what's happening and what you need to know; but there is much, much more. You are going to find surprises around every corner at every event; and it's guaranteed that every one of them will add to your pride in being a Cadet And, after all, we all know how much pride we already feel. We have made this corps the most honored corps in history, and we are all a part of the whole.

In attendance::

As always, my apologies to those whom I missed because you neglected to sign in, and I have the memory of a stone.

Tom Adamo 48-61 legacy Cadet
Paul Arthur 57-62
Vince Barilla 48-56 legacy Cadet
Bob Bella Rosa 49-52 legacy Cadet
Walt Bienskie 57-58
Herb Bonin 48-54 legacy Cadet
Joe Bonin 42-50 legacy Cadet
Charles Brandenburg 51-53
Rocky Carbone 75-77, 80
John & Bertha Carloni, 63-66 Co-Dir.
John M. Carloni 63-67
Jerry Chirichella 65-71
Lynn & Greg Cinzio 67-77, 67-73 DM
Dr. Joseph & Sophie Cinzio Dir, 67-78
Gene Clayton 48-56 legacy Cadet
Jackie Colao 69-73
George DeOld 64-70
Cindi DeVivo 69-73
Rich DiCrosta 58-62
Marie DiDomenico lifetime Cadet volunteer & supporter
Sue Erben 78, 80-84 Cadets' staff
Ed & Annette Frenzel 73-76 Dir.
Joe & Caren(Blundetto) Frech 69-75, 77-79 Cadets' seamstress
Frank Galka 63-72
Margee Estelle-Gebhart 69-71
Caryn Goebel 83 Cadets' staff
Dee Dee Queen-Imbro 77 Cadets' Seamstress
Fabian Izsa 58-63, 65 jr. DM
Irene (Mrs. Fabian, Sr.) Izsa Cadet parent, booster, and lifetime supporter
George King 54-61
Dee Kolbusz-Schlachter 69-72 CG Capt
Rich Kozel 60-65
Renee Lapadura 69-73
Jeff Males 68-72
Gene & JoAnn Marotta Special friends of the Cadets
Beth Linkletter-McGarril 73-75
Dennis McGarro 66 (plebe)
Owen McGarry 61-67
Rich McGarry 58-66 Cadets' historian
Jim & Barbara Messina 66-73 DM
Al Mura 34-54 DM, heritage Cadet
Art Mura, 37-49 Jr. DM, heritage Cadet
Nick Patrisso 34-40 heritage Cadet
Lillian Petrullo 69-74
Greg Pych 64-92
Pat Ragnoni 72-77
David Rice 69-70
Tommy Sands 56-61
Donna Schiavone 77-82
Dave Shaw 50-58
Ken Shedosky 57-61
Kelly Smith 82-84
Andy Swiderski 55-57
Tony Tantillo 43-52 legacy Cadet
Walt Taormina 43-52, DM, legacy Cadet
Maggie Lawrence-Temple 85-87
Doug Tenis 58-61
Todd (cannot read last name) 83
Judy Tomko-Ulchinsky 69-72 CG Capt
Patti Trojanowki 69-75
Kevin Ullrich 82-83
Todd Ullrich 83
Walter Vladykca 37-48 heritage Cadet
Patriick Vazquez 61-57 DM
Paul Wall 64, 66-71
Nancy Watson 71-73
Joe Wegrzyniak 43-50 legacy Cadet
Brian Wilke 81-85
Bob Wilke 66-69

---

As we approach Memorial Day, now only two weeks away, I'm going to close this report with a letter written by Bill Traina 66-68 to honor his deceased Father, Marine Sgt Ret. William J. Traina, and a poem written by Jim Kennedy (U.S.Army Airborne Ranger Ret.) in honor of his nephew, Sgt. Adam P. Kennedy, U.S.Army, who was killed in action in Iraq on Easter Sunday, 2007.

We mourn them both, and we bow our heads in respect and reverence for their bravery and their service to our great Nation.


A SPECIAL MEMORIAL DAY REPORT



Editor's Note: The father of our fellow Cadet, Bill Traina 66-68 recently passed away. Bill sent a posting to the PERSONALS page on our Holy Name website to inform our Cadet Family of his loss and his sorrow. That posting somehow was erased, so I contacted Bill and asked him to resubmit it. The letter he sent in return was so powerful, and so fundamental to our beliefs and values, I thought I should share it with you in its' entirety.

"SEMPER FI" AND "FOR HOLY NAME
SHALL ALWAYS BE…"



AREN'T SIMPLY WORDS



Dear Dave,

Your expression of condolence and those of the members of the Alumni Corp means a lot, and I thank you all.

It was very hard not to think of the Cadets when the white gloved Marine Lance Corporal Christopher Belfy carried the green marble repository with my Dad's remains down the aisle of the church that morning.

He saluted in slow motion, and in that crisp and disciplined tradition, turned, slowly walked a few paces, turned again and instantly stood at attention throughout the Mass and eulogy. Thank you Lance Corporal Christopher Belfy.

At the grave site and burial, the dignity, honor and respect that was paid to their departed brother, my father, Sergeant William J. Traina, by Sergeant Thomas Singer and Sergeant Daniel Pena was overwhelming:

The folding and presentation of the flag, the playing of taps. My years of drum corps kept informing this epic occasion, urging the obvious comparison between the exemplary embodiment of ideals, of honor, dignity, precision and discipline - represented by both the Marines and the Cadets!

You know, ultimately though, I think you come to realize that it's not the pomp or ceremony, the flash or the uniform. Sure, they're impressive, but they're only the outward manifestations, powerful though they are, of that inner conviction and dedication to proven principles that form the "core" character of great sister and brotherhoods such as the Marine Corp and the Cadets.

You hear it in the refrain "This I Believe," those lessons that sustain us in life, those that give us direction and balance...and, in the face of death, strength and courage.

Those guiding principles endure, they are forever - they never fail. We acknowledge our bond to these values every time we stand in solidarity and with reverence to sing our solemn invocation, "for Holy Name shall always be..." "Semper Fi" Dad. Your family misses you and we love you.

And thank you Dave Shaw for your tireless efforts in gathering the Maroon & Gold, your selfless dedication and your informative and inspirational writing on behalf of all in the drum corps family. There are truly powerful forces surrounding us when we are part of this great extended family.

For Holy Name shall always be...

Bill Traina 66-68



---

A WARRIOR, A NEPHEW, AND A SON
OF AMERICA
THANK YOU FOR GIVING US
EVERYTHING YOU HAD TO GIVE

The following is a message and poem I wrote on Memorial Day 2007. It was in honor of SGT Adam P. Kennedy, USA who was killed on Easter Sunday 2007 in Iraq. I had the honor to offer Adam's eulogy at his funeral and I am forever locked into the memory of his brief but meaningful life.

I realize that Memorial Day is almost upon us. Recent events have given me the motivation to try a Memorial Day poem. My primary source of inspiration comes from my standing on the tarmack at Dover Air Force Base where I welcomed my nephew, SGT Adam P. Kennedy home, along with my daughter and my brother Dennis. An experience I will never forget.

In that quiet moment of dignity I knew this was perhaps the most memorable experience of my military life.

My poem to a fallen hero, my nephew, Adam:

Hello family and friends. Here is where my journey comes to it's initial end.

Soon, I will be carried to the home of my childhood where all will gather to greet me anew.

To you, all of my beloved, I ask that you not be deeply saddened as you look to me as I arrive home.

But rather, look up with eyes and hearts to the heavens and see me in God's beautiful glowing sunset.

You know that I now unite with my comrades in an everlasting place of peace, honor, and glory.

Celebrate with renewed enthusiasm this sacrifice I was called upon to make for you.

Today, the Lord has greeted me and welcomed me into my eternal home.

I am proud of the fact that you nurtured me in freedom, and I have not left you with my mission unfulfilled.

To all of you, I am known as Adam. I am also known as citizen, soldier, patriot, and beloved comrade.

So, we do not say farewell. I am with you always.

No, not farewell, but, " I will see you on the other side".

Memorial Day 2007.

James Kennedy 59-61, U.S. Army Airborne, Ret.

For Holy Name shall always be…


For Holy Name Shall Always Be photos courtesy of Jim Kennedy click on photo to enlarge



Back to top