Listen to Don Angelica´s solo from
1957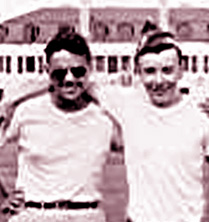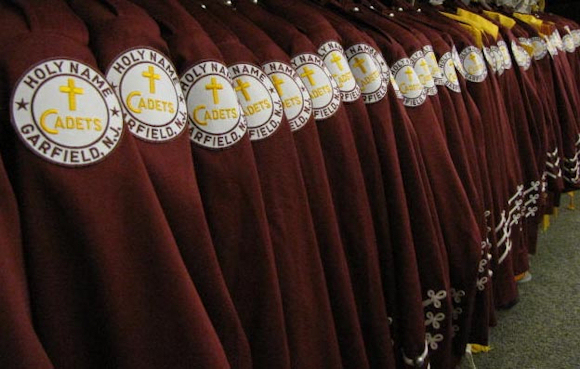 For Holy Name Shall Always Be photos courtesy of Dee Dee Imbro Queen 77

REPORT ON THE MEMORIAL DAY WEEKEND
KICKOFF OF OUR 75TH ANNIVERSARY,
DIAMOND JUBILEE YEAR OF 2009

Take a seat, pour a glass of wine, lean back in your recliner, and get comfortable. I am about to break my own record for the longest event report to date...and, as you all know, I'm not exactly famous for brevity anyway. Don't let the length overwhelm you. You can break it down into parts and read one part a day until either your eyes give out or you can't take any more. After seven days this article will self-destruct and you will be free to resume your normal life


For Holy Name Shall Always Be photos courtesy of Dave Shaw click on photo to enlarge


PART 1 - THE MASS AT HOLY NAME

Many years ago all Holy Name Cadets rehearsed in the basement of a modest little wooden church in Garfield., NJ. On Sunday, May 24th, more than 200 Cadet Alumni of all eras, some with their families and friends, gathered for a Memorial Mass to begin our 75th year of history, and more specifically to remember and honor Cadets who have passed into eternity. This time, however, we gathered in a breathtakingly beautiful church that bore no resemblance to the tiny wooden church we all remembered and loved. The church of our youthful memory.

For some a bit apprehensively, and for others joyfully, we returned for this one special day to the church where our history began. We were welcomed and pleasantly surprised by a large sign on the church lawn, advising all who passed of the special Cadet Mass that would be conducted on that day, and of the 75th Anniversary of The Holy Name Cadets. Cadets representing many years of Cadet history packed the church pews, turning to greet and embrace friends from years past, and friends just met; all gathered in tribute to our corps, and the Cadets who now belong to the ages, but lovingly live on in our hearts and minds.

Monsignor James Reilly, the current Pastor of the Church of the Most Holy Name, ascended the altar, peered out at the sea of maroon spread out before him, opened his arms wide, and said simply and eloquently…"Welcome Home Cadets." With those three words the healing process for many present began.

This very special Cadet Mass had been in the planning stage for many months; inspired by the significance of the occasion, the significance of the site, and the reason for the service. Monsignor Reilly's support and enthusiasm was present from the very beginning of the planning process. In addition to the sign erected on the lawn of the church, flyers were inserted in the church bulletin passed out at every mass for several weeks preceding the actual event. The church was ready for the Cadet Alumni, and we were ready to reestablish the bond that had been painfully severed fifty-one years ago.

Every participant in the service of the mass was a Cadet Alumnus with the exception of Monsignor Reilly. Co-celebrating the mass was Monsignor Edward Matash 43-50, and Deacon Rich McGarry 58-66. The Cantor, with a voice that was as beautiful as any ever heard, was Nancy Watson Baker 71-73. Lectors were Albert Mura 34-42, (a Heritage Cadet and the Drum Major of our first national championship corps in 1940). and Greg Cinzio 67-77 (Drum Major '77). Patricia Lovas Trojanowski 69-75, Cynthia Carozza DeVivo 69-73, Margee Estelle Gearhart 69-71, and Karen Cinzio Corman 77-83 presented the gift of offerings.

The mass was conducted with the semi-military pomp and pageantry familiar to most Holy Name era alumni. Contrary to the misconception held by many, faith was not a qualifying factor in becoming a Cadet. While initially membership was limited to boys in the parish, over the years boys of many different faiths wore the uniform of a Cadet. The charismatic inspiration for organization of the Cadets, in fact, was a fourteen-year-old boy, John Baumfalk, a member of the local Dutch Reformed Church.

Many in the church for this special mass, therefore, were not Catholic; but in most cases the Church of the Most Holy Name had been a major influence in their formative years. When Monsignor Reilly looked out at them and welcomed them "home," that was exactly how those of us who are not Catholic felt…back home!

The opening procession down the aisle was both traditional and breathtaking. It was led by Cadet Katie Capasso 05-07, in full Cadet uniform, carrying the historical Holy Name Cadet shield. She was followed several paces behind by Cadets Chris DelVeccio 05-06 and Cadet Andrew German 08, both in full Cadet uniform. Chris and Andrew carried the shako and gloves symbolic of all departed Cadets. Several paces behind them was Cadet Fabian Izsa Jr. 58-63, 66, carrying a replica of the sabers officially presented to the Cadets many years ago by officer-representatives of The Military Academy at West Point. Several paces behind Fabian, moving up the aisle side-by-side were two Heritage Cadets: Arthur Mura 34-50, and Nicholas Patrisso 34-49.

Directly in front of the altar a memory table had been placed, covered with a shawl worn by Karen Cinzio Corman 77-83 when she performed in the Cadets' fabled 1984 West Side Story production that many feel changed the face of drum corps forever. The memory table was framed by beautiful floral arrangements donated by Joseph Nikischer Jr., Plebes '69-74, and his family.

As each uniformed Cadet arrived at the memory table they placed the items they were carrying next to the memory candle that had been pre-positioned on the table. The three uniformed Cadets then moved to positions of honor guard flanking the table as our two Heritage Cadets, Al Mura and Nick Patrisso, approached to light the candle. As it was lit they took a step back and placed their hands over their hearts, while the uniformed Cadet Honor Guard, executed the majestic slow-motion "salute to a fallen comrade." The music performed by the Holy Name Church choir and organist during this ceremony was "All Glory, Laud and Honor"

The members of the processional party then took their seats for the welcoming remarks and homily by Monsignor Reilly, which focused on the history of our corps, the honor we have brought to the church and to ourselves, and the value and wonder of the unique "Cadet experience."

In the traditional format of a Catholic service of the Mass, Heritage Cadet Albert Mura 34-42 and Greg Cinzio 67-77 then read the liturgy of the word. The responsorial psalm was "The Lord has set His Throne in Heaven." For those of you unfamiliar with a Catholic Mass, the Cantor plays a major role in all sung responsorial portions of the mass; and we were fortunate to have Nancy Baker Watson 71-73, a renowned Canton, volunteer her services.

The offertory song, sung during the collection of donations, was followed by a stirring rendition of "Battle Hymn of the Republic" sung by the choir during the distribution of communion.

A song of reflection, honoring all of our deceased Cadets, "Thankful" by Josh Groban, was sung by Anthony Bartello, Jr., son of Anthony Bartello, Legacy Cadet 48-57. The lyrics of the song unleashed a flood of emotions, as it was beautifully sung by Tony, Jr. as his gift to his Father. As the song of reflection began our three uniformed Cadets resumed their honor guard positions flanking the memory table, and once again rendered the slow and majestic "salute to a fallen comrade," holding the salute for the duration of the song. There were not very many dry eyes in the church at that moment, as most present remembered close friends and family members who had once worn the same uniforms as the young Cadets now saluting their memory.

Monsignor Reilly then asked everyone in the church, with the exception of Cadet Alumni, to be seated. The three uniformed Cadets turned to face the pulpit, and Anthony Bartello, Sr. 48-57 (Drum Major 1957), led all alumni present in the singing of the Holy Name Hymn. At the conclusion of the hymn Cadet Major Anthony Bartello '57 walked to the memory table and extinguished the flame on the candle.

Following a blessing from Monsignor Reilly the recessional formed, led by the officiating clergy. The uniformed Cadets respectfully retrieved the symbolic articles on the memory table, and joined the recessional as the music of "Alleluia, Alleluia," with organ and trumpeters George King 54-61 and Greg Cinzio 67-77, filled the church with the sound of joy and celebration.

There are few moments in life as rich and soul stirring as what all those present in Holy Name Church during this opening event of our 75th Anniversary experienced. The feelings of the Cadets and their loved ones present at this ceremony will live in our hearts and memories for the rest of our lives. The Cadet alumni, family, and friends, exited the church with the uniformed honor guard standing at attention on either side of the door, and Monsignor Reilly individually thanking those in attendance. Group photos were taken on the front steps of the church, but no camera could ever capture the beauty and majesty of this opening event of the 75th Anniversary of The Holy Name Cadets.

Many of us are familiar with the many and varied contributions of the Cinzio Family to the Cadets over a span of many years. Dr. Joseph (Doc) Cinzio, was Corps Director of the Cadets 77-79, preceded by years and years of service to the corps as Business Manager and other administration positions. His eldest son, Greg, marched Cadets 1967-77, and was Drum Major in 1977. It is to Doc and Greg we owe our thanks for all they did to make this special event such a huge success. It should also be mentioned that Doc has been supported and encouraged all these years by his beautiful wife Sophie, his second son Ken, and his daughter Karen. The spouses of all his children also marched Cadets, and in fact all six marched while he was Director. So our thanks also to Sophie, Ken and his wife Karen, Greg's wife Lynn, and last but not least, Karen and her well known and much admired husband Warren Corman.

Another Cadet Alumnus who worked long and hard to make this special event a reality is George King 54-61. In all our alumni projects in this Cadet-homeland area, George is a constant contributor in doing whatever is needed, whenever he is asked. Very few know how much he does, but we are all in his debt.

Thanks also to all those who volunteered their services to enrich the celebration of this very special mass. Their names are sprinkled throughout the article.

Finally we would like everyone to know of the complete cooperation and support of George Hopkins and his staff. Justin (Rudy) Heimbecker, the Assistant Director of The Cadets, and their guiding force in day-to-day operations, took time out of his jam-packed spring training-camp responsibilities to ensure that we received the uniforms needed for our guard of honor. George similarly took time out of his busy schedule to attend both the mass and the reception that followed. We are grateful to you both.


Click here for more photos of anniversary Mass at Holy Name and brunch.

PART 2 - THE BRUNCH

A brunch, held at the VFW Hall in Garfield, followed the services at Holy Name Church. We tried to make this event as informal as possible so people would have an opportunity to follow the emotions of the morning with something less challenging. It appeared as though the bulk of the people from the Church service traveled to the VFW as well, and socializing began immediately. We were very fortunate in having a member of the Garfield VFW, Ray Peters, do all the heavy lifting for us. When we arrived the decorations were in place, and Ray and his family were in the kitchen cooking up some pretty tasty picnic-type food items. It saved us a lot of work organizing the food portion of the event, and allowed a lot more free time to just sit around with friends old and new to talk about anything and everything Cadet-related. Ray probably won't get to see this report, but regardless, we want to recognize the great contribution he and his family made to the success of our brunch.

The room looked beautiful with everything maroon and gold (of course), and various displays around the room (which few even noticed since they were having such a good time just socializing).

Margee Estelle Gearhart arrived with two amazing cakes baked by a close friend; one a full scale Cadet shako, and the other a sheet cake cut in the shape of a torso wearing a Cadet tunic, cross belt, and sash. They were both spectacular, not to mention delicious. Fortunately plenty of photos were taken before a knife appeared. George King's generous contribution was a huge bowl of homemade cookies that seemed to disappear pretty rapidly. His cookies have now become famous among Cadet Alumni.

We were honored by the presence of both Monsignor Reilly and Monsignor Matash. I was told afterwards that both Father Jim and Father Ernie, two long-time Cadet supporters, were present as well, and I apologize for not being aware that they were present. Our "honor guard" Cadets were in attendance, as was our corps director, George Hopkins. Two special Cadets attended both the Mass and the brunch in spite of just having recently undergone surgery for major injuries. John Avella, illustrating his always-present spirit, determination, and commitment, was there with his lovely wife Susan. Ted Magda was also present with his arm in a sling following some pretty serious surgery of his own. He was accompanied by his Cadet Alumnae wife Ginny (Wildt-Magda).

There was no formal program (unless you consider drinking at the bar a formal program), with the exception of a moving prayer offered by Patti Lovas-Trojanowski for our men and women in uniform. We were celebrating the Cadets' 75th Anniversary, but we were also very much aware of the solemnity of the Memorial Day observance, and the debt we all owe to those who have served, those who returned with shattered lives and bodies, and those who made the supreme sacrifice. A sincere thank you and expression of love and support from all Cadets to all of you out there who currently wear the uniform, or previously wore the uniform, of our military services. God Bless you and God Bless America!


For Holy Name Shall Always Be photos courtesy of Rich McGarry & David Rice click on photo to enlarge


PART 3 - THE EMERGENCY

Just as we were getting ready to move on the last minute detail items for the big kickoff weekend I got an appeal from the corps. They had just been notified that the school they had arranged to house them on Sunday night had unexpectedly advised that for whatever reason the site wouldn't be available after all. The corps wanted to know if there was anything the alumni could do to assist in finding an alternative site. I promised we'd try.

It's been a long time since I arranged housing for a corps, and my contacts in this area disappeared long ago. Fortunately New Jersey is still Cadet-land, and there are lots of alumni who would walk on broken glass for the Cadets. It didn't take long to find a couple of them. I was driving past the Hawthorne American Legion Post shortly after receiving the assistance request when Bill McCullum, the Deputy Post Commander and a Legacy Cadet Alumnus 42-52 was just preparing to lock the door. I informed him of the corps' need and he immediately got on the phone with Doug Tenis, also a Cadet Alumnus 58-62, the Hawthorne Post Commander and coincidentally the Hawthorne Parade Coordinator; and Doug, without hesitation, granted permission to use the Legion Post.

We knew it would be a tight fit with 150 kids plus staff, plus a number of out-of-state kids from the Cabs competing corps staying overnight at the post as well. It was also far from an ideal situation; no showers and a very limited number of tiny restrooms. Our primary goal was to take the pressure off the corps so they knew they were covered, hoping that something more suitable would be found. It turns out that not many people answer their phones the day before a big holiday weekend (go figure!), so the Legion Post was our best option.

We knew also that the corps planned on driving in from their training camp in Johnston, approximately a six-hour drive from Hawthorne, so we would have to at least have water and some kind of light snacks available. I found myself back in BJs wholesale warehouse on the day before a major holiday weekend with what seemed like every other person in New Jersey. It took me two hours just to get through the checkout line. The Legion had activities in the hall through Sunday afternoon, so everything for the Cadets' arrival as well as the post-parade alumni-sponsored pizza party ended up in temporary storage in Bill McCullum's garage. Fortunately his house is located just a short distance from the Legion Post. Unfortunately, only Bill and myself were available to handle the second session of heavy lifting. Fun times in Hawthorne for sure.

While I was busy exercising all the patience I could muster at BJs, Doug and Bill were busy working on something far more constructive. Acting on their own initiative they arranged for the kids in the corps to be given a light breakfast at Andy's Corner, a restaurant and delicatessen, and a Hawthorne institution, right around the corner from the Legion.

Following the brunch at the Garfield VFW on Sunday a small group of us, including the three Cadets who had constituted the guard of honor at the Holy Name Memorial Mass, Chris, Andrew and Katie, once again volunteering their services, rushed over to Bill's makeshift storage depot to transfer the cases of water, an endless number of cases of other beverages that we knew the corps' nutritionist favored over carbonated beverages for the pizza party, and the snacks for both days, over to the Legion Post.

The water for the night was put on ice, the beverages for the post-parade party were stacked in the cooler; and then, just when we thought we had everything under control, a circuit breaker blew that controlled the lights in the rest rooms. An electrician came over immediately, but without the necessary parts nothing could be repaired prior to the morning.

By now you're probably wondering why I'm telling you all this crap. I can promise you it's not because we're looking for any kind of a pat on the back. We'd just like you to realize that these are the kind of things that the Cadets' staff and volunteers, as well as the young men and women marching in the corps, will be facing every single day for the next two and a half months. This is drum corps, and every single corps has to face a new and challenging situation every minute of every day from now until the end of the season. Keep that in mind the next time you're tempted to criticize because some little detail escapes their attention, or you wonder why they don't do this or that the way you think it should be done.

The trade-off for those of us involved in this particular mini-crisis was that we were privileged to see our 2009 Holy Name Cadets at their very best. They piled into the Legion at around midnight, thoroughly exhausted. They asked for nothing more than directions to a rest room, if there was a water fountain anywhere, and if there were any electrical outlets to blow up their mattresses. A number of them were down on the floor sound asleep before the bulk of them even got into the building. Not a complaint was heard about anything. Just smiles and "thank you." I was exhausted and couldn't wait to get home to bed. They were exhausted and the over-crowded floor was their bed.

I returned the next morning, a mere six hours later, to see if everything was going OK, and they all looked like they had just spent 12 hours in a luxury hotel, followed by an hour or two in a spa. Again, nothing but smiles and "thank you." Wow, what a super bunch of young people we have wearing our superman uniforms. The end result for me was heightened respect and admiration not only for the kids, but for the steady hand and supreme competence of Rudy Heimbecker and his staff of assistants, and for the volunteers giving so freely of their time and all-out effort. If you want to have your faith in the current generation of Cadets validated my fellow alumni...volunteer some time to the Cadets. They need you, and they'll probably exhaust you, but I guarantee you'll get more satisfaction out of spending a little time with our corps again than you can possibly imagine. I'm older than the dinosaurs, and I'm still aching after all that unaccustomed labor...but I'd do it all over again in a second. Spend five minutes with the young men and women of the Cadets, and you will emerge with a feeling of pride in our corps that will make your heart soar.

This tale of our corps and our alumni working together in mutual endeavor sent me soaring again just yesterday, a week after the fact, when I decided to go to Andy's Corner for breakfast to thank the owner for everything he had done. I introduced myself and he immediately began to rave about our kids, and the conversation quickly expanded to include several waitresses and customers who stated they couldn't believe the demeanor and courtesy of the Cadets. They acted as though we had done them a favor by sending the kids there, rather than the other way around. So be proud Bill and Doug, Be proud my fellow alumni. Be proud George and Rudy and all those working so hard to keep the Cadet Experience alive and flourishing...and most of all, be proud Cadets; the season hasn't even begun, and you already have people cheering.


For Holy Name Shall Always Be click on photo to enlarge


PART 4 - PARADE TIME

The Cadets started off Memorial Day bright and early with morning parades in Carlstadt and Rochelle Park. We received the following email from a spectator, part of our extended Cadet family, who viewed the parade in Rochelle Park: " I saw the Cadets in the Memorial Day Parade in Rochelle Park, and they were great. I had a sign I made for the 75th anniversary. My daughter was holding it as she sat on the curb, and someone took a picture. I'm not sure where or if it will be posted. When the Cadets saw the sign they played just for me. I cried it was so special. My Dad played soprano horn in the Cadets (Frank Vitrano 66-67, deceased). The Cadets were wonderful to play for me! I will never forget that. " (EDITOR'S NOTE: the photo is posted on the cadets' alumni forum page on www.cadets.org).

At the Hawthorne Legion things were buzzing with both the Cabs competing corps and their alumni corps popping in and out to change into uniform and do whatever needed to be done. We were upstairs setting up the displays, hanging the sign, setting up the food and gift presentation tables, and answering questions from a lot of interested Cabs.

Around the corner the crowd was beginning to gather in the area adjacent to the reviewing stand. Some of our alumni had settled themselves in their lawn chairs early in the morning to be certain of having a good seat for the big show. There was a huge alumni turnout, and maroon seemed to be the fashion color of the day. Hanging from the front of a building owned by Cadet Alumnus Paul Scillia 51-55 directly adjacent to the primary viewing area, was a huge banner Paul and Bill McCullum had made, emblazoned with the words: "Congratulations Holy Name Cadets, 75th Anniversary."

The parade format had been changed because of the importance the event had assumed. Doug determined that in lieu of having each music unit stop in front of the reviewing stand to play a number or two, they each would continue marching past the reviewing stand and would return when the parade was completed to offer concerts in front of the officials and spectators in the reviewing stand area. The Skyliners were permitted to stop and play during the parade since they were not scheduled to play a concert afterwards.

The Cadets had earlier requested permission to play a short concert to thank the citizens and officials of Hawthorne for their hospitality and support over the years, and to salute the alumni present. The Cabs alumni and competing corps joined in the program to represent the town, which they have represented so impressively for so many years. Both corps presented excellent performances, and reminded us all of the uniquely impressive status they hold in the drum corps world.

Of course, for all the Cadet alumni present, the Cadets were what they had come to see, and the Cadets did not disappoint! I have been conditioned over many years to observe spectators reacting to corps, in addition to the corps' actual performances; and the last several years in Hawthorne have been particularly interesting for me. The Cadets have a presence, especially in up-close, face-to-face performances such as this, that dazzles the very critical drum-corps-savvy audience that assembles in Hawthorne each Memorial Day. It's part the beauty and impact of the uniforms, part bearing and demeanor, part total professionalism, with the biggest part indisputably talent and performance excellence. To put it simply, they blow the audience away in a venue of this type. In Hawthorne, positioned in the street literally surrounded by an audience that is as demanding as any audience you will ever encounter, and where every weakness would be immediately obvious, there simply weren't any weaknesses. All around me I could literally watch jaws drop open as the virtuosity of each and every section of the horn line dazzled the spectators. I, of course, have no legitimate claim to objectivity, so you will have to obtain a more objective reaction elsewhere...but God are they good!!


For Holy Name Shall Always Be photos courtesy of Dave Rice click on photo to enlarge


PART 5 - THE ALUMNI MEET THEIR 2009 CADETS

For the past several years our alumni have hosted a post-parade pizza party for the marching Cadets, where in addition to providing them enough pizza to send their nutritionist into a tailspin; we also present each Cadet with a memento of the season they are about to experience. The mementos, to date, have been baseball caps uniquely designed for the Cadets and their staff only, with none offered for sale or distribution to anyone else, including alumni. It is, we hope, a reminder to them that each year is special, and THIS is THEIR year. The funding for these caps is provided by donations from alumni across the country, under the tag "caps for cadets initiative."

Our generous donors this year were: Tony "Bart" Bartello 48-58 and Barbara Bartello, Bill Blazowski 59-64 and Kathleen Blazowski, Dr. Joseph Cinzio 68-78 and Sophie Cinzio, Marie DiDomenico 57-84, George DeOld 64-70 and Maxine DeOld, Cynthia Carozza DeVivo 69-73, Margie Estelle Gearhart 69-73 and Daniel Gearhart, John Hannigan 73-79, George King 54-61 and Maria King, Maggie Lawrence Temple 85-87 and Jeff Temple, John Ludgate 72-75 and Debbie Ludgate, Rich McGarry 58-66, Bob Peterson 53-58 and Elaine Peterson, Bill Ridings 59-62 and Linda Ridings, Dave Shaw 50-58, Ken Shedosky 57-61 and Bernadette Shedosky, Kelly Smith 82-84 and Donna Schiavone 77-82, Andy Zwiderski 55-57 and Bunny Zwiderski.

We would especially like to thank John Ludgate for another extremely generous donation to this project, and George King for his diligence in handling all the donations as they arrive, keeping the books straight, and additionally, handling all the orders, finances, and shipping for the Holy Name Cadet jackets. Few realize how much George does behind the scenes for the corps and the alumni; but I can testify to the fact that George is a true and committed Cadet in every sense of the word.

The post parade party has grown bigger with each passing year, but this year, our 75th Anniversary year, topped them all. The hall was packed with alumni anxiously waiting for the Cadets to change out of their uniforms and enter the hall so we could let them see that now they belong to a family larger than they ever imagined.

Funding for the pizzas (70 of them) took a surprise twist this year when we were contacted by Jim Gardiner '84, who explained that our Canadian Alumni wanted to do something special and personal for the 2009 Cadets. The result was that they took over responsibility for the funding for the pizza, while Ken Shedosky unexpectedly and generously offered to match any funds donated by our Canadian brothers and sisters. The result was extremely gratifying, not just because it came as a complete surprise, but also because it allowed us to make the party the biggest and best ever. We are pleased to thank the following Cadets, from whom we are separated by distance and nothing else: Jamie Bannon 06-08, Vicky Berkley '89, Doug Duke '89, Jim Gardiner '84, Trevor Ginerich 84-85, 87, Shane Morris 89-90, Kyle Nealy 06-07, Paula (Pfeiffer) Racher '87, Nicole Roach 87-90.

Special thanks to Jim Gardiner for providing the spark that led to this wonderful gesture of solidarity and support for the 2009 Cadets. Jim told me that all 2009 Cadets are now honorary "Cadets with a Canadian Connection." Some other exciting news is that our Canadian Alumni are also in the process of organizing their first (?) comprehensive Canadian Cadet Alumni social function.

Special thanks as well to Ken Shedosky who literally works 24/7 to do whatever he can whenever he can for our corps. This substantive donation, generous as it was, is only a tiny indication of all the things he does solely because he loves our corps and our kids.

The Cab's Alumni Corps and their world famous drum major Jim Russo, were kind enough to loan us their Canadian Flag, so we could take a photo of our 2009 drum majors with the beautiful Canadian Flag in hand. From all of us to all of you, thank you. The Maple Leaf forever!

The main event of the party was not the food however, nor the distribution of caps; it was the bonding of the alumni present in the room with the 2009 Cadets. They were close to equal in number, and if you looked out from the stage across the room, the mutual love and respect and admiration was thick enough to cut with a knife. Cadets were interlaced with alumni in close conversation wherever you looked. No further proof was needed then when all the alumni in attendance came together on the stage and sang the Holy Name Hymn for the newest members of the Cadet family. Our young 2009 Holy Name Cadets stood shoulder to shoulder, their hand on the shoulder of the Cadet closest to them, in the position of attention; young eyes locked on old eyes (or in some cases slightly older eyes), and there were tears in all of them. If you look on the visitor's page of the Holy Name website, www.theholynamecadets.org, you will see just how deeply this moment affected our alumni.

And so, the first of many celebratory events for our 75th Anniversary, Diamond Jubilee Year are over, but will never be forgotten by those fortunate enough to have been present. As the Cadets' buses drove away, I smiled a little smile of pleasure, knowing that throughout their journey this summer they are going to meet a score of other alumni every mile of the way, climaxing on August 1st and 2nd in the largest gathering of the maroon and gold ever held. And, in concert with the alumni present in Hawthorne, they are going to feel the pride and love we all felt in Hawthorne for the young men and women now wearing the uniform we all revere. For Holy Name shall always be...

We in the Cadet family feel very fortunate to be here to celebrate this extraordinary 75th year of our history. It will be an unusual year of celebration, memory, and hopefully an unparalleled adventure for the 2009 Holy Name Cadets.. We welcome all to join us in these celebrations. We honor and respect every single corps we have ever shared the field of competition with, and we open our doors to welcome you to our big party. Check www.cadets.org or wwwtheholynamecadets.org for a schedule of events during the season about to begin.


For Holy Name Shall Always Be click on photo to enlarge


PART 6 - OTHER NEWS AND ANNOUNCEMENTS

THE MAROON & GOLD CAMPAIGN

It seems that a great many of our fellow alumni are heeding the call and pledging donations to the Maroon and Gold fund-raiser, but unfortunately too many are still procrastinating or simply not listening to their hearts. Fund-raising, as annoying as it might be when you are asked for help, is vitally necessary to ensure the future of the corps we all love. We have 75 years behind us now, and hopefully a lot more than another 75 in front of us; but that will only happen if EVERY ONE OF US does our part.

This is our Diamond Jubilee and now is the time to remember your roots and pay back in some measure the people who toiled and sacrificed so that you could be a part of the Cadet Experience. They were there you know. Working behind the scenes, and using their hard-earned dollars to pay for our time as a Cadet. No matter how modest the donation you can afford, it will add another brick to the foundation of this great drum corps. Think of how you felt each time you wore that revered Cadet uniform. Think of all the friends and all the good times you had as you toured the country bringing excitement everywhere you appeared. Think of the respect and admiration that surrounded you as a Cadet. Think of all you learned and how much your Cadet training has enabled you to meet the challenges you encountered in life.

This is not just another plea for assistance for yet another worthy cause. This is a plea for OUR corps, OUR kids, OUR history, OUR traditions, OUR values, and OUR legacy. Look at the young men and women now marching in the same uniform you wore, singing the same Holy Name Hymn you sang, dreaming the same dreams you dreamed. They are our here and now, and THEY ARE MAGNIFICENT! Look at them! They are standing on our shoulders, and they are reaching the stars. Now look over their shoulders at the young boys and girls up in the bleachers watching them perform, and dreaming their own dream of some day becoming a Cadet… of becoming one of us. Those kids in the stands are OUR FUTURE. We can, we must, do whatever we need to do to make sure that they, like we once did, get their chance.

Yes, times are tough and we all have to watch our dollars, but there are some things too important to let slide even when times are tough. We will emerge from the hard times, probably sooner rather than later; but will our Cadets still be here? That's up to you! If you truly can't afford a hundred dollars, or fifty dollars, or twenty-five dollars...then send ten dollars or five dollars. Let our Cadets know that you support them and that you care, with whatever size donation you can offer. There is no one else who cares as much as someone who once wore the uniform and sang Oh Holy Name. That's you and I and all those who followed us, and all those who preceded us and helped to turn our corps into the most famous drum corps in the world.

Please, DO IT NOW. Go to www.yea.org and pledge a donation, or put a check in an envelope and mail it to The Cadets, Youth Education in the Arts, 601 W. Hamilton St., Allentown, PA 18101. Please, do it now, do it today. Our future can't wait!!!



A MESSAGE FROM BILL KARDASH

REUNION HOUSING AT THE MARRIOTT

We have great interest from Cadets, especially from the 1940s through 1970s, that will be staying at the Saddle Brook Marriott Hotel during the Diamond Jubilee Bash (July 31-Aug 2). This is a great opportunity for many of those who marched as "Holy Name Cadets" and "Garfield Cadets" to spend some after-hours social time together.

A block of 50 rooms has been reserved and many Cadets have already reserved rooms there, including: Tony Bartello, Bob Bielen, Ken Samara, Herb and Rudy Bonin, John Avella, Jim Kennedy, Joe Cherrick, Dennis Mura, Bill Kardash, Dave Shaw … to name just a few. We encourage others to join in this additional "impromptu" Cadet Reunion. Casual plans are underway, too, for a late-night "Happy Hour". The block room rate for a double is $99 + taxes. Many Cadets will be arriving on Friday (July 31) and departing Monday morning, after a weekend of memories and many, many opportunities to sing "O Holy Name".

Book your reservation NOW. Call (800) 832-6254 tell them you are with "Holy Name Cadets"; the Block Code is "HNC HNC A". The block of rooms will be available until they are "sold out" or July 10, whichever comes first. FHNSAB...


Back to top