Listen to Don Angelica´s solo from
1957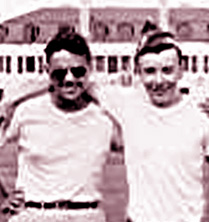 Part 1
Part 2
Part 3
Part 4
Part 5
Part 6
Addendum
THE AMAZING 75TH ANNIVERSARY OF HOLY NAME
2009…a year unlike any other.

The news report that I wrote for the Holy Name website following the Memorial Day weekend kickoff events celebrating those 75 years concluded as follows:

And so, the first of many celebratory events for our 75th Anniversary, Diamond Jubilee Year are over, but will never be forgotten by those fortunate enough to have been present. As the Cadets' buses drove away, I smiled a little smile of pleasure, knowing that throughout their journey this summer they are going to meet a score of other alumni every mile of the way, climaxing on August 1st and 2nd in the largest gathering of the maroon and gold ever held. And, in concert with the alumni present in Hawthorne, they are going to feel the pride and love we all felt in Hawthorne for the young men and women now wearing the uniform we all revere.

We in the Cadet family feel very fortunate to be here to celebrate this extraordinary 75th year of our history. It will be an unusual year of celebration, memory, and hopefully an unparalleled adventure for the 2009 Holy Name Cadets. We welcome all to join us in our celebration of Cadet history.

AND JOIN US THEY DID!

Several days ago I was present at the final 2009 Cadets' event of this remarkable year, the corps' banquet. and I watched a short film presentation. The filming had taken place just prior to the season's first competition in Chambersburg, Pennsylvania. It featured one of our founding Cadets, Albert Mura, singing the Holy Name Hymn at the request of the crew filming the interview. The look of absolute joy and reverence on Al Mura's face as he sang the hymn he first sang as a young teenager over seventy years ago moved me to tears. The film sequence had been artfully edited so as Al's mature rich voice continued on with our hymn, the combined strong young voices of our 2009 Cadets suddenly blended with the voice of our long-ago past, creating a tapestry of pure nostalgic beauty that enveloped everyone present.

Let me go back several months from that wonderful moment, so those of you not fortunate enough to be present during one of the many, many moments of joy during this unbelievable year of unleashed love and emotion can know and understand why this year of 2009 was so extraordinary and so life-changing.

It all began on a historical and unbelievably cold day in January following an unexpected announcement. Our corps was one of only two drum corps (joining our highly respected friends from The Colts of Dubuque) to be invited to participate in the Inaugural Parade of President Barack Obama. It was an honor that left us glowing, but an honor that came with a high price. The temperatures on the day of the parade dropped into the single digits, and fear of frostbite and other possible health issues materialized. It was, as we now look back, the first real demonstration of the commitment and fortitude of our 2009 Cadets. They not only survived the freezing cold, but dazzled an audience of millions around the world. Our pride in these extraordinary young men and women of the 2009 Cadets, representing the corps we love as they marched down Pennsylvania Avenue in our Nation's Capitol, began to explode.

All through the winter months of 2009, and in the two years preceding, North Jersey Cadet Alumni had been gathering socially once a month. While the focus was on socializing, seeing old friends and meeting new ones; the underlying intent was far different. We were working to reestablish the points of common identity between 75 years of Cadets. Our shared Holy Name heritage was the tool. Month by month the number of attendees grew, and the contact between Cadets of different decades strengthened. At each of these gatherings-of-the-maroon, as is always the case at any Cadet event, The Holy Name Hymn was sung. Month by month the renditions became more and more poignant and moving, as we all watched the tears rolling down the faces of our fellow Cadets joining the group for the first time (along with many who cry every time O' Holy Name is sung).

In meetings between George Hopkins and Alumni representatives regarding how the 75th Diamond Jubilee year should be celebrated, it was determined that the alumni would assume responsibility for opening events on Memorial Day Weekend, and The Cadets would handle the events scheduled around our home show (first at Clifton Stadium, later transferred to Giants' Stadium) for August 1-2, immediately preceding DCI Championships week in Indianapolis.

The two primary weekends of activity were designed to bookend the entire season. What none of us knew during the planning process was the key role the young marching Cadets were going to play, both on the field and off, in this year-long celebration of our history and heritage. Nor did we know that providence had intervened to gather a Corps of Cadets together who were destined to ignite feelings of love and pride in our corps and in each other that as I write this report still stirs me beyond description.

I have already written in the news report just preceding this report of the events of Memorial Day Weekend, 2009; but a quick look back as we approach the end of this extraordinary year seems appropriate.

First though, another decision was made that proved to be monumental. George Hopkins, at the subtle urging of various alumni, decided to honor our history and heritage by changing the name of the corps, for the 75th Anniversary year only, back to our historical name…The Holy Name Cadets. The effect was immediate and electric. Suddenly, with a single announcement, we were all one. Cadets from 1934, through the 40s, 50s, 60s, 70s, 80s, 90s and 2000s were all, without exception, Holy Name.

It was more than appropriate, therefore, that our magical year began on May 24th, 2009 at the Church in Garfield where the magic all began in 1934.

Many years ago all Holy Name Cadets rehearsed in the basement of a modest little wooden church in the blue-collar community of Garfield, New Jersey. Our connection to the Church had been involuntarily severed in 1958, and there were many present who harbored long-held resentment. The occasion was a Cadet military mass to honor the many deceased Cadets who have passed into eternity. The Church was packed. The service began with a procession that included uniformed Cadet age-outs, founding member Cadets from 1934, and representatives of our first female Cadets.

The current pastor of Most Holy Name Church mounted the altar, turned to face the sea of maroon in front of him, spread his arms open, and stated simply and eloquently, "Welcome home Cadets." With those words our 75th year of history officially began. A full report on this event can be found in the news archives on www.theholynamecadets.org

I personally experienced my first face-to-face contact with our 2009 Holy Name Cadets as a result of a last minute housing emergency that occurred just prior to their arrival in North Jersey for their Memorial Day parade commitments. Through the generosity of the Hawthorne American Legion Post 199 we were able to secure sleeping space, but it was barely adequate to hold the number of Cadets and staff, and there were no shower facilities and only three or four small rest rooms (without lighting due to a pre-arrival circuit blowout).

The corps arrived late and immediately spread out on the floor to catch some much-needed sleep. They didn't receive very much. I returned very early the next morning to see how they survived, and I was greeted with wall-to-wall smiles and "thank you." I knew then that we had a truly special group of young people wearing our superman uniforms this year.

Doug Tenis and Bill McCullum, officers of the Legion Post and Cadet Alumni had arranged for a courtesy breakfast for the kids at a small restaurant and deli around the corner from the Legion, Andy's Corner. I returned to that location a week later to thank the owner for his kindness and generosity. I identified myself and before I could get a "thank you" out of my mouth, the owner began praising me for the conduct, and demeanor of the kids. He was quickly joined by several waitresses and customers who couldn't seem to rave enough about our Cadets. I ended that news report to you with these words: Be proud Cadets. The season hasn't even begun, and you already have people cheering. Once again, a full report on this episode can be found in the news archives on www.theholynamecadets.org.

The final event of the Memorial Day Weekend was the traditional parade in Hawthorne. This parade is a mini-reunion of area drum corps members, past and present; plus a huge number of Cadet Alumni. The kids are really under the microscope, and it occurs just a few short days after they begin their first camp rehearsals. Following the parade the kids returned to present a short concert in front of the reviewing stand. In spite of the barriers erected to prevent them from being mobbed, the crowd spilled out into the street. The Cadets did not disappoint. They dazzled the very critical audience gathered around them. All around me I could literally watch jaws drop open as the virtuosity of this magnificent group of young Cadets dazzled the encircling crowd. God were they good.

What seemed to impress this old-time, very-critical drum corps crowd almost as much as the performance was the discipline shown. The corps waited around the corner from the performance site, standing at attention, two by two, eyes straight ahead, patiently waiting for a very long time for their cue to move into position. It was, in a word, inspiring. Check www.theholynamecadets.org for the full report.

The weekend concluded with a pizza party at the Legion co-sponsored by a group of Canadian Alumni with matching funds from Cadet Ken Shedosky. Baseball caps purchased with donations from Alumni acoss the country were distributed. The highlight though was neither the pizza nor the caps. It was the bonding between the Cadets and the alumni present that spontaneously occurred once the Cadets had satisfied their thirst ad appetite. As I looked out from the stage across the room the 2009 Cadets were totally intermingled with close to an equal number of alumni, and the love and admiration seemed to envelop everyone present. Finally, as the time slipped away, the alumni gathered on the stage and sang the Holy Name Hymn in tribute to our 2009 marching Cadets. The Cadets down on the floor stood, their hands on the shoulder of the Cadet on their right. Young eyes locked on older eyes, hearts and minds united, generational divides erased, emotions openly displayed for all to see. The full report can be obtained from the news archive list on www.theholynamecadets.org

Most of us present thought it couldn't get any better than this. Many thought our upcoming, season-long 75th Anniversary events would have a hard time topping the emotional roller-coaster of the Memorial Day Weekend. Wow, little did we know. We were only warming up!

IF YOU WANT TO TAKE A BREAK NOW'S THE TIME; TAKE A WALK, A CUP OF COFFEE, MAYBE A NAP. THE HEAVY DUTY STUFF IS COMING NEXT, AND IN MY USUAL IRRITATING AND VERY UNPROFESSIONAL WAY, IT'S NOT GOING TO BE BRIEF. CONSIDER THIS FAIR WARNING.


Photo Album DeAnna "Queen-Imbro's 2009 photo album". Click Here

THE AMAZING 75TH ANNIVERSARY OF HOLY NAME
2009…a year unlike any other - Part 2.

"I am very proud to be a Cadet, and most importantly a Holy Name Cadet."

The above sentiment was included in a letter recently sent to George Hopkins by a 2009 Holy Name Cadet age-out.

We all knew early on this year that watching our corps march again as the Holy Name Cadets would have a deep emotional impact on us. I don't think, however, that many of us realized that the impact on the marching Cadets would be just as great…or just possibly…maybe even greater.

At the conclusion of the Cadets' concert in Memorial Auditorium at Montclair State University during the Diamond Bash on August 1, the Cadets left the stage and positioned themselves among the alumni and other attendees in the audience. Our drum majors, Chris and Ben, mounted a step-ladder spotlighted in the center of the auditorium.

The Holy Name song was sung that night by 150 marching Cadets and around 400 alumni in a way that it has never been sung before. The realization that it was being sung by Cadets representing 75 years of history, 75 years of trial and triumph, 75 years of all that we cherish and hold in our hearts, lifted us all for those few minutes into a place where none of us had ever gone before.

At the conclusion of the final "Amen," which always ends the singing of the Holy Name Hymn, everyone present spontaneously began hugging the people closest to them. The Cadet who wrote the statement of pride shown at the top of this article also wrote that he had "learned how to truly love this summer." So did we Cadet…so did we!

Dan Potter of the DCI staff was present in the auditorium doing a segment of his Field-Pass series for the DCI website. He recorded that moment and introduced it on his audio clip with the following words: "and I dare you not to cry."

The clip has now been posted on the DCI website, on Facebook, on the Cadets' website, and is on the face page of the Holy Name website, www.theholynamecadets.org. I too dare you not to cry.

Now, let me go back about six weeks from that night to another singing of the Holy Name Hymn. Quite possibly the most important one of all.

George Hopkins called me to ask if we could find someone to teach the 2009 Cadets the traditional version of our hymn. We had 24 hours to travel to Chambersburg where the corps was in rehearsal prior to their first competition of the season. I contacted Ken Shedosky, and we agreed that there was only one person who should be so honored…Al Mura; a founding member Cadet, our first national championship drum major, and our music instructor for many years. Ken made the call, and Al once again, as he had done so many times in the past, rose to the service of his corps.

It was very late in the evening following a long and difficult drive, and we had a bit of a wait before the Cadets were finished rehearsing. I was afraid that we were placing too much stress on Al, but he kept insisting that he felt fine. I think the adrenaline was flowing as he anticipated what was about to happen. Rudy informed us that the kids had not been told that Al would be there.

We were eventually called to the stage of the auditorium of the school in which the Cadets were being housed. Al introduced himself to the exhausted young Cadets sitting in the auditorium, and gave a short history of when he believed the corps song had been written (mid 1930s). Then he sang it, all alone, pure in tone…the beauty of the lyrics sweeping over the young people looking up at him with respect and admiration. To them he was our history, and now they were beginning to realize, they were a part of it as well.

When Al finished singing he asked our 2009 drum majors, Christ Zentner and Ben Pouncey to take over and direct their corps in the traditional rendition of the Holy Name Hymn. Chris and Ben had other plans. They called the corps up onto the stage to form a tight circle around Al, and with their hands on the shoulder of the Cadet on their right, for the very first time, they joined Al Mura, a legendary founding Cadet, in singing the Holy Name Hymn as it had been sung in 1934.

Al later mentioned that he had planned on teaching them harmonies, but it wasn't necessary. They were all such fine musicians they inserted the harmonies instinctively. Al was glowing. As we were resting outside the auditorium for a few minutes before returning to our motel, Al was besieged by young Cadets wanting to shake his hand or give him a hug. It was truly beautiful to watch, and I consider myself blessed to have been permitted to be present.

The following morning we returned to the school bright and early to give Al a quick glimpse of what life was like on-the-road for our corps. As early as we were, we were late by Cadet standards. The kids had already had breakfast, and were on the field doing their warm-up exercises.

It was raining, as it had been pretty much for several days prior to our arrival. The field was soaked, with puddles everywhere. The kids were lying on their backs on the wet field, their legs extended in the air doing their bicycle pump exercise. The color guard was running laps. Al couldn't believe what he was seeing.

After a few minutes he was invited up into the press box to be interviewed for a Cadet website All-Access clip. To me the picture was surreal. One of our founding Cadets was being interviewed, while looking down through the windows you could watch the 2009 Cadets preparing for our 75th Anniversary year of competition. The surreal part was that Al had been around for every one of those 75 years.

The previous evening, upon our arrival, we had been treated to a full-ensemble, partial uniform run-through. All three of us were amazed and humbled by their performance. They were unimaginably good in Hawthorne without having to march their show, and the quality of their performance in Chambersburg, the visual program now included, was even better. I sent the following news release out to the Holy Name Alumni mailing list upon my return:

Get ready Holy Name…our kids are sensational and so is their show.

Now, three months later I look back at all they accomplished, all the fans they brought to their feet, all the accolades that have been written about them…and my pride is uncontainable. We gave them our history to build on, and they made it richer than we ever could have imagined.

TIME FOR ANOTHER BREAK. THIS STORY OF OUR AMAZING 75TH ANNIVERSARY YEAR IS GOING TO TAKE AWHILE MY FELLOW CADETS. I HOPE YOU'RE PREPARED TO GIVE ME THE PATIENCE NECESSARY TO READ ALL THAT I AM ABOUT TO WRITE.


Karen Kauffmann's Cadets video. Click Here
THE AMAZING 75TH ANNIVERSARY OF HOLY NAME
2009…a year unlike any other - Part 3.

We were left with a smile on our faces and joy in our hearts as the season began, and the 2009 Holy Name Cadets departed on tour. Those of us who had the opportunity participated in the headline events of Memorial Day weekend, but once the corps departed on tour, the numerous details of life on the road, and the thousand and one components of that life, disappear from our view.

I was reminded of that when I traveled to Jackson, NJ on July 6 to view our corps in competition for the first time. By that time they already had six contests under their belt, and all the marching Cadets were seasoned by alternating rehearsal days conducted some days in the rain and other days under the searing hot sun.

Justin Heimbecker (Rudy to some), our assistant director and on-site road manager had already dealt with 15 on-tour days of minute-by-minute challenges to his management skills (which are abundant), and that's not even counting all the days during winter-long monthly camps, weeks of spring training in Johnstown, PA, and a few extra days in Chambersburg.

Our instructors and creative staff had long been hard at work finishing what needed to be finished, and evaluating judges' feedback in determining what needed to be changed in the program, and what didn't.

The volunteers had been cooking four meals a day for so long by then it had become a sleep-deprived marathon of food truck incarceration. Various dedicated volunteers came and went on an almost daily basis, and drivers slept while the corps rehearsed, and drove while the precious cargo in their vehicles…our kids and staff…tried to sleep as they traveled.

Rudy was on his cell phone 24/7 confirming housing sites, working out travel logistics and schedules, resolving problems both personal and institutional; as the kids dreamt of warm showers and six hours of rest on the floor of a school in some town in some state that all blended together into a regular routine of sleeping (not much), eating, toning their bodies, rehearsing to change and/or clean their program.

And then, of course, performing and hearing ovation after ovation as they brought fans across the country to their feet in tribute.

I could go on forever on this topic, but I think you get the picture by now. Only a very few of us actually get to see what life on the road is like.

All this hit home for me when I arrived in Jackson and saw a 2008 age-out Cadet standing in uniform next to our souvenir wagon, posing for photos with fans, answering questions, or whatever else he was called upon to do. It was a touch of brilliance to put that good-looking, clean-cut, articulate young man out there to interact with the public.

As someone who has often been involved with the touring process, one thought crossed my mind immediately: with all they have to do, how are they able to give attention to all the small details that set The Cadets apart? It is, for me at least, truly amazing.

How did Caryn Goebel assisted by Melissa Babilonis and a handful of other dedicated staff and volunteers, in addition to planning the forthcoming Diamond Bash Reception at Montclair State University on August 1st, and the tent party at Giant's Stadium on August 2nd, not to mention the finals day breakfast and corps banquet in Indianapolis, also find the time to plan and execute all those post-contest alumni receptions across the country to enable the alumni to meet our marching Cadets one on one?

How did George Hopkins, with everything he has on his mind and all the operational and performance details for which he bears ultimate responsibility, still find time to make certain that our Cadets got the opportunity to socialize with the members of other corps after various contests through shared meals, ice cream parties, and other corps-to-corps events?

There is no way that any of our alumni who have not had the recent opportunity to witness everything involved in the modern day-to-day operation of life on the road - the small traveling village that is our drum corps - can ever grasp how much is involved, how difficult it is, and how successful George, his staff, the kids, the volunteers, the instructors, and all the adjunct staff are at making it happen.

Speaking for myself, I am in total awe not only of our Cadets, but also of everyone else connected to and assisting our corps every minute of every day while we continue on with our lives, oblivious to what it takes to be a great drum corps in this new era.

I wish I could thank every one of them individually. There are just too many, and my memory retention is too weak. Their efforts, and the success of those efforts do not go unnoticed though…I hope they know that.

I watched the contest in Jackson (which was a Cadet co-sponsored show that was packed with fans). I watched wonderful shows by wonderful corps…and through it all our Cadets and the world they were living in at that moment was what was on my mind and feeding my pride.

The huge Diamond Bash was yet to come. The concert in Memorial Auditorium that was destined to change our corps forever had not yet occurred. Our home show in Giants' Stadium the next day, preceded by an alumni tent party reception, was still weeks away.

I made my decision that night to travel to Indianapolis for the DCI Championships because I wanted to be there with my corps. I wanted to stand with them, and support them, and show them my feelings for them by my presence.

We are very, very fortunate my fellow alumni to have all we have: 75 years of history, an unequaled heritage, a love for each other that transcends generations, a corps that wins no matter what score they receive, leadership that surpasses all hope and expectation, and alumni who not only remember the words to the Holy Name Hymn, but in most cases their uniform number from when they marched as well.

Finally, in addition to all the unnamed, selfless heroes mentioned above, we cannot forget the great gift that a handful of young men meeting in the basement of Holy Name Church gave to us 75 years ago. Has any other corps at any time ever been this blessed? Think about it. We are Holy Name…you…me…all of us. We are the lucky few.


jazzertb1's O Holy Name Video. Click Here
THE AMAZING 75TH ANNIVERSARY OF HOLY NAME
2009…a year unlike any other - Part 4.

As the time for the huge 75th Anniversary Diamond Bash at Montclair State University, and our home show at Giants' Stadium the following day began to approach; alumni excitement was reaching a fever pitch. Half of it was the anticipation of the largest gathering of the maroon and gold ever held, but a large part of it was also because most of those planning on attending had not seen the 2009 Holy Name Cadets perform. They had read the reports from the Memorial Day weekend, and the word had spread of the enthusiastic reception our corps was receiving from fans and spectators as they traveled around the country. A feeling that after 75 years of history our corps was still making history permeated the hearts and minds of virtually every member of the worldwide Cadet family.

For a number of alumni, rehearsing week after week in preparation for a long-hoped-for opportunity to play with our corps on the field at Giants' Stadium, the excitement was even greater. It was, in essence, a second opportunity, if only for a few short moments, to once again be a Cadet. The participating alumni were apprehensive, of course, fearing that perhaps they wouldn't measure up to the high standards they had set for themselves, or that our super-talented 2009 Cadets would view them disparagingly. Around the country other alumni who had registered to participate were downloading music from the corps' website and trying very hard to get back into a performance groove.

Little did all these honored alumni know that what lay in store for them the following night was far bigger than anything their imaginations might have conceived. Their lives, after so many years, so many accomplishments, so many awards, were about to be changed again…in ways beyond anyone's dreams.

The big weekend began on Friday, July 31st, in Allentown, Pennsylvania. It was the first day of competition at DCI East, a night when our corps would go head to head with the Blue Devils and The Cavaliers…two great drum corps that we have come to know well, and respect a great deal, over the many years we have shared the field of competition with them.

It was a very stormy day for the most part, and people from throughout the northeast wondered whether there would be a contest and if they should even gamble on making the trip. I decided to make the two-hour plus trip because an alumnus I had marched with had traveled all the way up from Florida, and I didn't want to disappoint him. So we took a gamble and headed towards Allentown.

The Cadets had scheduled an alumni reception at a brewery/restaurant in Allentown, and I assumed the turnout would be minimal. It wasn't! Approximately 130 alumni spanning the generations packed the house, and the party rolled. Outside the storm receded, and the sun miraculously appeared. A good friend of mine, a Cavalier FMM, jokingly suggested that perhaps we should list the days when the Cadet Alumni weren't having parties. He thought that would probably be a much shorter list. He certainly had a point. The Cadet Alumni scored very well this summer in parties, emotion, singing, crying…and our marching Cadets kept pace on the field.

A large crowd of alumni had gathered at Allentown because they were too excited and impatient to wait another two days to see our Cadets perform. The Cadets, once again, surpassed all hopes and expectations. Those who made the trip out to Allentown who were heading back to North Jersey immediately after the contest, were totally pumped. I don't think many alumni got much sleep back at their New Jersey motels that night. The excitement and need to talk to fellow Cadet Alumni about the high they had experienced watching the 2009 Holy Name Cadets perform kept everyone awake and talking most of the night.

Saturday, totally unlike the previous day, was one of those hot, humid, sun-drenched August days typical of Northern New Jersey in the summer. The alumni participating with the alumni corps gathered on the campus at Montclair State University to rehearse for the dual appearance they would be making with the 2009 Cadets the next evening at Giant's Stadium. I wasn't present, but from what I was told the good times started from the first minute and continued through to the end of rehearsal. Off in the distance, on another part of the campus, they could hear the Cadets rehearsing…and that served to build the anticipation and excitement even more.

The much-heralded 75th Anniversary Diamond Bash was scheduled to start at 2 PM that afternoon, but impatient alumni had begun to gather long before the scheduled kickoff. The room was on the top floor of the Montclair University Conference Center, with its' main feature a breathtaking view of the Manhattan skyline. Caryn Goebel and the rest of the YEA staff had transformed the banquet area into a lavish shrine to all things Cadet…75 years worth. When you entered the room the magnificence of the site and the occasion took your breath away.

There was great food, which I suspect many people never even noticed since they were busy greeting friends and fellow Cadets they had not seen for many, many years. Tears flowed, hugs and kisses were being bestowed everywhere you looked. For someone of my age it was hard to absorb everything I was watching. Many of those in attendance I had known when they were teenagers, and now they were coming over to say hello as mature adults, many with grown children. For me, I think, I experienced for the first time the depth and enormous significance of this grand celebration of 75 years of Cadet history, along with a realization of just how old I had become.

There were a number of Cadets present who had marched in the 1930s, some of them founding members of the corps. There were 2008 age-outs, and members who had marched every decade between. It truly was the largest gathering-of-the-maroon ever held. The room filled, and still they came. Every extra inch of space seemed to be used, and still they came. It must have been a very rewarding feeling for the Cadets' office staff who had worked so hard to make the event so special, to see how well they had succeeded. From everyone present, thank you to all those involved. You made a very large number of maroon people very, very happy.

Usually at events like this the formal part of the program is an unwelcome intrusion on everyone's enjoyment. Not so this time. Dan Potter from the DCI Staff was kind enough to act as master of ceremonies, and he did a masterful job. There is too much to relate relative to the Hall of Fame inductions, honoring John Baumfalk (Cadet #1), Al Mura (a founding Cadet and our first national championship drum major). Paul DeLiberto and Greg Cinzio for their many, many years of service to the Cadets, and the 1969 first female color guard…who not only broke the gender barrier but opened the door for many revered Cadet women who followed their lead.

Some of the speeches were poignant. Some were masterful (Hugh Mahon, take a bow); some had people laughing so hard they were nearly falling off their chairs (Cindi DeVivo Carozza…you rock). Distinguished guests were introduced, including Dan Acheson of DCI and members of the YEA Board of Directors, the entire Cadets' creative and instructional staff, plus volunteers who have or had been the backbone of the Cadets' operation for more years than they can remember.

Past drum majors and past corps directors were singularly honored, and accorded the plaudits they had earned in earlier decades.

So many notable people, so many grand contributions and achievements to honor, so many happy years to be acknowledged. George Hopkins, who takes a back seat to no one when it comes to speaking before an audience, perhaps said it best. To paraphrase: "We are not here to celebrate 10 National American Legion Championships or 9 DCI Championships. We are here to honor 75 individual and noteworthy years of our history, and everyone who has ever worn the maroon and gold of a Cadet. We are here to honor who and what we are. The values we hold as a corps, and the unique cadet experience that has served so many of us so well throughout our lives."

The formal program ended with an emotional and inspirational multi-media presentation that showed exactly what he was talking about. When it was announced that we should move over to Memorial Auditorium a short walk across campus, there were smiles on every face I saw. There was an overwhelming feeling of pride in our corps, in our history, in our fellow Cadets, and in what makes the Cadets unique, that seemed to be written across the face of every member of the Cadet Family present in that room.

No one suspected that there could possibly be more, but there was…and what came next will be very difficult to describe.

The seats in the auditorium filled with the attendees from the reception. The curtain rose on a professional-quality dance segment presented by members of the Cadets' guard. The audience cheered. The curtain rose a second time to reveal the entire corps on stage in uniform, and the audience cheered even louder. Then they played…and stunned those present who had not seen them perform or heard them play prior to this concert.

Between each selection George read a letter he had received from Cadets of earlier eras describing how their cadet experience had impacted on their lives, and of their deep feelings for the corps and their feelings for and pride in the young 2009 Cadets now adding their page to our long history.

By this point our 2009 Holy Name Cadets owned the audience, and the cheers and applause wouldn't stop. The Cadets stood at the end of their performance staring straight ahead, their legendary poise and composure on full display…but the applause still wouldn't stop, and continued to grow louder and louder. The entire audience of alumni, who at one point in time had worn the same uniform as the young men and women on the stage, were according the 2009 Holy Name Cadets the greatest honor they could bestow on them…their total admiration and respect.

As I stood applauding in unison with all those around me, I looked at the faces up on the stage and I could see eyes filling with tears, and smiles starting to break through Cadet by Cadet.

On a command from the drum majors the Cadets on the stage placed their instruments down on the floor and moved down into the audience, spreading themselves around so everyone had a Cadet within touching distance. George Hopkins, still up at the lectern on the stage announced that we were about to sing our cherished Holy Name Hymn. No one needed to stand. Everyone was already standing, but almost instantly a silence swept across the room. Everyone's right hand came to rest on the shoulder of the person standing to their right, marching Cadets mixed together with Cadets who now march only in their dreams. Founding member Cadets with bright-eyed 2009 Cadets.

Then it began. 150 Cadets and about three times as many alumni raised their voices across the auditorium in a glorious rendition of the Holy Name Hymn that has bonded Cadets for 75 years…but had probably never before been sung in a manner even remotely similar. The large auditorium was filled with this ode to joy, and all present, for a few glorious moments, were transported to a place we had never been before.

Dan Potter of DCI was present and recorded the singing of our hymn. He included it in one of his www.DCI.org field-pass segments with this introduction: "I dare you not to cry." It is currently posted on the DCI site, with a similar audio-visual version posted on www.theholynamecadets.org, facebook, www,cadets.org, youtube, and other similar sites.



The 5th part of this article covering the tent party preceding the Giants' Stadium Contest and the contest itself, will follow shortly. I thank you all for your patience with me and my total inability to keep things short and concise. The part that many of you who were unable to attend any of these events probably find hard to believe, is that I'm just giving you a tiny taste of everything that occurred.




Scotty McGarry's photo album. Click Here
THE AMAZING 75TH ANNIVERSARY OF HOLY NAME
2009…a year unlike any other - Part 5.

As we poured out of the auditorium at Montclair University on Saturday evening no one wanted to leave. Many lingered in front of the building talking for hours, reluctant to let go of the feelings that had enveloped them during the events of the day…and most particularly the experience they had just shared during the singing of the Holy Name Hymn.

Hours later at the various motel lobby bars the conversations still continued. Everyone knew they had just experienced something rare and wonderful, and they felt a need to talk about it with others who had shared the same thoughts and feelings.

More was yet to come. Much more.

Sunday dawned to grey skies and periods of intermittent rain. The Cadets were out on the field rehearsing. The alumni corps members gearing up to join the Cadets on the field later that evening were out in the parking lot…taking their cue from the Cadets, and rehearsing in the rain.

Near the main entrance gate Caryn Goebel and her dedicated crew were busy under the tent erected for that afternoon's reception. The tent was not quite large enough for all the tables needed, and many were, therefore, positioned outside the cover and exposed to the periodic bursts of rain. Tablecloths were spread out, then recollected, and then spread out again; with the process repeated numerous times.

The chancy weather raised concerns about attendance at the contest, but as it had two days earlier in Allentown, the sun finally emerged and the crowd began to gather.

Lines of fans formed at the adjacent ticket windows to purchase seats for the contest, as wave after wave of Cadet Alumni arrived for the tent party. Many of those in attendance had not, for one reason or another, been able to attend the prior day's events in Montclair. The number of alumni and their families had more than doubled overnight, and the mood was upbeat and festive. The length of the lines assembled at the complimentary food and beverage tables gave ample evidence of that. It was reminiscent of a giant family reunion where no one had seen each other for far too many years.

Sue Erben, the Cadets' financial development manager, was hard at work displaying the engraved breastplates that were available to anyone making a pre-determined dollar-amount donation to the corps. I was told that each Cadet would be given his/her own breast plate as a memento of their special 2009 Holy Name Cadet year, and those breast plates would be replaced with the engraved versions carrying the names of whomever the donor wished to be honored in that manner. Every single available breastplate was pledged during the reception.

There is a story behind that story. A history book of The Cadets' 75 years was written this year (to be available for public sale shortly). The cover of that book is a close-up photo of a Cadet tunic with the cross belt and breastplate. Kevin Ullrich, the artistic director of the book, superimposed a photo of the original drum line of the Cadets from 1934 onto the breastplate in the photo. The members of that drum line were staring directly at the camera, so the effect achieved was a melding of the marching Cadets of today and the ghosts of the past (marching Cadets have long referred to their alumni as "the ghosts"). The 2009 Cadets saw a blowup of that book cover at the pizza party Memorial Day weekend in Hawthorne, and began a new tradition following that event. Now before entering a stadium for competition part of their pre-contest ritual, in addition to the singing of The Holy Name Hymn, is to tap the breastplates of their fellow Cadets to invoke the memory of "the ghosts" who marched before them.

As the starting time for the contest drew near, the tent party began to wind down. More and more the stands in Giants' Stadium began to look like a sea of maroon. It was a great contest with great corps, and the audience loved every minute of it.

The Cadets were scheduled to compete last, immediately following our friends and strong competitors, Carolina Crown. The Cadets were assembled outside the stadium, standing at attention, two by two, listening to the appreciative ovation from the audience for Carolina Crown's performance.

Standing off to the side were the alumni who would be joining the Cadets for the encore performance following the contest. No one seems to remember who suggested it, but the alumni formed a double line for the Cadets to pass through as they entered the tunnel. Their cheers and applause clear evidence of the admiration and respect they had for the young men and women who now represented all of us.

As the Cadets moved into the tunnel the alumni corps participants followed, enroute to a seating area where they could watch our corps perform. Then, unexpectedly, something magical happened once again. The Cadets gathered in their closed circle, drum majors in the center to begin the pre-contest rituals that included the singing of the Holy Name Hymn and the tapping of breastplates. The alumni passing by, not wishing to intrude, found themselves pulled into the circle.



Danny DeRosa 67-73, described what happened for us: I'm sure you have heard and read what an incredible experience the Alumni Corps had that weekend. Jim Messina, Pat Vazquez, Greg Cinzio, Don Polzo and I were emailing each other all last week talking about the natural high we were on. The amazing thing is, we all expected our performance to be the high point. While it was great, it was the whole experience that was incredible. Connecting with the corps, marching on the field with them, singing the corps song before they went on, cheering them before they took the field, etc.



Dave, when they started singing O' Holy Name that night I was outside the circle. One of the kids saw me, grabbed me, pulled me into the circle with his arm around me and we sang together. I didn't feel like an Alumni member then. I was transported back 40 years and was a Cadet again. I started bawling like a baby. Some of the kids saw me and I'm sure they were moved.



Anyway, I wanted to share that with you and thank you personally for a memory that I will take to my grave.

For Holy Name shall always be…



George King 54-61 related how honored he felt when one of the Cadets approached him after the singing of The Holy Name Hymn and asked him to tap his breast plate "for luck."

I was sitting up in the stands and did not witness any of this. What I did witness was the entrance of the famous Cadet prayer-block as they entered the field, and sent chills up my spine. I have been watching the Cadets enter onto the field of competition for over fifty years now, and the first sight of those magnificent uniforms entering the field never fails to stir my soul.

Well, as it turned out the Cadets did not need luck for that performance. They were magnificent. They set that admittedly biased audience on fire. Perhaps that should be kept in context, but I was also present last year, and while the audience was just as biased, it was a different corps that received the most applause. This year it wasn't even a horserace. This was Cadet country and the Cadets gave us everything they had…and what they had kept me hoarse from cheering for a week afterwards.

I was sitting in an area with very few fellow alumni, and the majority impartial fans around me were on their feet cheering and applauding for almost the entire performance. I started out determined that I would try very hard not to be an annoying "honk," but the enthusiasm of those seated around me carried me along with them. Cadets…thank you for giving this old alumnus the memory of a lifetime. Oh yes, in case you hadn't heard, they won the contest. I didn't need the scores or the position to tell me that. I wouldn't have cared what score or what position they received. I can always tell a winner when I see one, and the 2009 Holy Name Cadets personified what being a winner is all about.

After a short wait the Cadets appeared out of the tunnel again, only this time they were flanked by members of the alumni corps…proudly marching alongside the 2009 Holy Name Cadets…and leading the way; The American Flag, followed by our ten American Legion National Championship Flags carried by the male color guard, and the nine DCI Championship Flags carried by the female color guard. I had to catch my breath and sit down for a moment. It was, I'm sure, an emotionally charged moment for every single Cadet Alumnus present.

I find it hard to recall much of what occurred after that. I know the Cadets, intermingled with the performing alumni, formed a huge arch facing the stands. The entire ensemble played several numbers, and then an all-alumni ensemble stepped forward to play several numbers from earlier years. It wasn't the kind of grand alumni corps finale presented by other corps at DCI Championships over the years. By comparison in fact it was pretty humble. But it was all from the heart, and it was an expression of pure love of our corps.

Afterwards I saw several members of the performing alumni, and they were on a high that no one could penetrate. They had become Cadets for a few precious moments again, and they didn't want anyone or anything to intrude on that memory ride into their past.

Then, as quickly as it had begun, the alumni celebratory segments of our 75th Anniversary year were finished, with only the DCI Championship week events in Indianapolis remaining. Did anyone feel it was all over? Not by a long shot. As we speak there are alumni already hard at work on preparing for the next 75 years. Our corps, after all, is all about celebration: celebration of life, of achievement, of purpose, of service, and of the past, present, and future. There are young people out there as we speak anxiously knocking on the door so they too can become a part of the history that was celebrated all this year. No, it isn't finished…it has hardly even begun.

Part 6 – Indianapolis week – coming soon. This will be the final segment of this lengthy series of articles on 2009, a year unlike any other


THE AMAZING 75TH ANNIVERSARY OF HOLY NAME
2009…a year unlike any other - Part 6 (finis).

Cadet Alumni usually attend DCI Championships in large numbers, but this year the group was further enlarged by many alumni attending their first championships since the American Legion and VFW called the shots. The reasons were many: some just wanted the year-long party to continue, some were curious about what championship competitions were like in this new era. Others had fallen in love with our 2009 Holy Name Cadets, and they wanted to be present for their final three performances of the season.

None (or at least almost none) of us were particularly concerned about possible scores or placements. The Cadet Alumni had decided early on in the season that the 2009 Holy Name Cadets were everything a champion could be, by any definition you might apply. Whatever might or might not be determined by the judges in Indianapolis, therefore, mattered very little. The kids had turned an impossible-to-perform show into a tour-de-force. The creative and instructional staff had written, as far as we were concerned, a masterpiece. Would it have been nice to take home the gold for our 75th? Of course! Did we win? Of course…just not the title.

The City of Indianapolis had gone all-out to welcome DCI and the drum corps fans to their great city. The atmosphere can only be described as a drum corps fans' dream. Every street, every hotel, every restaurant seemed packed with fans, fans, and more fans. There were welcome signs everywhere, and the people of Indianapolis couldn't have been nicer or more gracious.

The kids unfortunately, never get to see this part of championships week. They are back at their housing site rehearsing every free minute to continue improving hour-by-hour, day-by-day, in pursuit of the personal performance standard that every Cadet works towards.

Lukas Oil Stadium was a huge, cavernous structure that was very easy to get lost in (which I did several times). The first night I felt a little strange due to the indoor atmosphere, but by the second night I had adjusted and begun to like many of the elements…particularly the backfield curtains, and the fact that the early corps competed under the same lighting conditions as the later corps. I'll let others cover whatever complaints they might have about the site, and many that I have read are justified…but there were a lot of pluses as well.

Every year at DCI Championships Doug Rutherford 84-92 hosts a Cadet Alumni party the afternoon preceding semi-finals (Friday). This year he outdid himself. There was a bit of a site mix-up due to a last minute change of locations, and unfortunately some alumni never received notification of the change. I suspect they simply hooked onto some other corps' party.

Everyone was welcome everywhere, regardless of who was hosting the affair. My hotel had a non-stop, three-day Blue Stars' affair just off the lobby bar area that was very welcoming. I also managed a guest appearance during the week at the Troop Whoop (Trooper's Alumni luncheon), and was welcomed there with open arms as well. Steve Vickers, publisher of Drum Corps World, was also kind enough to invite me to his yearly staff writer's party where I had the distinct pleasure of meeting some pretty talented and intelligent DCW staff.

The Palomino restaurant where The Cadet Alumni gathered for Doug's party, but it couldn't have been a better choice. The manager was a Bluecoat's alumnus and secondarily a fan of the Cadets…so the hospitality was off the wall. Of course, Cadets being Cadets, the party spontaneously began a day earlier than planned, with scattered groups of alumni seemingly able to find any Cadet Alumni assemblage by instinct alone.

The unplanned Thursday party ended up drawing about 30 or 40 alumni, most of whom got totally blasted under Greg Pych's sterling leadership. The winning drink was a custom mix of Stoli blueberry vodka and lemonade. It sounds harmless, but it's not. Nothing Greg Pych recommends is ever harmless.

That night in quarterfinals competition our Cadets set the house on fire. They were, in a word, magnificent. They had the most difficult and the most exciting show on the field, and they performed it at a level that was breathtaking. The audience loved them, the alumni loved them, and the elevator operator (all the elevators had monitors mounted in them) loved them too. That's about as close to a grand slam as you can get.

Back at Doug Rutherford's "official" party on Friday afternoon the corps' quarterfinals performance, and the amazing year they had just given us, was all anyone could talk about. The Friday version of the party attracted a packed house of very, very happy alumni. We packed the bar, we packed the lounge, and we packed the patio. A young couple (recent age-outs of a California corps) who happened to wander into our midst, blissfully unaware of what was going on, found the generational-mix of our alumni crowd a bit unbelievable. They kept asking if we were all really Cadet Alumni. Apparently they were too young to know that 75 years can produce an awful lot of alumni.

That night in semi-finals our corps once again brought the fans to their feet in multiple ovations. Each corps in the competition had their own strengths and weaknesses, but when it came to keeping the crowd excited and either on their feet or on the edge of their seats, nobody was in the same league with the Cadets.

I kept looking down at the audience from my upper tier location, and it was fascinating to see an entire audience totally focused on what was happening on the field. The Cadets had the full attention of the audience every second of their show. Anyone who challenges that, I believe, simply was too focused on the show to notice or is self-delusional. This was a great, exciting, memorable show; and the extra element of nostalgia made it even more appealing to our mesmerized alumni present in the stands, and many others as well. Jeff Sacktig's "HNC, G, BC, 75" drill sequence saluting our 75th anniversary was a piece of inspired writing that truly told "our story" in a dizzying ten second blink of an eye.

Once again, back at the hotels it was hard to unwind and go back to our rooms to sleep. People swarmed around hotel lobby bars all over Indianapolis discussing and reliving minute by minutes what they had just witnessed.

Saturday morning, bright and early, one of the Cadets' buses pulled up in front of the Westin, Hotel, Headquarters for DCI, to pick up alumni headed out to the Cadets' housing site for the traditional finals-day-morning breakfast. This is an annual event where alumni, parents, donors, friends and fans, are invited to join the marching Cadets to wish them well and to show them the love and support and admiration that had been building for them all summer long. Once again Caryn Goebel managed to make yet another location look festive and inviting. I wish I knew how she is able to accomplish so much with so little.

After sharing some breakfast and some conversation everyone headed out onto the field for the annual "Hop talk" portion of the program. The kids are seated on the grass on one side, with guests standing facing them on the other. Hop customarily gives a short introduction about what is about to happen, and what a privilege and pleasure it was for him to be associated with the corps, along with thanks to the parents present for entrusting him with their sons and daughters.

He also tries to explain to those who have never worn the maroon and gold what is unique, and valuable, and wonderful about the "cadet experience," and how he hopes that the young men and women who lived it will continue to carry the values and skills they were taught forward with them throughout their lives.

The program is then turned over to the marching Cadets who are invited to stand, if they wish, to say whatever they would like to say. Mostly they voice expressions of thanks: to the corps members who have become their second family over the course of the season, to George for all they have learned from him, to the instructors for making their Cadet marching experience so memorable, to their parents for their support and understanding. The tears flow freely, and it is a feel-good time for everyone fortunate enough to be present.

Following the Cadets, guests are also invited to speak. Much of what was said echoed what the Cadets had just said, with the addition of emotional expressions of love and pride for Cadets, both individually and collectively. Some parents expressed amazement that they had entrusted a son or daughter to the Cadets, and had returned to them a young man or young woman who had matured and developed a commitment and sense of responsibility to themselves and to others that was completely unexpected just a few short months ago. In this portion of the program as well many tears were shed.

This special event is something our corps doesn't have to do. They still have a full day of rehearsal ahead of them to prepare for the final contest of the season, and for many age-out Cadets, the final contest in which they will ever march. But, they do it because they know they are part of a much greater whole, and it is moments like this that bind us even closer and seal the covenant of our corps. Thank you George, thank you Cadet staff and volunteers, Thank you Cadets, for including the rest of us in this very important day in your lives. It was a great privilege to be there.

The championship competition that night was the final testimony to the greatness of our 2009 Cadets. They presented a performance that raised the roof of that domed stadium several inches, and reminded every spectator present of the special position Holy Name has in the history of the activity. Seventy-five years later and our name and our corps still command respect and admiration. Seventy five years later and our corps still brings people to there feet with cheers and applause. Seventy five years later and The Holy Name Hymn still enriches lives and evokes memories of years past but not forgotten. Seventy-five years later and our uniform still stands for something unique and valuable. Seventy-five years later and we are still standing.

The Blue Devils won the championship that night in Indianapolis, their 13th DCI Title, and we applaud and salute their accomplishment. No one can challenge their talent or their dedication to their goals. Thirteen championships and still going strong. Congratulations to Blue Devils B as well on their open-class victory. Carolina Crown just edged out the Cadets for the second spot with an outstanding show and performance and corps that deserved every plaudit they received. We salute them as well, and thank them for all the thrills and excitement of our season-long rivalry. We salute our old-time friends The Cavaliers, who also kept all three corps who were scored above them in Indianapolis on their toes throughout the season. All corps know better than to ever count the Cavaliers out of the title run. And we thank them especially for their magnificent gesture of respect and friendship in presenting us with a huge cake in recognition of our 75th Anniversary.

We share the joy of the Santa Clara Vanguard and their alumni and friends for their re-entry into the championship arena. SCV fielded a magnificent corps and gave drum corps a magnificent show and performance. They are, without question, a truly great drum corps, and we are honored to salute them as well. The Bluecoats continued to amaze as they refined their identity and continued to maintain their position as a corps everyone fears. The Cadets, like everyone else in drum corps, hold you in very high regard.

The Boston Crusaders, a brother eastern corps, lifted our spirits throughout the season, as they thrilled both their audiences and their competitors with one of the most exciting and entertaining shows of the season. We are looking forward with great optimism and pleasure to the renewal of stronger regional rivalry next season and for many seasons to come. Congratulations on your great leap forward. The Blue Stars were, in two words, totally amazing. Every year they continue to improve and progress and impress. They are very old friends and competitors of The Cadets, and seeing their meteoric rise has been a source of great pleasure to us. We hope that our mutual respect, and admiration, and friendship will continue to grow as well…for many, many years to come.

Phantom Regiment, our defending 2008 Champions, progressed so much over the course of the season they amazed everyone. After watching them perform, the score and position they received came as a total shock, because they looked every inch a champion once again. We salute our great 2008 Champions, and would like them to know that we are aware that 2010 is a new year, and that Phantom will be right in the thick of things once again. We wish you good fortune.

The Glassmen's sharp new uniforms were indicative of the continuing new approach and excellence of a corps we have known for a very long time. We respect and admire them not only for their excellence and perseverance, but also because they are, all-around, one hell of a good drum corps. The Blue Knights have pursued a direction uniquely their own through the years, and as another corps who often veers off into different directions, we feel a particular kinship with them. Keep on doing what you believe in BK. We absolutely believe in you.

The Troopers were welcomed back to the top 12 with a demonstration of love from fans and competitors alike that has seldom if ever been seen before. The Cadets join in that welcome. Drum corps without The Troopers is simply not drum corps. Welcome back!

There are, of course, many other corps who did not make top 12 who are also held in high regard and affection by The Cadets. Unfortunately the length of this article is already out of control, so we will just have to say thank you for enriching our experience. Top 12 is only one part of our shared drum corps activity, and whether you did or did not qualify for the Saturday finals competition; you are all honored friends and competitors. May the future hold nothing but success and good fortune for you all.

The final event of the 2009 Holy Name Cadets Diamond Jubilee 75th Anniversary was the corps banquet held on Sunday at the Westin Hotel in Indianapolis. The banquet is always a bittersweet experience, full of laughter, pride, tears, and joy. The members of the corps honor their caption instructors and techs, and the caption leaders honor the outstanding Cadets in their sections. Gifts are exchanged, and words of gratitude and love expressed.

This year's banquet, another Caryn Goebel and staff extravaganza, was packed. Every detail from the decorations, to the programs, to the food, was perfect. The kids, now out of uniform, all looked like perfect, sun-tanned gods and goddesses. "Athletes of God" if you will.

George gave what was possibly one of the most stirring talks of his life, followed by a showing of the audio-visual presentation that had been shown at the reception at Montclair State University. Then the kids, at long last, finally got to see themselves perform. I think they finally came to realize just what a great drum corps they had become over all those many rest-deprived weeks of rehearsals and performances. Realize it or not, the 2009 Holy Name Cadets added a chapter to our corps history that ennobled and enriched us all. They brought us together as never before, and they set us on a road for the future that excites everyone who has ever worn the maroon and gold.

They were, and they will remain, truly special.

Finally Justin Heimbecker, our assistant corps director and road manager took the microphone. One by one he read off the names of our 2009 age-outs. One by one they came to the front of the line and took a lit candle from Caryn and positioned themselves facing their brother and sister Cadets. The list of age-outs is always too long, and its' recitation always too sad…but this time it was especially hard. They had been through so much together, and accomplished so much together, and loved each other so much…it was painful beyond measure to let go. The line grew longer and longer until it was arched along one side of the huge banquet room. Then those holding candles formed into a tight circle, and that circle was immediately expanded as those Cadets remaining enclosed their departing brothers and sisters, with finally all alumni present taking up the outer perimeter. The Holy Name Hymn was sung one last time in honor of those now transitioning from Cadets to alumni, but so many were so choked up and so many crying, our hymn was almost as soft as a prayer. At the end the candles were blown out, and a whole new stage in the lives of all these magnificent young men and women began.

We will miss those who are leaving. They have been a part of us and a part of our 75th anniversary corps of Cadets. They changed all of our lives. This very special year and the Cadets who made it so special will live on in our hearts and minds for the rest of our days.



Now 2009 is almost finished. Our 75th Anniversary year and the many special events held in honor of that special anniversary are almost complete. But it is not over. It will never be over.

Our corps now is about to enter our 76th year. As a result of all we have seen and experienced and shared this year, our Cadet family is stronger and more united than we have ever been. Our corps, those who lead our corps, our fans and supporters and donors, the members of our board of directors, our instructors and creative staff, our Cadet alumni, and every single member of the 2009 Holy Name Cadets have all just shared a moment in time that enriched us all and made us realize just how important this corps is to us. We are Holy Name…yesterday…today…tomorrow…and God willing, Holy Name shall always be…

Our future begins!


THE AMAZING 75TH ANNIVERSARY OF HOLY NAME
2009…a year unlike any other - ADDENDUM .

We have poured so many accolades on our 2009 Holy Name Cadets, and rightfully so, I have a fear that we might have inadvertently shoved to the side the monumental achievements of the marching Cadets of the preceding four years since 2005.

The 2005 corps, with their almost universally acclaimed program and performance, and their record high score, needs no additional words of praise. Every year public recognition of the unique excellence of the 2005 corps and program seems to grow in the drum corps community. During that season they endured many barbs and received a great deal of criticism and even ridicule directed towards some of the unique elements incorporated into the program. Their performance excellence, conversely, was never challenged by anyone other than the most hardened zealot supporters of competitors, and fans mired in what drum corps had once been, and was no more. It was an amazing corps with an even more amazing impact on the stunned and sometimes confused spectators fortunate enough to see them perform. 2005 Cadets --- you were amazing!

The 2006 program and corps was a logical and exciting extension of 2005, that at the time seemed to be universally disparaged, but which I now see listed more and more on lists of "favorite years of the Cadets surveys" that pop up on Drum Corps Planet with some regularity. Admittedly the number of vocal supporters are still not very significant, but their number seems to grow every year. I count myself among those who believe it was a program many years ahead of its' time, and the most all-out entertaining program I have witnessed in my 59 years of drum corps experience. I was fortunate enough to see the show early enough in the season to see the original "history repeating itself" opener that tied the 2006 program to the 2005 program. It was brilliant, though probably ill-advised since it required at least some familiarity with the 2005 show that most of the audience members lacked. The characters provided the bizarre "not of this world" aura around which the show revolved. There were so many elements that were simply brilliant it would take a small book to list them all: the breathtaking backfield ballet along the benches, the flying swan dives off the pink benches, the beautiful addition of the singer's voice adding an additional layer onto the ensemble sound of the corps, the unique and always eye-catching positioning of the drum line during their features, and many others.

The judges' main criticism in 2006, sometimes repeated by bleacher critics (many of whom had never seen the show in person), seemed to be that there "was no focus." That was probably true, but it was a "so what" kind of criticism. Wherever you looked on the field there was something different and exciting happening, and as many times as you watched that program you discovered something new you hadn't seen in prior viewings. Behind it all was a hugely talented drum corps that never, ever got lost in the spectacle. If I could ever choose one single show to march in my lifetime, that would be the show. To the 2006 Cadets and program designers…WOW! You endured a lot of criticism, most of it unfair, but you put on a show for the history books. People to this day still talk about the 1971 Cavaliers' Circus show, and the 1971 Madison Alice-in-Wonderland show, and the 1971 Cadets' America the Brave – 1776 theme shows. At least two out of the three were hated by the fans at the time…but are now spoken of with admiration. The 2006 Cadets and their Through the Looking Glass show, I believe, will one day be viewed as the masterpiece I believe it was at that time, and remains today. Sully, 2006 Cadets, take a bow!



George's 2007 This I Believe show was an entirely new experiment for The Cadets and for the activity that came very close to working. Narrative voice was used heavily, in retrospect far too heavily, especially during the two mid-program soliloquies; but when it was used as a lead-in addition to traditional performance elements, scattered throughout the very, very strong musical and visual features of the program, the effect was electrifying. Even more so because our 2007 Cadets performed the heck out of the program. As most of you might remember the Cadets were running neck in neck with the Blue Devils coming into DCI Championships in Pasadena where the now infamous hash-mark incident occurred that seemed to doom any chance for a title.

One of the "featured voices," a young man who had been given the role of the high school under-achiever, was ridiculed all season for supposedly sounding like some movie character. After one of the corps' performances in Pasadena he was interviewed for a DCI clip, and as it turned out he was a clean-cut, extremely good-looking, articulate, talented theatre major in college. Just about the last person you would ridicule if you knew who you were ridiculing. 2007 Cadets…you had one hell of a corps, and you almost sold a show concept that the general audience was not even close to being able to completely understand or accept. Your performance and your program has since passed the test of time, and when chat room participants are asked to list their favorite Cadet years, 2007 comes up more often than not. It's time to bask in the accolades you earned three years ago.

2008 was the year of social issue focus. George Hopkins feels very strongly about many things, and there seems to be an ever-present urge within him to share those feelings with others. In 2008 it would appear he determined that drum corps provided a big enough stage and forum to inject a "message" into the corps' program that to some degree t least obscured the traditional entertainment elements that drum corps audiences demand of corps to whom they give their support and applause. The season opened with extensive dialogue as part of the program, that was not well received. Day by day, week by week the message was diluted and the dialogue reduced, but the image already engraved in the minds of many who watched the show was too deeply entrenched to be altered. It was a failed experiment, but with admirable intent. What was not lost to the public, however, was the realization that underneath the elements they refused to accept, was a solid drum corps show and an amazingly talented drum corps performing at an amazingly high level. For the entire season commentators on chat rooms and in drum corps publications seemed to go out of their way to separate the program from the performers. 2008 Cadets, you accomplished something miraculous. You got people to look beyond their personal taste limitations to see the greatness of the corps performing the program. That, to my mind was an exceptional accomplishment.

The members of the 2008 Cadets were the first Cadets that I had the opportunity to see up close and personal in many years, and they solidified my determination to do everything I could to support the corps both financially and personally. It was my revelation, if you will, that Cadets…year in and year out…are not their field program. They are their philosophy and their values, ethics, history, traditions, work ethic, commitment, and all the other wonderful elements that contribute to "the Cadet experience." Thank you 2008 Cadets. You gave me more than you can ever imagine.



This addendum piece is not intended to be a critical analysis of the programs The Cadets and their staff have put on the field over the past four years. It is rather an acknowledgement that we have focused, and properly so, all our love and attention on the 2009 Holy Name Cadets because they deserve all the praise lavished on them, and because it was our 75th Anniversary Diamond Jubilee year. My intention here is to tell any of the Cadets who marched 2005 through 2008 that you left your unique mark on our history, and like the 2009 Cadets, you will never be forgotten or undervalued. You earned your positions of honor in our history…and I know I speak for every Cadet who preceded you since 1934…you did us proud!



For Holy Name shall always be…

Dave Shaw, 50-58


Back to top