Listen to Don Angelica´s solo from
1957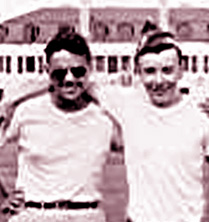 Mrs. Connie Kardash, "Mrs. K",
beloved member of the Holy Name Cadet family and former Quarter Mistress (1953-61) passed away today following a brief illness, peacefully and surrounded by family. She was approaching her 98th birthday and, until today, held the distinction of "Oldest Surviving Member of the Cadet Family". She is the mother of Cadet soprano bugler, Bill Kardash, who marched with the Holy Name Cadets and later the Garfield Cadets from 1952-61. She was predeceased by her husband, John, a long-time member of the Cadet Booster Association and Treasurer of the Holy Name Cadets during the 1950s. "Mrs. K", joined the Cadets in 1953 after Mr. Bill Kemmerer, Sr., ("Chief"), Corps Director, heard about her seamstress skills and, literally, knocked on her door to ask her to join the Cadet Staff. She was a great asset to the corps, fitting Cadets and maintaining more than 60 uniforms for the active marching corps and "rookies" for 8 years – all as a volunteer. In 1958, after the Cadets left the sponsorship of Holy Name Church, she traveled to NYC with "Chief" and selected, purchased and altered the temporary uniforms of shorts, knit shirts, knee socks and "Aussie-style" hats. These iconic uniforms were used when the Garfield Cadets defended their American Legion Junior National Championship during the summer of 1958 in Chicago. During the 1959 season, the Cadets selected an interim uniform of long-sleeve white satin shirt with maroon collar and cuffs, accompanied by the traditional white twill pants, gold cummerbund and sash, topped off with the West Point-style plumed shako. "Mrs. K" designed, managed and stitched more than 60 satin shirts and accompanying cummerbunds and sashes during the winter months so the Cadets would have their new uniforms as the 1959 drum corps season began. This dedication caused her to spend many late nights and weekends working to bring the Cadets the best uniforms possible. To assist with the work, she asked her sister, Nellie Di Domenico, "Aunt Nellie", also an accomplished seamstress, to help. Soon thereafter, "Aunt Nell" also became a dedicated member of the Cadet Staff and spent more than 27 years with the Cadets, until retiring in 1984. "Aunt Nell's daughter, Marie, was also a long-time volunteer for the Cadets, having served as Treasurer and on their Board of Directors. Truly, a family effort. In her later years, Mrs. Kardash remained active and attended the 50th Anniversary of the Holy Name Cadets 1957 American Legion National Championship in Atlantic City. She was honored for her service and received a Presentation American Flag that was flown over the U.S. Capitol on the anniversary date of the 1957 National Championship. In addition, she attended the 75th Anniversary of the Holy Name Cadets held in Montclair, NJ in August 2009. She will be missed by all. May she rest in peace.

The family will receive friends and visitors at Aloia Funeral Home, 180 Harrison Avenue, Garfield, NJ, on Sunday, January 24th, from 2-4 PM and 7-9 PM. There will be a Mass of Christian Burial at 10:30 AM at the Church of the Most Holy Name, 99 Marsellus Place, Garfield, NJ 07026, on Monday, January 25. Interment will follow at St. Mary's Cemetery , Outwater Lane, Saddle Brook, NJ. Contributions may be made in her honor to the Cadets Alumni Association. Checks made out to "Garfield Cadets Alumni" should be sent to George King, 69 Thomas Street, Clifton, NJ 07013. Please indicate that your contribution is in honor of Mrs. Kardash so the family can be notified of your kindness. Email condolences to the family can be sent to www.aloiafuneral.com


A personal note from a grateful Cadet: Mrs. K's many selfless contributions to our corps appear above, but between the lines is the story of a life well lived by a beloved and very gracious lady. To Cadets fortunate enough to have marched during her years of most active contribution, we will never forget the impact she had on all our lives as we moved through adolescence into adulthood. The Cadets survive and thrive today because of people like Mrs. K who worked in the background without thought of compensation or thanks. Now, as she rejoins her husband John, we rejoice that we had the special blessing of having been touched by her life and good works. Well done Mrs. K, and for all those times when we didn't say it but should have…Thank You!!! For Holy Name shall always be…

Dave Shaw 50-58


Hello Holy Name
Happy New Year…2010!
It's hard to believe that our new era and our 76th Year have begun.
Ordinarily this would be the time to recap the year just past, but that's hardly necessary. Our 75th Anniversary Diamond Jubilee Year was one for the history books. Many of us lived it in person to varying degrees, while others did so vicariously through word of mouth, the internet, news updates from the corps' office and www.theholynamecadets.org, not to mention our newly released and critically acclaimed history book.
I think we all loved being The Holy Name Cadets again, even for such a short period of time. The name carries a certain luster with it that is hard to deny. It was nice to see our alumni come together as a single entity under a single banner, and while our pride in being Holy Name Cadets, Garfield Cadets, Cadets of Bergen County, and The Cadets remains intact; our overriding Holy Name core identity binds us all one to another.
It was very satisfying and heart-warming to see the marching Cadets and our many thousands of alumni embrace each other, and join hands in common purpose and memory. We hope that we will continue on this path, and that we will never become segmented ever again. After much hard work on the part of many it would seem that our corps, our alumni, our corps administration, our staff, our board of directors, our donors, our volunteers, and our friends are now, at long last, traveling the same road.
We lost many Cadets and Cadet family members to the ages during 2009, and we are all diminished by their absence at the table. We were conversely very fortunate to have so many heritage and legacy Cadets who marched in the 1930s and 1940s, including Cadet #1, John Baumfalk, still enriching our 75 year tapestry.
Donations to keep the corps on the road and flourishing exceeded expectations during the financially challenging year of 2009, both from alumni and donors of all kinds. A lot of those donations, quite probably, were spurred to some degree by our 75th Anniversary glow, but I believe even more of this generosity was based on the realization that our corps is very special…not just because it is our corps, but because our core values are so strong, and our young modern-era Cadets so inspirational.
Now we move into the future. George has already announced a rebranding and a new logo for our corps. The present and the future boldly strike out from the past we all identify with so strongly. There are reservations, certainly, but my guess is that most of us understand the reasons and the rationale behind moving so quickly and decisively into this new era.
We lost a lot of age-out Cadets from our superlative 2009 corps, along with some who cannot return for personal, financial, or life-direction reasons. It was very hard to see them go. We had come to know and love these wonderful young Cadets, and we will miss them one and all.
That has meant a strong emphasis on recruiting this winter, and some of the imaginative ideas coming from our corps' leadership have been striking. Incentives of all kinds are being offered, with the most important of all, I believe, the organization of low-cost bus transportation to monthly weekend camps from our primary recruiting areas. Hopefully at some point in the future our alumni will find a way to help partially subsidize the transportation expenses of young people dreaming of wearing the maroon and gold, who come to us from areas not serviced by the pooled bus transportation options, which we hope will succeed in making membership in the Cadets a bit more financially feasible for the young adventurers ready to become one of us.
It has long been a dream of many alumni to find a way as well to begin reducing the strain of the tour fee obligations on our Cadets. We will continue to pursue that goal, while cognizant of the priorities of the financial demands of the business operations of the corps, and the need to keep alumni initiatives coordinated with our corps' administration. The alumni have no real direct role in the operation of the corps, beyond support and the network of many alumni members with specialized skills, contacts, and ideas that might conceivably be of value to the corps.
Rudy Heimbecker has already communicated to us that the corps would welcome more alumni participation in the recruitment process. Many of us assumedly know of young people with the talent and dedication that membership in The Cadets requires. If there are any that you are aware of make yourself known to them, advise them that you are available to answer questions and offer advice. Assist them with developing a financial plan to cover their expenses, and assist them as well in finding a way to hone their skills so that their dream of becoming a Cadet can become a reality. It is important to remember, however, to keep the corps' administration, in particular George and Rudy, advised in advance of anything you plan on doing, and to obtain their consent. It will serve no one's goals if our efforts are not coordinated, nor if alumni wishing to help are discouraged from doing so.
George recently announced that The Cadets' programming direction this year will be, above all else, to entertain the audience and earn their respect, their admiration, and their applause. To those concerned that will mean a de-emphasis on our legendary reputation for innovation, place your confidence in our creative staff. They always seem to know how to strike a balance between our trademark elements and the new and groundbreaking.
So that's the battle plan for 2010 my fellow Cadets. Another great corps. Another great show. Another Corps of Cadets who will distinguish themselves both on the field and off. Another year of growing alumni support and participation as donors, volunteers, and standard bearers to the outside world.
A happy and prosperous 2010 to one and all. Our pride in our history and heritage is matched only by our confidence in and enthusiasm for our future. For Holy Name shall always be…

News Update Dec. 17, 2009

Christmas Party Photos from Rich McGarry

Our 75th Anniversary, Diamond Jubilee year began with the stirring sight of our 2009 Holy Name Cadets marching down Pennsylvania Avenue to honor our newly inaugurated President; as millions of people around the world watched. The Cadets on that bitterly cold January day activated feelings of pride and love in our alumni for our marching Cadets that has never been equaled in our history. 2009 has been a year unlike any other for the entire, far-reaching Cadet family.

Several weeks ago, on December 5th, this special Holy Name Year came to a fitting end with an alumni party to end all parties. All the excitement, and all the pride, and all the love, brought Cadets from every decade together once again to remember and celebrate all the wonderful moments of 2009 for one final grand occasion. In short, our alumni Christmas party rocked the house.

The party was hosted by our wild and crazy 1969 first female color guard members…now Cadet Hall of Famers (if I didn't mention that I'd be in serious trouble); and I can testify that they worked their tails off to ensure that this final party of the year kept the spirit alive that has been burning inside us for so many months. The committee, led by Cindi DeVivo, consisted of Margee Estelle Gearhart, Jackie Michelli Colao, Patti Lovas Trojanowski, and Renee Lapadura Strutton. George King played a huge support role, and we need to give special thanks to Steve Trojanowski for all he does at all these functions on our behalf. Steve is the husband, of course, of shy, quiet, Patti Lovas-Trojanowski.

Most in attendance were unaware that all the people listed above spent a lot of back-breaking hours the night before the party getting the VFW Hall back in shape after a water leak left the hall with a damaged dance floor, a huge mess, and a smell that defied description. The testimony to the success of all their efforts over several months, topped by their prior night cleanup efforts, was the shock the rest of us received when we arrived and walked into a familiar room that had somehow been turned into a spectacularly decorated wonderland. The committee went through a huge amount of personal expense and work to achieve that miracle of transformation. Thank you to all for everything you did to make our night so special.

Table floral centerpieces and a large number of beautiful poinsettia plants were generously donated by Michael's Florist of Clifton, owned by alumnus Joey Nikischer and his Mom and Dad. Thank you for your contributions not only to the party, but also for the altar flower arrangements you donated for the Memorial Mass at Holy Name Church in May, that began all the 75th Anniversary events.

The wonderful Italian buffet came from The Sub Base, owned by Jim D'Amico, the son of past Cadet Corps Director Jim D'Amico Sr. Jim Jr. and his son (guess what his name is) did a great job of preparation and service. No one went hungry, that's for certain. As usual the desert tables were loaded down with a specially decorated cake, plus contributions from many in attendance; with special thanks to Jim Messina for once again donating a huge variety of cheese cakes, George King for enough cookies to feed our entire corps, Steve Trojanowski for his pies, and on and on. I'm sure there were many people on Sunday morning experiencing day-after sugar-shock.

There were many highlights to the party, so it's hard to zero in on just one or two. First, the "originals" decided to celebrate their hard work and success with a couple bottles of champagne. And so the fun began. The weather had been terrible (snow, sleet, and rain) for most of the day, so there were concerns that a sizable number of people wouldn't be able to make the party. A number didn't, but there were also a significant number of walk-ins to help to offset the absentees. A list of those who arrived earlier enough to be registered before the "originals" decided it was time to close up shop at the registration table and join the party, follows: My apologies to anyone who was in attendance but is not included in the list shown. I also absolve myself from any misspellings. This is the list I was given.


Dennis and Renee Agostini
John and Susan Avella
Vincent Barilla
Bart and Barbara Bartello
Bob Bella Rosa
Art Bouvier
Ryan Breslin
Alex and Jeanne Callahan
Mr. and Mrs. Larry Coleman
Cindi Carozza (DeVivo)
Kim Carter
Chris Cubias
Carol and Jim D'Amico
JoAnne DeLucca
George DeOld
Danny and Fanny DeRosa
Rich DiCrosta
Marie DiDomenico
Paul DiLiberto
Mr. and Mrs. DuHaime
Sue Erben – Jim Dugan
Margee Estelle (Gearhart)
Mickie and Duane Evans
Rich and Lynne Evans
Caren and Joe Frech
Mr. and Mrs. Tim Gallagher & son
Denise Gallo (Swyryt)
John Hannigan
Dave Helms
Fabian Izsa
Mrs. Fabian Izsa, Sr.
Bill and Judi Kardash
Mr. and Mrs. George King
Mr. and Mrs. Frank Koch
Renee Lapadura (Strutton)
Ginny and Ted Magda
Stan Magda
Hugh Mahon
Mr. and Mrs. Jeff Males
Cheryl and Jim Mallen
Mr. and Mrs. Gene Marotta
Mr. and Mrs. Bill McCullum
Beth McGarril and Mike
Scotty McGarry
Barb and Jim Messina
Jackie Michelli (Colao)
Mischie Mishkowski
Art Mura
Al Mura
Joey Nikischer
Joe and Arlene Nikischer
Lillie and Mark Oberthal
Eugene Parcipepe
Nick Patrisso
Mickie and Dan O'Reilly
Lillian Petrullo
Don and Theresa Polzo
Greg and Elena Pych
Pat Ragnoni
Debbie Kowalczuk Ripke
Chris and Paul Rocco
Denise Kolbusz Schlachter
Dave Shaw
Joe Smyers
Jim and Mary Ann Stanko
Mr. and Mrs. Walt Taormina
Maggie and Jeff Temple
Mr. and Mrs. Doug Tenis
Bill Trainer
Patti and Steve Trojanowski
Todd Ulrich
Kevin Ulrich
John VanDerbring
Sandy Van Romer
Pat Vazquez
Paul Wall
Rick and Donna Walsh
Joe Wegrzyniak
Bill and Ann Westdyk
Mrs.. Anne Wildt
Linda Wildt (Perotta)
Bob Wilke

Everyone was dressed to kill (except Hugh Mahon who had decided to go with his Yale freshman ensemble). We were blessed with a great DJ (a member of our alumni corps percussion line), who got things rocking early, and kept them rocking throughout the evening. At one point I was astounded to see a packed dance floor, with a mix of very young and very old Cadets, rocking the roof as they did a few extended sets of ensemble dancing to the music of – sit down, this may come as a bit of a shock – The Village People's "YMCA." If you ever need a great DJ I would strongly recommend Dennis Magarro of DJ Music Express. He had Cadets from every decade mixing it up and having a ball. Special thanks to Dennis as well for his generosity in performing for far less than his usual fee, and for including many extras that helped the party budget immensely. Dennis, you rock!

At one point in the evening Santa appeared with his sexy reindeer, who were attired in antlers, black boots, and some pretty hot threads. Our Santa, believe it or not, was Greg Pych. Now that takes a little getting used to. He sure looked the part though. The backup reindeer chorus line performed a little dance routine that sold extremely well. Perhaps too well, because it inspired a short encore lap dance by Cindi in Santa's lap.

I, to my everlasting regret, had to depart early; so the following information was kindly supplied by Cindi, Caren Frech, and intuition. As I was leaving Deanna Imbro-Queen was arranging a display of her one-of-a-kind Cadet-uniform pillows in the foyer. They come with certification of authenticity, and are real eye-catchers. The pillows, along with our new history books, and Cadet rings and pendants can all be purchased as special Christmas gifts for those special people in your lives by going to the merchandise order page on www.cadets.org.

No Cadet function would be complete without a lot of emotion and a few tears, which I'm told came about shortly after my departure. Two recent Holy Name Cadet age-outs arrived at the party late due to unfamiliarity with the area. I had noticed Caren and Deanna getting a little concerned about them over the course of the evening, with frequent cell phone calls to check to see if they were OK. Fortunately they were, they were just lost.

Their names are Ryan Breslin and Chris Cubias. I'd like to just interject here that these are the kind of Cadets of whom we're all so proud. To see young men, and young women, of their quality age-out each year is extremely difficult emotionally…but it is also the reason why our corps exists, and why our alumni honor our marching Cadets, and the leaders they follow, so much.

When these two young men arrived the party attendees had just finished singing our Holy Name hymn, a ritual repeated at each and every occasion when and where Cadets gather. Deanna and Caren then introduced the two to everyone present, as representatives of our newest alumni, but the introductions proved to be far more poignant than expected.

Ryan Breslin is the nephew of our great drill designer, Jeff Sacktig. He is the kind of leadership role model and super-Cadet that our corps seems to produce in abundance. As Deanna and Caren explained, Ryan's Grandfather passed away prior to the beginning of the season. It was a very great loss for both Ryan and Jeff. The man they loved so much had marched with the New York Skyliners for many years, and he can be credited with sparking the interest of both his Son Jeff and his Grandson Ryan, in marching drum corps (both Jeff and Ryan are Cadets.) Ryan carried a photo of his Grandfather inside his shako for the entire season to honor the man he loved so much that he wanted him, in some way, to be a part of his Cadet experience. He not only honored his Grandfather by doing so, he honored all of us.

Chris Cubias approached Deanna and Caren early in the Spring to make a special request. He wanted his uniform number to be #75 (for those who have never marched Cadets, your uniform number is something you don't forget for the remainder of your life.) He especially wanted #75 because he felt particular pride and honor to march the 2009 season as a 75th Anniversary Holy Name Cadet. It wasn't as simple a request as might have been supposed however. The corps was in the midst of changing uniform numbers so that the instrument they marched could be easily identified by their uniform number for easy distribution at performances. It took a little maneuvering, but Chris got his #75, and in the process formed a very close and personal bond with Deanna and Caren.

Chris, like Ryan, and many others as well, seemed to radiate a pride in his uniform, in his corps, in his corps' history and heritage that manifested itself in everything he did and said. He was an inspiration and leadership figure for all Cadets, past and present.

Caren related to me a very personal story about this outstanding young Cadet. She happened upon him one day, and while unobserved noticed him standing by the uniform rack and running his fingers over the Holy Name patch sewn on the shoulder. He seemed to be doing so with a reverence and pride that touched her very deeply…so deeply in fact that she formed an unusually close bond with Chris. Their bond became so deep that during the DCI Championships at Indianapolis she went up to Chris and asked him if he would pin the Garfield Cadets patch that she had worn on her uniform when she marched inside his tunic, so she would feel that she was out on the field with him. Chris did so for all three days of competition, and following the Saturday finals he approached her to return the patch and apologize because it was drenched with perspiration. Caren said she told him that he had no idea how much what he had done meant to her, and that his perspiration made the patch even more meaningful for her.

So that's how these two new young alumni got introduced to their brothers and sisters of the ages, on December 5th in Garfield. Two Cadets from the 70s, who had marched forty years earlier, had bonded with them, and they shared their stories with all present.

The alumni at the party, touched by the stories they had just heard, then gathered into a closed circle, with Ryan and Chris in the center of that closed circle; and with Al Mura, one of our original Cadets, directing, the Holy Name Hymn was sung a second time, to honor Ryan and Chris, and all the 2009 marching Cadets, for all they had come to mean to us.

And so we as alumni brought our 1976 Diamond Jubilee 75th Anniversary to conclusion, with a party that proved to be more than just a party. It was an event that enriched us all. For Holy Name shall always be…

An expanded version of this news update, with additions of other news and announcements, will appear on the news page of our website, www.theholynamecadets.org, shortly.

Just after completing this news update I received word that Cindi's Mom has been diagnosed with a very serious health condition. We ask for your thoughts and prayers for Cindi, her Mom, and her entire family. Their pain is our pain.

There is no gathering-of-the-maroon scheduled for January due to the close proximity of the holidays to the first Thursday of that month. The next gathering will be held on Thursday, February 4th, at the VFW Hall, 340 Outwater Lane, Garfield, NJ, at 7:00 PM. Come and join us…all are welcome.


Back to top