Listen to Don Angelica´s solo from
1957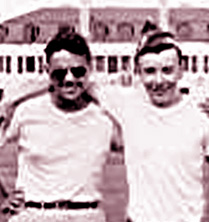 ALUMNI NEWS UPDATE – MARCH 4, 2010

Hello Holy Name (yes that's you HNCC, GC, CBC, and now and forever, The Cadets)

The maroon gathered once again for what might very well be our last gathering at the VFW Hall in Garfield. As mentioned in the email sent two days ago, the alumni corps informed me that they planned on taking over our meeting nights in April and May for additional rehearsals. Our meetings, therefore, for at least the next two months are contingent upon finding a different location. You will be advised if we are successful.

The VFW is also in negotiation with the City of Garfield for the city to purchase the VFW Hall as a site for a new police station. Speculation is that will probably happen sooner rather than later, since the VFW has a meeting scheduled this week to discuss the city's proposal.

Our wish list goal would be to find something in the general Bergen/Passaic counties area for FRIDAY evening meetings once a month. Open bar and food availability would be a plus. If anyone has anyone suggestions or any contacts we would appreciate any assistance you can offer. Contact me at dshaw40@gmail.com, 201 703 1293. Discussions are also under way for expanding the generational range represented at our monthly meetings, and to provide some varied corps-centric entertainment at our gatherings. Whatever happens or whatever direction all this leads us, you will be kept fully informed.

That problem aside, it was a very interesting meeting. We had a good turnout (see list below), though not much of a generational range. We were pleased and privileged to have a current marching Cadet present: Will Ebbels 08-10.

The main focus of the evening, and the big attendance draw, was the presence of our corps director, George Hopkins. The bulk of George's presentation was a detailed description of The Cadets' 2010 field program. Precisely what he told us is best left to public announcement by the corps, but it was definitely sufficiently exciting to rouse the interest of the alumni present. Sorry to be so coy gang, but if you check www.cadets.org periodically I'm sure the information shared with us will be announced as it becomes finalized. The fact that George continues to travel to these meetings all the way from Allentown whenever his schedule permits bodes well for the strength of the continually expanding bond between our alumni and our corps.

What can be told is that the Holy Name patches will continue to be worn on the uniform in 2010 in recognition of our history and heritage. The DeMoulin Uniform Company as one part of a multi-part, five-year contract with YEA will provide the uniforms. Our main seamstresses, Deanna Imbro Queen and Caren Frech indicated they are very pleased with the high quality of the uniform, and the close and friendly relationship they are developing with the DeMoulin representatives who were present at the February corps camp to take measurements.

Eric Santo 77-82 reminded us of the deadline for submitting nominations for the 2010 Cadets' Hall of Fame. There are some changes in nomination procedures, so please check www.cadets.org for full disclosure. The nomination period is currently open, with a closing date of April 11th. Voting will begin on April 16th and continue through June 1st. Letters of nomination and seconding letters should be sent to Caryn Goebel, caryn@yea.org. For additional information contact Eric Santo, eric289@aol.com

A show of hands was requested at the meeting of anyone interested in chartering a bus for group transportation to the June 18th season-opener, Cadet-sponsored contest in Allentown on June 18th. Our estimate at this point is that approximately 26 people are tentatively interested. I request that anyone who is interested to please send me an email with your name and the probable number of people in your party, dshaw40@gmail.com We will need to have a number close to 50 participants for this to be a go. It is anticipated that the bus would leave the Garfield VFW at approximately 4 PM, returning the same night with approximately a 10:30 PM departure from Allentown. It's possible that we might be able to include a shared meal with our marching Cadets in the package. Tickets could also be included as desired. Once we have a fairly firm number we will be able to provide a cost figure. Please note that June 18th is a FRIDAY night. I request that you email me ASAP so we can determine whether we should proceed with this project or not.

If there is someone who would like to assume responsibility for expanding on this idea to arrange buses to contests when practical, please contact me.

CAPS-FOR-CADETS alumni initiative: We're not doing well my friends. To date we have received donations totally $650, with an additional $100 (approximate) in reserve from last year's donations. I have received a number of commitments, but the checks have not been forthcoming and they're needed now. Our expenses for the Memorial Day run something like this (approximate, based on last year's prices).

Caps for the Cadets $1400
Pizza for the Cadets $ 600
Beverages for the Cadets $ 400.00
Breakfast for the Cadets $250
Total: $2650
Donations received to date: $750 HELP!!!!


Plans are moving forward for the Memorial Mass on Sunday, May 30, 10:30 AM at Holy Name Church in Garfield. Doc and Greg Cinzio have begun preliminary construction of a program in partnership with Msgr. Reilly, Pastor of Most Holy Name Church. Doc , doccinz@verizon.net, Greg, The Cadets will be presenting a concert somewhere in the North Jersey area on Sunday evening, May 30th, site to be announced.

It's going to be another big year for The Cadets my fellow alumni, and a big year for us as well. Please do all you can to support our marching cadets in this our 76th year of continuous operation. Donate whatever you can. Volunteer whenever you can. Contribute whatever you can in any way you can. This is our corps, and these kids are a part of us. Let's keep the maroon and gold experience the best experience a young person can have. Drop by to see them and say hello whenever they're in your area. Let them know how proud we are of them, and do what you can when you can to make them feel welcomed and appreciated wherever they go. There are at very least 4,000 of us spread coast to coast in a continuous connected support network. Let them know what it means when they sing, "For Holy Name shall always be…"

From the March 4th sign-in sheet:

John Avella 57-61
Bob (Kid) BellaRosa 49-52 heritage cadet
Rocco Carbone 75-80
Dr. Joseph Cinzio, former director
Greg Cinzio 67-77 DM
Jeff Cooper 76-80
Cam Conklin 70-80
Ken Conklin 70-80
James D'Amico 49-76 former director, heritage Cadet
Jack Day 64-67
Marie DiDomenico, corps icon
Will Ebbels 08-10 2010 marching Cadet
George Hopkins, corps director, 79-who knows
Fabian Izsa 58-66 DM
Irene Izsa, lifelong supporter and Cadet parent
George King 54-61
Richard Kozel 60-65
Beth McGarril 73-75
Dennis Magarro 64
Jim Messina 66-73 DM
Bill McCullum 42-52 heritage Cadet
Eric Santo 77-82
Dee Schlachter 69-73
Dave Shaw 50-58
Ken Shedosky 57-61
Andy Swiderski 55-57
Doug Tenis 57-61
Wayne Tenis 59-63
Kevin Ullrich 82-83
Todd Ullrich 83
Walt Taormina, 43-52 DM heritage Cadet
Pat Vazquez 61-67 DM
Walt Vladyka 37-49 legacy Cadet
Joe Wegrzyniak 43-50 heritage Cadet
Bob Wilke 66-69

With sincere apologies to anyone who failed to sign the list and I missed.

Apologies as well to those who called my attention to our failure to sing The Holy Name Hymn at the meeting, and the fact that this was the second time in succession we failed to do so. It won't happen again.

Back to top