Listen to Don Angelica´s solo from
1957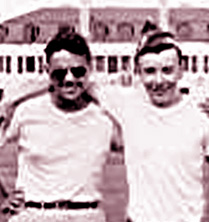 CADET ALUMNI NEWS, MARCH 19, 2011


by Dave Shaw

Our Caps-For-Cadets alumni initiative is moving along well. We still need some help though. If you are considering making a contribution to this important alumni-to-kids program please get your check in the mail: We have a number of outstanding commitments from people who have indicated their intention to send a check, but we have not as yet received them, and the time for making contact with distributors is drawing near. Please help! Every penny of these donations go directly to the kids as an expression of support and pride from their alumni. Send your check made out to HNC Garfield Cadets Alumni to Dave Shaw, 10-01 Hopper Avenue, Fair Lawn, NJ 07410. Call 201 703 1293 if you have any additional questions.

The caps have been ordered by George King, and we expect to receive them in the next three weeks. I have seen the sample, and honestly I think they are the most attractive design yet. No one will get to see them until the presentation ceremony, as is our custom, but you will want to be there for the unveiling. See additional information below on where and when this will happen.

Donors to date:
An alumni contributor who wishes to remain anonymous, Tony Bartello, Bill Blazowski, Rudy Bonin, Dennis Bradley, Dr. Joseph Cinzio, Gene Clayton, John Day, Cindi DeVivo, Marie DiDomenico, George DeOld, Cindi DeVivo, Bill Gaeckle, John Gangale (2010 donor I neglected to list earlier), John Hannigan, Ron Janowski, George King, Rich Kozel, Renee Lapadura, Al Lopez, John Ludgate, Tom Maat, Stan Magda, Hugh Mahon, Emil Mattey, Tom McCullum, Scotty McGarry, Jim Messina, Ron Muchinsky, Al Mura, Art Mura, Bob Peterson, Robert Philhower, Vince Randaisi, Doug Rutherford, Eric & Kathy Santo, Donna Schiavone, Dee Schlachter, Ron Sell, Dave Shaw, Kelly Smith, Lois Smith, Maggie Temple, Walt Toramina, Paul Wall, Bill Westdyke, Joe Wegrzniak. Thank you one and all for your continuing support of this program through the years. I expect to have additional names to add to this list within the next week or two, but if you have a cash flow problem at the moment late donations will still be of immense help.

.....

Our March North Jersey alumni gathering was held once again in the cramped confines of Barcellonas. We love our old teen hangout, and everyone who works there couldn't be more accomodating, but the simple truth is that the small room we attempted to squeeze into for the past two meetings is simply inadequate. That's especially true when we have the large turnout that we experienced at this gathering. The person to person proximity did, however, contribute to one of our livliest meetings yet. Unless you have been on safari in Africa somewhere you are probably already well aware of the change in uniforms for our corps for the 2011 season, which we have been assured is a one year abberation. It probably goes without saying that there are extremely strong feelings on this decision. Rudy, our tour manager and assistant director, had the misfortunate to be in attendance, and he immediately became the man on the hot seat. Afterwards many commented on how well he handled what undoubtedly was a very difficult evening for him. Rudy enjoys the respect and support of our alumni base, so he was definitely the right person to present the case for the change. Since the discussion is ongoing and has been all over the social media there is no point in rehashing it here yet again.

One point that should be mentioned, though, is that one of the major concerns is what affect this discussion will have on the 2011 marching Cadets and on future recruiting. We have a very unique bond between alumni and marching Cadets in our corps, and to ease any concerns relative to that bond, this needs to be said. Alumni respect and support for the kids marching in the corps has not, and will not, change. As affirmation of that, donations to the Caps for Cadets fund have been far stronger than usual. The night of our last alumni meeting, where the uniform change was announced by Rudy, I received more donations in a single night than ever before. There is NO thought that if the kids march in different uniforms they are, in some way, not really Cadets. I have not heard a single alumni voice that sentiment to me. We are, as we have always been, ONE CORP. We all share a single heritage, a single history, single values, a corps hymn that has been sung for 77 years, love of our uniforms, intense pride in who and what we represent, and a commitment to each other that borders on the sacred. FHNSAB...truly means something, and the meaning gets stronger and stronger as each year passes and each new Cadets bonds to their maroon and gold family.

..........
The next gathering for the North Jersey alumni will be a combined April/May meeting on Saturday, April 30th. Donna Schiavone and Kelly Smith have graciously offered to host this gathering at their lovely home in Hillsdale, NJ. ( 107 Ruckman Rd. Hillsdale ). Hillsdale is adjacent to Westwood and very convenient to most North Jersey alumni. It will, as usual, be a beer, wine, and pizza event, with probable shared expense donations in the area of $5 per person, depending on the number of alumni in attendance. Just to remind everyone, parents, friends, donors, marching Cadets and recent ageouts, and others, are always welcome at any of these events. More detailed information including driving directions will follow shortly. Please mark this date on your calendars. APRIL 30

.....

Our June gathering will be held on June 12th, hosted by John Hannigan at his lakefront Hopatcong home. Details have not yet been decided, but will follow shortly. Many of us have already been to one of John's "events," so you know you can expect a wonderful afternoon of good fun, laughs, friendship, and discussions on every topic imaginable. All this, of course, is enhanced by the magnificent vistage of Lake Hopatcong that is a feature of John's sweeping veranda that slopes down to the waters edge. Details including time, driving directions, and any other information required will be available shortly. Once again, mark this date on your calendars. JUNE 12

.....

On June 11th, the date preceding the gathering being hosted by John Hannigan, The Cadets are hosting a very special Alumni-Cadet event in North Jersey. The date, time, and events being planned are currently in the process of being finalized. Details will be announced as soon as they become available. It is my understanding that the corps will perform, and that there will be plenty of time for a lot of one to one socializing between the alumni and the marching Cadets. This event will be replacing the traditional Memorial Day event in Clifton, which The Cadets are unable to attend this year. The cap presentation ceremony will be held on this day, followed by a pizza party for the marching Cadets. It should be a day to remember. Mark this one on your calendar in red, and don't miss it! JUNE 11

.....

Over a four day span, from April 11 to April 14, George Hopkins, director of The Cadets, will travel from Boston to Atlanta in a coordinated effort to open alumni chapters for The Cadets in four locations.
Of course, these are just four of many possibilities, all meant to support and expand upon the current Alumni Association centered in Northern New Jersey, the birthplace of The Cadets in 1934.
Complete with a pre-packaged presentation, Hopkins will update Cadets along the East Coast on the activities of Youth Education in the Arts and the 2011 Cadets. The Cadets are headed cross country and back again this year as part of a summer that is sure to be historical in terms of the expanse and in excitement and quality of this very special rendition of The Cadets.
The Hopkins Alumni Tour will rally alumni at these destinations:
BOSTON AREA
Monday, April 11, 7:30-9:30 p.m.
Hilton Garden Inn
5 Wheeler Rd., Burlington, Mass.
CLICK HERE for hotel details
PHILADELPHIA/SOUTH JERSEY AREA
Tuesday, April 12, 7:30-9:30 p.m.
Crowne Plaza Hotel
2349 W. Marlton Pike, Cherry Hill, N.J.
CLICK HERE for hotel details
NORTHERN VIRGINIA/METRO DC
Wednesday, April 13, 7:30-9:30 p.m.
The Tauri Group offices
6363 Walker Lane, Suite 600, Alexandria, Va.
ATLANTA REGION
Thursday, April 14, 7:30-9:30 p.m.
Homewood Suites Kennesaw
905 Cobb Place Blvd., Kennesaw, Ga.
CLICK HERE for hotel details
Evening plans are still being created but a sketch for the evening includes:
7:30 p.m. - Welcome
7:40 p.m. - Through the Years video
7:50 p.m. - What is YEA! and what is happening in Allentown
8:15 p.m. - The Cadets in 2011
8:45 p.m. - Question and Answer
9:00 p.m. - The Cadets Hall of Fame, Hall of Veterans
9:10 p.m. - Events not to miss this summer
9:20 p.m. - The future of the Alumni Chapters
9:30 p.m. - Retire for a drink at the hotel bar
Not only is this an opportunity to connect with The Cadets organization, but also a chance to ignite friendships with alumni from all generations who also wore Maroon and Gold.
LET US KNOW YOU'RE COMING!
We want to make sure the trip is a success, and ensure we have enough refreshments on hand, so please let us know you plan on attending. If you cannot attend, but are interested in helping form a chapter, we want to hear from you, too! Go to www.cadets.org
.....
The North Jersey Alumni Association has been advocating for this kind of expansion of alumni activities since our inception. Christian Juel was appointed by George as our first office coordinator a number of years ago, and establishing other satellite groups was high on our agenda. George's power point sales presentations are a good starting point as alumni across North America (and Europe and Japan) move forward on developing their own activities in their own style. If our North Jersey group can be of assistance we are at the service of our fellow alumni anywhere. Contact Dave Shaw at 201 703 1293, dshaw40@gmail.com. We will be happy to share our experiences with you. Imagine how great it would be if, as you traveled or relocated around the country, there is a group or even just one or a few individuals you could contact to get together with other Cadet alumni. There are thousands of us, and regretfully we seldom have an opportunity to interact. Try to attend one of the events shown above if possible, and then let your imaginations do the rest.
.....
Justin Heimbecker (Rudy) just notified us of an interesting new idea The Cadets' office staff has initiated to further enrich our alumni experience, as well as assist our corps:

Help 150 young people reach their maximum potential? Yes, you could!

Volunteering for The Cadets is an extraordinary way to spend your time. Not only is your work gratifying, but you are ensuring these talented men and women have all they need to become magnificent on and off the field!

As tour approaches, The Cadets want to see that your experience as a volunteer is as beneficial and fun for you as it is for them! To connect the many generations of Cadets to each other, and the 2011 corps, we've set up fun theme weeks during Summer Tour. Sign on to volunteer along with your peers, and you never know who you just might meet!

50's & 00's WEEK
If you've marched in "Holy Name" or since Y2K, June 1 thru June 12 is your time! See the end of Spring Training, join the convoy as they hit the road, and take part in a local (northeast) send-off for The Cadets before they head to the Pacific. No flights needed…jump on and off while we're still in this neck of the woods! Also, be there to see the unveiling of the new uniform!

60's & 90's WEEK
If you marched in the 60's or 90's, join us from June 8 thru June 19 to see the local send-off in the Northeast, and join us as we make our way to Texas for the G8 kick-off events near Austin and Dallas! Be there for the unveiling of the 2011 uniforms!

70's & 80's WEEK
If you marched in the 70's or 80's, join us as we make our way from Texas to the West Coast, from June 18 thru June 25, ending with a Stanford showdown with the Blue Devils. Hit THREE time zones in THREE days, during this unique stretch of tour for The Cadets – Texas, New Mexico, Arizona and California here we come!

DIRECTOR & INSTRUCTOR WEEK
For those teachers out there who want a taste of life behind the scenes with The Cadets, and to get a little bit dirty while you learn, this is your week. Join the corps on July 7 in Denver, and hang out until the G8 Rockford, IL show on July 17. Minimal nights of travel, lots of "sitting still" … and a good combination of rehearsal and shows, perfect for the newbie! See The Cadets as they ramp up for the second half of the competitive season, and steal some methods, approaches and ideas for your upcoming band camp!

FAN WEEK
Are you COMPLETELY new to The Cadets family and you don't want to just dip your toe in the water but want to dive in head first? This is for you! See The Cadets from July 22 thru Aug. 1 as they grind through the "Southern Swing" and some great, competitive shows – Houston, San Antonio, Dallas, Edmond, Little Rock, Murfreesboro, Atlanta, Charlotte – what a lineup! You can be there as The Cadets go from "July clean" to "August clean," and be a part of making it all happen!

PARENT FINALE
Do you miss your Cadet? Join the corps from Murfreesboro on July 29 thru DCI World Championships in Indianapolis on Aug. 14. It's the ideal time to reconnect with your kid, and celebrate a fantastic summer they will never forget!

Along with making great friends, old and new, volunteers are also provided with VIP passes to see the corps at each and every performance while on tour. Interested volunteers should contact Justin Heimbecker at Justin@yea.org, or Melissa Barlow at Melissa@yea.org, or by telephone at (610) 821-0345, Ext. 115.

March 12, 2011 - The Cadets to honor "The Uniform"
in special 2011 ceremony: a message from George Hopkins

Recent developments have brought attention to The Cadets Maroon and Gold member uniform, a staple for most every year of the corps' existence since the uniform debuted in 1939.

The West Point modeled jacket and cream pants, off set with a gold sash and other accoutrements, has been in place with minor modifications for seven decades. There have been alterations made from time to time in recent years, particularly, 2005, a World Championship season, and 2006, a most interesting and creative follow-up to the "Door in Four Parts" effort of the middle 2000's.

However, regardless of the manufacturer who has supported the corps' efforts, and regardless the creative and administrative direction of the corps, the uniform has maintained a prominent and historical position within the corps. The Cadets and the Maroon and Gold are figuratively and literally joined at the hip.

In honor of the contribution the uniform has made to The Cadets organization, and as part of the pre-event festivities at the Aug. 7 Tournament of Champions event (now scheduled for the New Meadowlands Stadium), The Cadets will be preparing a special presentation and induction to celebrate the legacy of the uniform as well as, and most importantly, the contribution of each and

every member who has had the opportunity to march as a Cadet over these many, many years.

George Hopkins, director of the Cadets since 1983, a span of 27 years that includes nine DCI World Titles and more than 2,000 graduates of The Cadets, spoke about the uniform in an announcement at the headquarters of Youth Education in the Arts in Allentown, Pa.

"The uniform of The Cadets is a storied and fabulous part of drum corps history. With the assistance of manufacturers such as DeMoulin, today's sponsor and provider, we have been able to maintain the quality and look of the corps for years and years. While other corps alter their visual design from year to year or at least decade to decade, The Cadets have maintained the look of prestige and dignity that helps define who they are, and how they appear on the field of competition today. It is only appropriate that in 2011 The Cadets, and all Cadets, pay homage to a part of what makes all of the maroon platoon."

Details will be forthcoming, but the summer ceremonies will include Cadets from each of the decades the uniform has appeared as well as words from Cadets past and present recognizing the pride every member of The Cadets carries onto the field each evening, or into their life as graduates and "age-outs" of one of the great drum corps of history.

The event will be managed with the assistance of the Youth Education in the Arts development department as well as volunteers from the Cadets Alumni Association. Announcements and details of the ceremony will be made in early summer.

In the meantime, remember that The Cadets Hall of Fame Committee is currently accepting nominations for the 2011 Class until April. 1. A nomination letter and one to four letters of support should be sent to C
aryn Goebel at Caryn@YEA.org, or by mail to The Cadets Hall of Fame, 601 W. Hamilton St., Allentown, Pa., 18101.

YOU ARE THE FIRST TO KNOW!

Yes, you read that right, the Aug. 7 Tournament of Champions event will be held at the spectacular New Meadowlands Stadium, the home of the NFL New York Giants and Jets, in East Rutherford, N.J.

Staff at the YEA! office received word just this morning from stadium officials that indeed, the venue is available and thrilled to host the Top 8 DCI corps for their final showdown before World Championships.

This show is one NOT to miss, now being held in the new $1.8 billion state-of-the-art stadium!
Stay close to www.yea.org as we make announcements for ticket purchases, special offers and events surrounding the Aug. 7 Tournament of Champions


Back to top